Name
~Genevieve Scarlet Linton
Age
~18
Appearance
~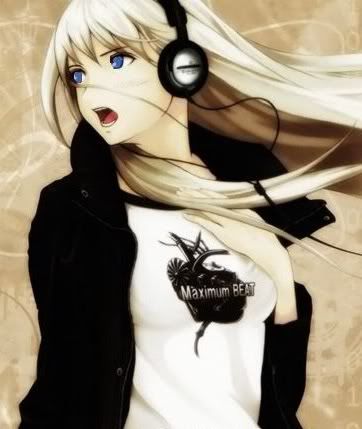 Hardly ever found without her headphones Genevieve is a fairly casual dresser, though she has a fondness for jackets and boots. She's a slim girl, but not unnaturally so. Due to her careless appearance one might mistake her personality to be more outgoing than she truly is. She is lightly tanned as she often sit's outside, but she's often found with a book as well. Her long blonde hair is straight, and fairly easy to manage. She usually leaves it down, framing her face and her bright blue eyes.
Personality
~Genevieve is a fairly cheerful person, but rather withdrawn. Apart from her close friends she enjoys being on her own, listening to music or sketching, her two favourite things. She's very creative, but keeps mostly to drawing. She works best with her music, and is very intelligent thanks to all her spare time. She's not overly fond of her name, preferring Jen to Genevieve, but isn't venomously against it.
She doesn't really think about herself much, or how others view her. Probably her biggest flaw, her lack of caring about other people's opinions. She can also be rather possessive though. Touching her sketch pad, headphones or iPod without permission is a big no-no for her and can cause her to lash out despite her withdrawn nature.
Bio
~Genevieve grew up with loving parents, though she didn't have any siblings. She was a very cheerful child, though her curiosity often got her into tough situations. At the young age of eight, however, she witnessed a robbery turned murder and became much more withdrawn. She still smiled a lot, and laughed, but only with her parents and close friends. She honed her drawing abilities, listened to music and read any and all books she came across, while still maintaining a friendships with those she was already close to but not making any new ones.
She was overjoyed when she and her friends had gathered the money to buy their house together. When they'd found the box she'd been driven by curiosity and the thrill of a challenge. Upon finding the rings she'd thought each was impressive in it's own way, and loved the creativity of them. She was artsy after all, that view came naturally for her. She ended up with the bat, she liked how it was simple and elegant at the same time. She'd happily accepted her new piece, despite her usual lack of jewellery.
She's had no idea what a simple ring was going to bring her.
Posting Example
~Casual afternoon
Genevieve sat, carefully balanced on the railing of the balcony at her house. It wouldn't be her house for much longer though. She continued her lazy yet detailed sketch of the view she got from here. She'd be moving in with her friends soon, now that they'd gotten enough together to pay for it. She was excited to say the least, but she'd never moved in her life. It felt good to be doing something familiar after all that packing.
"Gen? Genny?" That was her mum, calling to make sure she was ready. She looked over the scenery one more time, adding in the shadows to her drawing before flipping the sketch pad closed.
"I'm coming mum," she assured, easily slipping off the railing and letting herself into the house. She smiled at her mum, picking up an apple on her way passed, she smiled easily, "Dad still at work?"
"Yes, but he'll be home in time to see you off, do you have..."
"Yeah mum, no worries," Genevieve assured with a laugh, "You been asking me that every day for at least a week. I'm going to be fine!"
"I'm home!" called a distinct male voice, easily making its way into the kitchen. Genevieve smiled at him as he wrapped her into a tight hug. He'd always been a little over protective, "My baby girl, moving out on me."
"You've been complaining about how I don't pay rent for a while now," Genevieve couldn't help but point out with a laugh.
"Yeah, you remember the rules right? I hear wind of any wild parties and I'm coming down there with the glock," her dad informed her seriously, she just laughed.
"Dad, I'm moving in with the girls," she pointed out, "I highly doubt it's going to be an extremely eventful lifestyle."
"Yeah, I guess," her dad sighed, "Still, we got you something."
He handed her a parcel and she raised an eyebrow as she weighed it in her hands, "Is it a book?"
"Every single time," her dad grumbled, but it was followed by a chuckle, "Go finish getting ready, you have to head off soon."
"Good point," Genevieve nodded, she smiled as she headed towards her room for the last time, "Thanks for the book guys."
Other
~Genevieve was very close with both her parent, lacking the usual confrontations in her teenage years. Following her father she's achieved a fondness for motorbikes, also rather likes stormed, finding the sound of the heavy rain comforting. Most of the time she can't cook to save her life, but she has an odd habit of becoming really domestic if she's left home alone for long periods of time with nothing else to do. With her ring boy she's mostly just confused and curious, but hey, who is she to pass up an opportunity like this?
As far as defence she had a few basic self-defence classes, and knows a few of the random tips her dad has thrown around. Other than that she's pretty much a scream in his ear and run like hell girl, or hit him over the head with something really heavy.
Theme Song
~TBA