---
---
Main Theme ::
Alternative Theme :: Eau de Vie – Shiki OST
Naga Point :: Into Sandy's City (Nemistade Cover) – DooM II OST
⌈
"Say, that ring seems a tad too heavy for such a small hand, little girl."
⌋
---
---
⌈
Full Name
⌋
Gilbert Colquhoun.
⌈
Full Name
⌋
Gil :: Gilbert was one of the most common names during his time, and apparently he disliked the idea of having anything that could be considered generic associated with him. Also, it's just shorter.
⌈
Role
⌋
Snake Ring Spirit.
⌈
Gender
⌋
Male.
⌈
Age
⌋
20 (technically 833, but who's counting at this point?).
⌈
Sexuality
⌋
Bisexual.
---
⌈
"Eerie, you say? I'd certainly hope so!"
⌋
---
▌▓
▒░
▌▓
▒░
▌▓
▒░
▌▓
▒░
▌▓
▒░
▌▓
▒░
▌▓
▒░
▌▓
▒░
▌▓
▒░
▌▓
▒░
▌▓
▒░
▌▓
▒░
▌▓
▒░
▌▓
▒░
▌▓
▒░
▌▓
▒░
▌▓
▒░
▌▓
▒░
▌▓
▒░
▌▓
▒░
▌▓
▒░
▌▓
▒░
▌▓
▒░
▌▓
▒░
▌▓
▒░
▌▓
▒░
▌▓
▒░
▌▓
▒░
▌▓
▒░
▌▓
▒░
⌈
Appearance
⌋
While not instantly recognizable as an inhuman creature, Gil's appearance is certainly not a common one either. For someone having been raised centuries ago, when access to now common tools was limited to the higher classes, he has quite clearly been able to take proper care of himself.

With a height that could be considered average at most, at roughly 5'8'', and a very slim physique, Gil is not an imposing presence by any stretch of the word. Weighting 143 lbs, with long limbs to accompany his thin body, his overall look could very accurately be described as spindly instead, which combined with his extremely pale skin tone makes him come off as rather fragile-looking, like too much strain could break him. Worth remarking is also the fact that it is extremely cold to the touch, consistently prompting people to jump in surprise upon coming into contact with him.

The first thing one would notice when looking at his face is definitely the fact that his eyes,, large and sharp, have permanently taken on the characteristic slit shape and yellow coloration of some serpents. While this trait can be somewhat disguised when keeping his eyes half-shut in his usual calm manner, as his pupils are not as exposed and the tint can be somewhat concealed, a second glance would certainly suffice to notice that Gil is not entirely human. He is not accustomed to having to worry about hiding his incriminating eyes from the public and he himself doesn't give it as much importance as he should, but given the need to exercise caution in a world he is unfamiliar with, he occasionally resorts to dark contact lenses to hide their abnormal nature and navigate the streets without raising suspicions. However, he despises using them given how uncomfortable they are. His eyes are also accompanied by pronounced dark circles, fruit of his bad sleeping habits.

In stark contrast to his pale skin, his hair, reaching as far down as his shoulders and framing his face while hiding his ears, is coal black. He rarely combs it properly out of lack of habit, and it is evidenced by a generous amount of wild bangs that refuse to obey the laws of gravity. In order to maintain a certain degree of organization and out of personal preference, he always keeps the back of his hair in a small ponytail. With a small nose and sharp facial features consisting of a pointy chin and smooth cheeks, Gil has a youthful and astute-looking appearance, and while he will not be turning any heads while walking on the street – or at least not for the right reasons – it could be said that he is rather on the attractive side.

Back in his original time, Gil never had many choices in regards to the attires he could wear, having spent his childhood as a peasant and then counting with very few chances to go out and explore public spaces like the cities. As a result, he has grown accustomed to simple garments and is most comfortable with plain clothing. That said, he fails to understand the dressing of contemporary society and generally wears chaotic combinations of shirts and jeans that don't really match his size either. Even in summer, he seems to favor long-sleeved attires and dark colors.
---
⌈
"Ah, if only it were as easy as simply asking. How boring we would all be."
⌋
---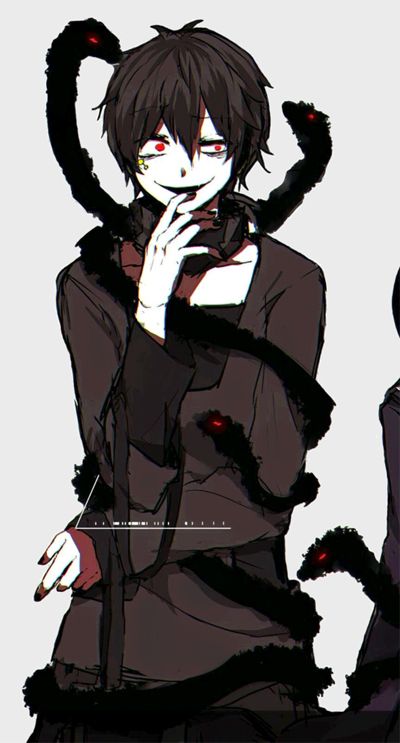 ░▒
▓▌
░▒
▓▌
░▒
▓▌
░▒
▓▌
░▒
▓▌
░▒
▓▌
░▒
▓▌
░▒
▓▌
░▒
▓▌
░▒
▓▌
░▒
▓▌
░▒
▓▌
░▒
▓▌
░▒
▓▌
░▒
▓▌
░▒
▓▌
░▒
▓▌
░▒
▓▌
░▒
▓▌
░▒
▓▌
░▒
▓▌
░▒
▓▌
░▒
▓▌
░▒
▓▌
░▒
▓▌
░▒
▓▌
░▒
▓▌
░▒
▓▌
░▒
▓▌
░▒
▓▌
░▒
▓▌
░▒
▓▌
░▒
▓▌
░▒
▓▌
░▒
▓▌
░▒
▓▌
░▒
▓▌
░▒
▓▌
░▒
▓▌
░▒
▓▌
░▒
▓▌
░▒
▓▌
░▒
▓▌
░▒
▓▌
░▒
▓▌
░▒
▓▌
░▒
▓▌
░▒
▓▌
░▒
▓▌
░▒
▓▌
░▒
▓▌
░▒
▓▌
░▒
▓▌
░▒
▓▌
░▒
▓▌
░▒
▓▌
░▒
▓▌
░▒
▓▌
░▒
▓▌
░▒
▓▌
░▒
▓▌
⌈
Personality
⌋
An eccentric man to say the least, Gil can be a very unpredictable and erratic individual. Clever, creative and ambitious, his mind works at a very fast pace, jumping from one thought to another at a rate that can be hard to keep up with, and even he occasionally fails to retain some of his more spontaneous ideas for long. As is to be expected from people with that tendency, it can sometimes be hard for him to keep focus on a single thing for long, especially if he is not particularly intrigued by the matter at hand. He carries himself with the calmness and collectedness that spawn from self-assurance, generally displaying an easygoing visage and a composed smile, but can grow energized and expressive when something catches his attention. This in particular can be a rather off-putting quality to him, as it takes practically no time for him to go from a professional poker player to an overdramatic actor should his interest be piqued, and given his whimsical nature, it could very well happen at any moment. Though he communicates with a very dignified and learned manner of speech born from his passion for literature, the actual content of what he has to share with others very rarely consists of kind words or compliments, and even his ubiquitous sense of humor is usually of a cynical and ill-intended kind, making it quite challenging to tell when his disdain for others is sincere or simply him poking fun at them. What is noticeably certain is that offending others is not high in his list of concerns.

Characterized by his confident and aloof attitude, Gil often comes across to others as an arrogant egotist, and unfortunately, this assessment doesn't stray much from reality. He is a bit too aware for his own good of how unique his mere existence is, and though his past achievements are nothing short of impressive, he has grown to believe they entitle him to do and say whatever he wants, whenever he wants, as he has become 'untouchable' – because really, how much can you talk back to a giant snake before you start fearing for your life? There aren't many people he would consider his equal and even then he can be quite demanding in terms of how they should behave and makes little to no effort to reach a compromise in opinions. As for the rest of the world, he doesn't attempt to hide his condescending views towards them, and can be relentless at manipulating them and exploiting their shortcomings. He is quick to appraise any new acquaintances he encounters, and when he feels he has a grasp on their virtues and limitations, it can be extremely hard to convince him of changing his mind. Needless to say, he is very lacking in the self-criticism department.

With that said, Gil doesn't consider himself to be perfect, and always makes a point to find new things to complement his knowledge and skills with. He is of the opinion that a mind needs to be sharpened much like any valuable tool with new challenges and information, and usually resorts to books as a source of insight, being quite good at retaining new data. This is a hobby that he would pick up during his teen years, as he became not only a servant to the Alchemist, but also his student, and a particularly knowledge-hungry one at that. He also thinks it very important to be informed about one's surroundings, and always tries to understand and be aware of anything and anyone he has to interact with on a regular basis. Most people would attribute this to a sense of curiosity, but the truth is that his insistence on comprehending the world that surrounds him stems from his need to feel like he is in control of a situation at all times. He dislikes the notion of unfamiliarity and the idea of another person being able to see through him more so than the other way around terrifies him. He can grow irritated when any external influence hinders his actions in any way and having his options limited when confronting an issue is one of the most infuriating experiences for him.

He approaches obstacles in a very practical and analytical way, caring about efficiency and achieving objectives in the least time possible and with minimal effort, which is why he doesn't enjoy fighting all that much. Though he sees dedication, intellect and effort as components of success, he also thinks that only fools would neglect to use any available shortcuts should they see the opportunity; this can become all the more baffling to him when terms such as honor or dignity are brought into the matter. In fact, he is a firm supporter of cheating every time it is possible, and merely sees it as a display of either sharpness on the part of the cheater, or lack of wit from the cheated. Surprisingly, despite his easygoing attitude, he can be very competitive when he perceives another person as a rival in practically any subject, bringing out of him a less composed but frankly more natural side. Though he genuinely despises losing to others at anything he perceives as a competition, he does become reluctantly respectful towards those who are able to get the better of him one way or another, and shockingly doesn't hold any true resentment towards them. In fact, he has shown to become more considerate towards those he has recognized as worthy of admiration, and is known to be able to work as a team with them to usually good effect.

That is pretty much as far as his relationships with most people are able to go, as he has an extremely hard time trusting others, having grown too accustomed to a lifestyle of deceit and cheating, not always being on the winning side. His most recent betrayal at the hands of the Alchemist has only cemented his notion that one can never truly know another person, and thus sincerely trusting others is impossible.
---
⌈
"Yes, you shall mentor me in the ways of the 'RPG', woman."
⌋
---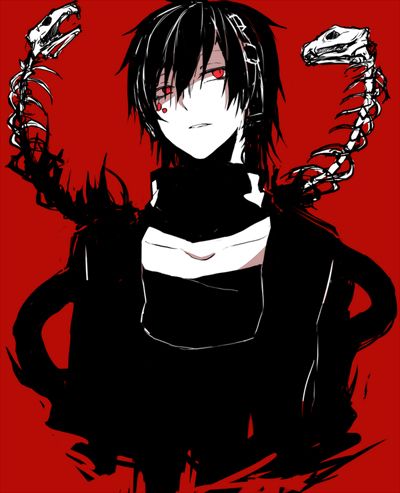 ▌▓
▒░
▌▓
▒░
▌▓
▒░
▌▓
▒░
▌▓
▒░
▌▓
▒░
▌▓
▒░
▌▓
▒░
▌▓
▒░
▌▓
▒░
▌▓
▒░
▌▓
▒░
▌▓
▒░
▌▓
▒░
▌▓
▒░
▌▓
▒░
▌▓
▒░
▌▓
▒░
▌▓
▒░
▌▓
▒░
▌▓
▒░
▌▓
▒░
▌▓
▒░
▌▓
▒░
▌▓
▒░
▌▓
▒░
▌▓
▒░
▌▓
▒░
▌▓
▒░
▌▓
▒░
▌▓
▒░
▌▓
▒░
▌▓
▒░
▌▓
▒░
▌▓
▒░
▌▓
▒░
▌▓
▒░
▌▓
▒░
▌▓
▒░
▌▓
▒░
▌▓
▒░
▌▓
▒░
▌▓
▒░
▌▓
▒░
▌▓
▒░
▌▓
▒░
▌▓
▒░
⌈
Likes
⌋
✔
Gambling :: Regardless of the opponent or game, gambling usually turns out as an enjoyable activity for Gil. If his opponent isn't smart, he can walk home with a heavier wallet, and if he or she is more astute and cheats, the game can become an amusing battle of wits.
✔
Literature :: There weren't many entertainment options for the Blood Brothers during their time of servitude under the Alchemist, since straying too far would put other people in danger due to their unpredictable powers. Gil's way to cope with this was reading many books, becoming a fast and avid reader with a particular interest in philosophy and history, and still enjoys it on many different levels.
✔
Victory :: At what? Doesn't matter. If he is going to take part of anything where there has to be a loser, then he must be on the winning side. He loves the satisfaction of seeing his abilities pay off as much as he hates losing.
✔
Gardening :: Another way for him to escape the monotony of his routine during his time with the Alchemist, and one that most people wouldn't associate with him. He used to have his own little piece of land next to the Alchemist's abode to raise a small garden of his own, and was very protective of it, not allowing others to visit it by themselves.
✔
Winter :: Snowing or not, it is visually the most appealing of the seasons to Gil, and he prefers cold over hot temperatures. While the added labor of having to spend extra effort into protecting his plants from the cold is definitely a hindrance he doesn't fail to notice, he is fond enough of it to give it a pass.
⌈
Dislikes
⌋
✘
Physical Effort :: He has had his share of physical labor and hasn't gained any satisfaction or lessons from it. Having focused more on his studies ever since he learned how to read, he has become somewhat lazy when it comes to anything that requires him to move too much.
✘
Loud People :: In his opinion, people who talk for the sake of hearing the sound of their own voice are inconsiderate to both the listener and themselves. He needs to feel like the conversations he has with others have a point, and the moment he begins to think otherwise, he is likely to lose all interest in it and stop listening.
✘
Orders :: There's just no way around it, you better turn your sentence into a request if you don't want to get on Gil's bad side. He has spent all of his life serving others and, despite his constant attempts to free himself, the most he has achieved so far is changing one master for another, and while his experiences have not always been bad, he yearns the day when he will have no shackles attached to his neck.
✘
Crowds :: In Gil's experience, people grow dumber when they gather in large groups, and the few things that could be considered worth listening to become mixed with the babbling of those putting no thought behind their words. Even when a conversation can be had, they are sluggish, with too many opinions to consider and too many compromises to be made. No, he prefers conversations with small groups, where attention can be shared equally by all parties.
✘
Slowness :: He can be very impatient, and any person or situation that requires him to wait for a little too long can get on his nerves shockingly fast. In particular, having to explain something new to another person can prove very frustrating to him should they fail to catch on quickly.
⌈
Quirks
⌋
❖
Biting Humor :: He has made a bit too much of a habit of making jokes at the expense of others, and sometimes he isn't even aware of his own thought process until it has escaped his mouth. Despite his general inconsideration for others, this has resulted in him being more hurtful than he means towards others, particularly towards his Brothers, who fortunately have grown used to it enough to not jump at the first remark that doesn't sit well with them.
❖
Tongue :: Even though his sense of smell with the use of his tongue isn't that developed before transforming into at least his second spiritual stage, it is not uncommon for him to suddenly stick his tongue out without really noticing out of habit. Also, when trying new dishes, he will spend a good ten seconds just pointing at it with his tongue with a puzzled expression, trying to get a feel for its taste before actually trying it.
---
⌈
"Run, little mouse. It's all the same to me."
⌋
---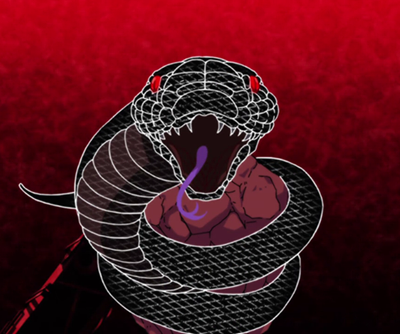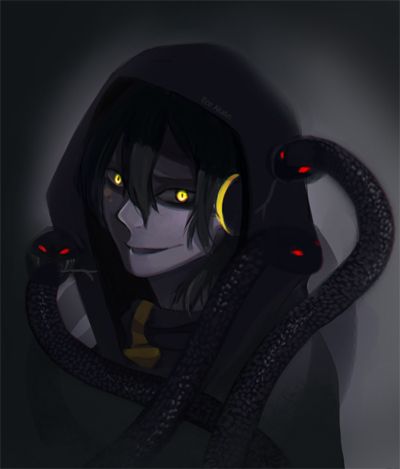 ░▒
▓▌
░▒
▓▌
░▒
▓▌
░▒
▓▌
░▒
▓▌
░▒
▓▌
░▒
▓▌
░▒
▓▌
░▒
▓▌
░▒
▓▌
░▒
▓▌
░▒
▓▌
░▒
▓▌
░▒
▓▌
░▒
▓▌
░▒
▓▌
░▒
▓▌
░▒
▓▌
░▒
▓▌
░▒
▓▌
░▒
▓▌
░▒
▓▌
░▒
▓▌
░▒
▓▌
░▒
▓▌
░▒
▓▌
░▒
▓▌
░▒
▓▌
░▒
▓▌
░▒
▓▌
░▒
▓▌
░▒
▓▌
░▒
▓▌
░▒
▓▌
░▒
▓▌
░▒
▓▌
░▒
▓▌
░▒
▓▌
░▒
▓▌
░▒
▓▌
░▒
▓▌
░▒
▓▌
░▒
▓▌
░▒
▓▌
░▒
▓▌
░▒
▓▌
░▒
▓▌
░▒
▓▌
░▒
▓▌
░▒
▓▌
░▒
▓▌
░▒
▓▌
░▒
▓▌
░▒
▓▌
░▒
▓▌
░▒
▓▌
░▒
▓▌
░▒
▓▌
░▒
▓▌
░▒
▓▌
░▒
▓▌
░▒
▓▌
░▒
▓▌
░▒
▓▌
░▒
▓▌
░▒
▓▌
░▒
▓▌
░▒
▓▌
░▒
▓▌
░▒
▓▌
░▒
▓▌
░▒
▓▌
░▒
▓▌
░▒
▓▌
░▒
▓▌
░▒
▓▌
░▒
▓▌
░▒
▓▌
░▒
▓▌
░▒
▓▌
░▒
▓▌
░▒
▓▌
░▒
▓▌
⌈
Spiritual Stages
⌋
1st Stage
Though mostly indistinguishable from a normal person while in his most common, first stage, one shouldn't forget that whatever Gil has become through his involvement with the Alchemist, whether he can be called human anymore is debatable.

As a unique quality, it is worth noting that despite his unstable behavior, in terms of his spiritual transformations, Gil is perhaps one of the best examples of self-control and versatility amongst the Blood Brothers. Not only is he able to maintain his common sense to a better extent than normal as he transforms into further stages, but even in his most basic form, he already displays some traits unique to his signature animal, faint as they might be. His eyesight in dark environments is considerably better than most humans, he can sense light vibrations by resting his hand on small surfaces, detect thermal signatures in his close proximity and even detect faint scents by sticking out his tongue, much like regular snakes do. Even his saliva can serve as a very weak poison should it find its way into another person's system, having a numbing effect that, with enough quantity, could immobilize an adult human.

2nd Stage
As he moves on to this stage, Gil grows several green scales along his body, covering most of his limbs and torso, but avoiding his joint areas, face and a good portion of his chest. His eyes will morph into exactly like those of a snake and his mouth will grow wider, with his tongue becoming exceptionally longer and forked and his canine teeth being replaced by gigantic fangs with a venom canal included. While in this stage, he remains mostly in control of himself, only somewhat being affected by a sense of urgency akin to an adrenaline rush that rarely grows to the point of clouding his judgment.

All the senses he had already borrowed from snakes in his first stage are significantly enhanced in this one, becoming a lot more effective. He can see in the dark without hindrance, detect scents with his tongue with as much effectiveness as a bloodhound and enjoys a heavily expanded range to both his heat detection and vibration sensing. His venom also grows more potent, being able to paralyze an adult man's limbs each with a single bite and becoming potentially lethal should he be able to strike a vital area like the neck, albeit it still taking several minutes for it to reach a life-threatening point. In addition, his scales provide him with some light protection from sharp or penetrating attacks, and he'll be able to contort his body to gain enhanced agility, allowing him to move at high speeds for very short bursts of energy. While his abilities may sound overwhelming, the physical strength he gains from this stage is negligible, meaning he must still make full use of his enhanced senses and tactical thinking to gain an edge in battle and strike only when exploiting weaknesses; that said, once he has managed to get a hold of his opponent, his victory is generally all but assured.

3rd Stage
Also referred to as the first "Naga Point", the title is very effective at describing Gil's appearance at this point. His legs merge together to take the form of the lower half of a snake, while his body from hips up remains humanoid in appearance. The entirety of his skin is now covered in scales, and his teeth consist exclusively of deadly fangs. His stature also grows considerably, reaching as far up as 2,5m while on a "standing" position and a full longitude of 6m. Rational thought is somewhat delayed in this stage, and it is not rare for him to react to something on instinct before analyzing a situation as in depth as he normally would. Not being fond of the idea of lacking the ability to think as clearly as he is used to, he prefers resorting to any transformation from this stage onwards only when the situation clearly requires it, seeing it as an annoyance.

In exchange for his sharp mind, Gil gains quite the substantial leap in terms of combat prowess while in this form. All of his senses reach their peak during the third stage, making him an excellent organic radar and perfectly in tune with his surroundings, letting him take full advantage of them. His venom can be deadly regardless of the area where it was administered and so much as being grazed by one of his fangs can have paralyzing effects like those found in his previous stages. His scales become a lot more resilient, being able to deflect bullets from standard firearm equipment without much strain, and he finally gains a much needed increase in his raw physical strength. His lower, fully snake-like half in particular now has enough constriction strength to trash a small car in a little less than ten seconds. Though one would expect his mobility to be negatively affected by the lack of legs, he actually becomes faster and hard to keep track of, as he switches his movements from a low undulation motion to even a leap; still, much like before, he can only do this in short bursts.

4th Stage
By the time Gil reaches the fourth stage of his transformation, his humanoid features become minimal. His head is now completely like that of a cobra's and the only remnants of his original body are a deformed, torso-like structure next to his head and a pair of long arms protruding from it. He also makes the most significant leap in size during this stage, reaching a longitude of 14m. It is also extremely more taxing on his cognitive abilities, with his mind devolving into a state similar to a fever dream, wherein his actions grow a lot more erratic and even his speech becomes broken, consisting mostly of muttered words vaguely relating to his suppressed thoughts. While generally able to distinguish friend from foe, it's not like he will be checking twice, and extreme caution is advised. He is also unable to retain any memories of his actions after reverting to a previous, more controllable stage.

Though his senses had already peaked in their efficiency, they do adapt to his increased size, escalating their range in proportion to his new body. His venom becomes considerably more potent in order to take on larger prey, and he will gain the ability to spit it from a distance when moving in close is not an option. However, the most significant enhancement to his abilities will be his scales' resilience, which can now take punishment from most firearms without receiving so much as a scratch. Heavy artillery will be able to harm him, but even then, the damage will be significantly reduced by his natural armor, and it will take a lot of shots just to stop him from advancing.

5th Stage
In the final stage, Gil's appearance will abandon all of his humanity to adopt the Snake Ring Spirit form, a gigantic serpent of red colored scales covering its body and a massive size to accompany its monstrous visage. At this point, practically all of his sanity is dissolved, and the only remnants of Gil himself will only be determined by his subconscious influence, otherwise behaving like a berserk beast. After much practice, it has become possible for him to somewhat influence his behavior during this stage by concentrating on a specific objective in the moment of the final transformation, which his snake form may try to achieve, albeit without much of a plan; this is already a ridiculous challenge by itself, as his previous stage already has a hard time gathering a rational thought to begin with. After that is done however, his actions become completely unpredictable, and it is in the best interest of any person, regardless of their relationship with him, to run in the opposite direction while they still can.

As the fully transformed snake spirit, Gil doesn't gain any new abilities, yet all the skills from his previous transformation are not only present, but massively augmented. Anything smaller than a tank will fail to put a scratch on his durable scales, and both his poison and overwhelming constructing force allow him to take on practically any kind of opponent.
---
⌈
"A ring to eliminate a man's freedom through the union of two. The old wretch always had a sense of humor."
⌋
---
▌▓
▒░
▌▓
▒░
▌▓
▒░
▌▓
▒░
▌▓
▒░
▌▓
▒░
▌▓
▒░
▌▓
▒░
▌▓
▒░
▌▓
▒░
▌▓
▒░
▌▓
▒░
▌▓
▒░
▌▓
▒░
▌▓
▒░
▌▓
▒░
▌▓
▒░
▌▓
▒░
▌▓
▒░
▌▓
▒░
▌▓
▒░
▌▓
▒░
▌▓
▒░
▌▓
▒░
▌▓
▒░
▌▓
▒░
▌▓
▒░
▌▓
▒░
▌▓
▒░
▌▓
▒░
▌▓
▒░
▌▓
▒░
▌▓
▒░
▌▓
▒░
▌▓
▒░
▌▓
▒░
▌▓
▒░
▌▓
▒░
▌▓
▒░
▌▓
▒░
▌▓
▒░
▌▓
▒░
▌▓
▒░
▌▓
▒░
▌▓
▒░
▌▓
▒░
▌▓
▒░
▌▓
▒░
▌▓
▒░
▌▓
▒░
▌▓
▒░
⌈
History
⌋
Born in a small village in southern Scotland in the year 1182, Gil was the second and last son of an old peasant couple. His father was a blacksmith, working the iron in an age of strife when wars started an ended on the whims of lords; weapons to wage battle and tools to exploit the land were always a necessity and the need of his hammer didn't relent even as his age continued to weigh on his body. Needing a successor to fill in his shoes, the sons' fates were decided the moment the father's strength began to wane: they would inherit their father's duty and work the furnace when his arm succumbed to time to care for the family.

This was a fate that would torment Gil for many years.

Even as children of 8 and 5 years of age, Gil and his brother Rickard were forced to aid their father in the furnace, carrying the weight his weakened flesh could no longer support and keeping the flames alive, all in hopes that they would learn the craft through observation before he could no longer provide for the family. With the threat of losing their livelihood before the children came of age, their father was relentless in his teachings; there were few moments of rest, even when their small bodies were hurt by the cold iron or their limbs exhausted, and each mistake was punished harshly. Each year, the old man's hammer grew weaker, and each year Gil's burden became heavier. So grave was their predicament that neither of the children were allowed to receive an education from the local church, as their presence to their father's side only grew more crucial with age. And yet, as time flew by, neither of the siblings seemed to develop their skills to the point of taking over the business.

Failing to fully comprehend the situation, Gil never questioned the role that had been imposed on him, and attempted through all means to comply with his father's wishes to no avail. Even as other children of his village approached him with stories of the lessons they had learned and letters they had written, he never thought himself entitled to the same rights as them, believing that an explanation must exist why they could learn things he couldn't or shouldn't. It was only when – during one of his rare sessions of playing in the village's outskirts – he found an abandoned book, dirtied and twisted by nature, that his yearning for more would awaken. Only when he saw the ink printed on the paper did he suddenly learn of its importance; somewhere in those pages, gods bestowed life, lords were born and felled, constellations were immortalized and nature spoke to man. In an instant, it was as if the world was in on a secret, and it mockingly declared that he would never know the answer. The thought angered him.

Presenting the book to his father, he petitioned him to reconsider his position regarding his and his brother's education, yet his pleas were ignored by the concerned old man. However, a door that could never be closed had opened, and Gil's longing for knowledge wasn't silenced easily. He grew rebellious and less afraid of his weakening father, escaping from his duties in more than one occasion to seek the teachings of the church, and forcing him to resort to beatings in order to submit him into a meeker state, if only for a few weeks before he escaped again. But he was still small, and depended on his family as much as they did on him, and time forced him to realize that an invisible chain had tied him to his home.

Even as his brother grew older and stronger, finally showing the results his father had hoped he would, Gil was still not allowed to seek the teachings he had grown so infatuated with, and his frustration slowly developed into resentment. It was at the time that he turned 9 that a merchant who regularly sold the family's wares approached them with a story as the men drank together; a story of an old man, drunk in knowledge, who was seeking the help of young men for his studies and spoke of outrageous findings pertaining spiritual beings. Fascinated by the story, Gil spent days thinking of nothing but the madman, of his quest in search of the impossible, of the promise of immortality and his need of aid. Dreams of grandeur built up in his mind, and what started as a wistful idea became a burning ambition. His brother only grew more skilled with the hammer, while Gil's hands remained as inept as the first day he stepped into the furnace, and much more than an inefficient worker, what his family needed was one less mouth to feed. Confiding his thoughts with Rickard expecting a reasoning that would place him back in his routine, being aware that their father would never allow it, he was instead encouraged by his older sibling to pursue his ambitions. Making preparations for a long road ahead, Gil waited for the day the merchant would leave their village and, in a moment of fortitude, sneaked himself amongst his wares, leaving his home for what would turn out to be forever.

For months, Gil would travel from village to village, growing closer to the Alchemist's whereabouts at a slow pace. During this time, he would work for others in any way he could to support his trip and afford a temporary roof and protection. Sometimes he would clean the stables, sometimes he would serve wine to wanderers and sometimes he would beg on the streets; whatever he did, he always stole and lied to have a mere chance to complete his journey. A dark time in his life, it was nothing short of a miracle that Gil managed to fend for himself at such a young age, let alone travel such long distances. And yet, his efforts eventually paid off. He had turned 10 by the time he presented himself in the Alchemist's house, introducing himself as a traveler and as if he were a man of age. Intrigued by the young boy, the Alchemist listened to his story and, impressed and moved by his struggle, welcomed him as one of his servants, inheriting the form of the Snake Spirit.

Euphoric upon his arrival to what would become his new home, it took Gil no time to adapt himself to his lifestyle as the Alchemist's protégé. Under his tutelage, Gil was taught how to read, and was mentored in such subjects as philosophy, chemistry and astronomy, quickly picking up on each new one with eagerness and learning at an astounding rate. He also found relish in his newfound abilities, and whenever he was not immersed in a new piece of literature, he was exploring the qualities and limitations of his new body.

Grateful for the Alchemist's teachings and the companionship of the Blood Brothers, Gil grew fond of his new family over their years together, but never forgot his position as a servant and still awaited the day when he could put his knowledge and abilities to use without the restrictions that had been imposed on him. His intentions were to go back to his family and reunite with his brother, who had wished for his success in the past, and offer him to travel with together, learning of foreign lands across the sea.

But alas, this would never come to be…
⌈
Other
⌋
It is important to point out that while Gil has developed several methods to somewhat control the actions of his transformed stages, none of them are completely reliable, which is a statement that only grows truer the more he approaches his final spiritual transformation. The only way to ensure he won't become a danger to all of his surroundings is to be given an order by the bearer of his ring while she directly looks into his eyes.


Other snakes seem to recognize him as a member of their species. This isn't a trait that often comes into play, since very few snakes display any social behavior, but it does serve as a testament to Gil's synchronicity with the animal.