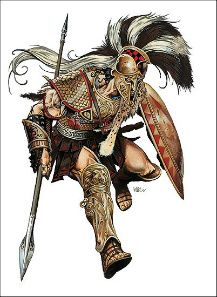 God of WarAliases:
Ares; God of War; and Mars.
Basic Appearance:
The god seen by mortal eyes is a breath-taking sight. He is a warrior clad in gleaming Spartan armor that is bronze in appearance with a cape of blood from the countless amounts he's spilled. His hair is brown like the earth and can vary in length, and his eyes are blue like the sky. His skin is olive in color and the muscles packed upon his bones are nearly as indestructible as the armor that guards his body. He is the epitome of stamina, fear, and most of all,
war
.
Background:
Ares is the son of Zeus and Hera. His siblings are Hebe, Hephaestus, Enyo, and Eilethyia. His half-sisters are: Artemis, Athena, Aphrodite (depending on the myth), and Helen of Troy. His half-brothers: Heracles, Apollo, Dionysus, Hephaestus (depending on the myth), Perseus, and Minos. He is the most loathed son of Zeus, but when it comes to war, he is acknowledged as its epitome. There are many stories that follow Ares, but if you asked him about them that's all they are: "stories."
Personality:
Ares is very arrogant, brash, intimidating, courageous, and fearless to overestimating extents. There is no enemy too great and no war too difficult. He loves bloodshed and exacting destruction on his foes. He loves fighting, conflict, combat, and cares not for its devastating outcome. Once on the battlefield, the god cannot be withdrawn so easily. It is an addiction; war is who he is, and she is his true lover. He isn't afraid to challenge anyone who dare offend him, and like his father, the god can be prone to sexual promiscuity.
Symbols:
Spear, helm, dog, and vulture.
Weapons:
Anything and everything; he can summon any weapon to his hands. His main preference are the divine weapons from Hephaestus's forge. The god himself can be considered a weapon for he is a master of combat and weaponry.
Powers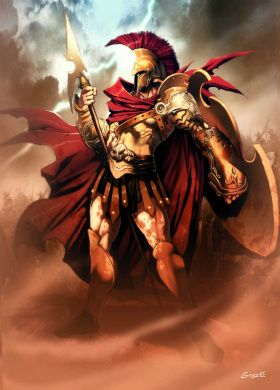 Rage
Ares's rage is a numbing phenomena that increases his tolerance to pain to no bounds. He can be wounded, and wouldn't flinch or even blink an eye. Once enthralled, the war god becomes an unstoppable berserker.
War Cry
The cry of Ares is petrifying and devastating in magnitude.
God Wheel
It is the wheel Ares summons in which he draws his divine weapons from. The god wheel turns, giving him a limitless supply of tools to murder with.
Godly Stamina
Ares can fight a battle without rest. He doesn't need to eat, sleep, or drink; war is his fuel. War is what keeps him going until a conclusion is met.
Disclaimer
: Artwork on the right by GENZOMAN from DeviantArt. Top artwork unknown and I do not claim it as my own. I simply have these pictures to portray what I envision.