Kitana Yato Noragami
"I'm not against socializing.. As long as it's not tiring."


Weightless || Ready, Set, Go! || F*ck You || Pumped Up Kicks(Like Me)
---
---
---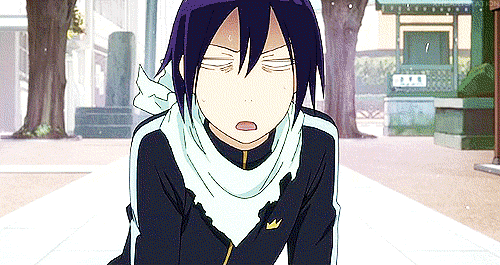 Kitana Yato Noragami
"It is just soooo LONG!"
Bisexual
"Why? Are you interested?"
Natsume Asako
"She is pretty cute!"
Japanese & Russian
"I get my eyes from my dad!"
Power Negation
"What does that mean? Well.... It means.. Uhm.. I'M AWESOME!"
Noragami Yato
"People say I look like someone they know, weird huh?"
---
---
---
Appearance


||

Height + Weight

||
6'4" and 143lbs


"Call me a beanstalk and I'll end you!"



||

Hair

||
Kit has deep black but thanks to a prank long ago it looks deep dark purple in the sun.
He liked it so much that he keeps it that color.


"Someone put hair dye in my conditioner!"



||

Eyes

||
Bright blue


"My mom used to call me bright eyes... BUT IF YOU DO THAT YOU ARE DEAD!"



||

Tattoos/Piercings/Distinct Features

||
Kit has an eyebrow piercing but it us normally hidden by his hair.
He doesn't have any tattoos.
Kit is covered in small scars from getting beat up as a kid by bullies.


"I like body mods but I'm to afraid to do to much!"



||

Clothings

||
Kit likes to wear black, he thinks it is slimming.
It really just makes him look taller and thinner then he really is.
Dark jeans and a black t-shirt for when he is in a rush or black sweats.


"What does it matter to you what I wear?"
---
---
---
Personality
Easily Excited

||

Anxious

||

Big-Headed

||

Egotistical

||

Impulsive
Kit is a little scattered, he can be very flamboyant and high strung one second and then dull and restrained the next. Some would say he is bipolar, he may be for all anyone knows. Really Kit is just happy to be a live and feels his emotions very deeply and then expressed them to the fullest. He is very easily confused but the simplest things and then over reacts most of the time. When he does something really awesome he likes people to know about it and makes a big deal about it.
Growing up he was a very mellow child and his mother was crazy. She was very happy to have Kit, so Kit reciprocated that happiness. Always trying to keep up with his mothers emotions caused him to become a lot like her.
He isn't really afraid of many things, except cats. Kit hates cats. If a cat gets near him he FREAKS OUT! Most of the time he runs away and wont come back around unless he knows the cat is gone.
Kit seems to thrive on chaos, the crazier a situation is the faster he can react to it and make split second decisions. He probably has a form of A.D.D or A.D.H.D.
||

Likes

||
✔Long walks in the local park
✔Bubble gum
✔Rap music
✔Jazz music
✔Staying up late
✔Being around friends
✔Puppies

||

Dislikes

||
✘Cats
✘Going to slow
✘Guns
✘Sour food and candy
✘The smell of raw meat
✘Did I mention cats?
✘Being bossed around
✘Cigarette smoke
---
---
---
Family History
||

Family Members

||

Rioko Noragami || Female || 39 || Mother
Rioko has the same hair as Kit but its because of her profession.
She is an exotic dancer.
Alexie || Male || 46 || Father
Alexie doesn't actually know that Kit exists.
He'd had a one night stand with Rioko and Kit was what came from that night.


"I'm an only child, and I love it! Mom and I are best friends and we hang out all the time!"



||

Brief History

||
Kit was born at home and much to everyones disbelief was not dropped on his head at birth. In fact his mother loved him very much. Despite her job, Rioko made a point to spend all the free time she had with her son. She didn't want him growing up to feel unwanted just because he didn't have a father. When Kit turned 10 he started getting bullied because of his weirdness and his mothers profession. He didn't care, he just ignored the teasing and took the beatings with a smile on his face. When he turned 15 the beating and teasing stopped, Kit had finally snapped and fought back, all the while smiling as he beat the kid senseless. After that no body picked on him ever again, there were even a few adults that were afraid of him. His mother could never be afraid of him though, partially because she is terrifying herself. A few years ago Kit got a letter that he had been accepted into a fancy new private school, at first he wasn't going to go but after his mom found out she made him go. After the first few weeks Kit knew there was something very strange about this school, the people here could do things he had only read about in comics. He was packing up to leave when a teacher asked to see him in the court yard, Kit went and found himself in the middle of a brawl. Someone was coming at him, Kit braced himself to get beat up but as soon as he grabbed the kids shoulders it seemed like he couldn't do anything, like whatever powers his attacker was going to use on Kit had been sucked out of him by a giant bendy straw. With this kit knew he was exactly where he needed to be.


"It has been one weird ride, and it is only getting weirder!"
---
---
---
---
---
---