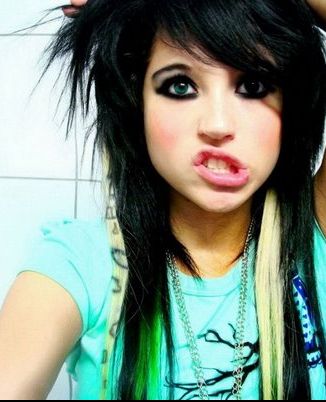 Age:
Fifteen
Gender:
100% Female
Role Description:
Bassist for The Betrayer's Kiss, she is very extroverted and hyper, and doesn't mind Donnie being in their band. When she is not talking and bouncing, she is usually seen in her own world, an innocent slightly-fearful look in her eye. She loves the band and devotes all of her free time to practicing with them.
Your Band:
The Betrayer's Kiss
Equipment:
-Her handy guitar of course
-A bag of various candies, you know, in case she gets hungry
-Strawberry-flavored pale pink lipgloss
-Electric blue nail polish
-Her
good luck charm
Anything Else:
Hanna is one of six children in her house, she isn't loud and hyper because she's starving for attention though. She's always been like an energizer bunny because she loves be crazy and having fun. Sometimes people might find her nonstop chatter annoying, but it's a good thing she doesn't care about what others think about her. She is who she is and wouldn't change for anybody.
Zebra-striped Converse :P