The Road to Paradise: A Wolf's Rain Based RPG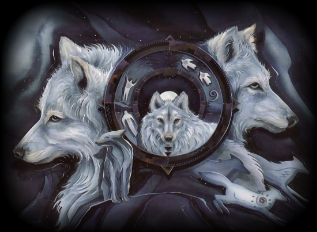 When are we born? When do we die? Why are we born? Why do we die? The world has been destroyed and we've fallen countless times, always resurrecting from the ashes as Paradise. It has happened before, and it will happen again, an endless cycle of life and death. The world is a Paradise that was opened by someone, but this era too is almost at an end. We have acquired the means to exceed our natural span of life, never suspecting that the world itself was finalized in its existence. This knowledge has left me in despair, my fate has fallen and scattered like the petals of a dying flower, like the blast from a sandstorm it has been worn down and weathered away. As if to be purified, the world will be encased in ice so that it can return to the beginning once more. Paradise is a world that is opened by someone...
– The Spirit Owl
The Run Down
This game is based on the anime Wolf's Rain; however, it will be driven differently. You do not have to have seen Wolf's Rain in order to be in this game. What you read from this introduction will be all you need to know about this game. I will go ahead and state that Cheza, the flower maiden, will not exist. Instead, there will be a lunar flower encased in a glass vial, which is the last of the plant species—the flowers that once grew in paradise. I will only be accepting up to five players in this game. Players who are interested are welcome to post a profile. I will only be accepting the profiles from players who I feel truly worked on them so do not feel discouraged if you see more than five applications. My say is final on who gets in this game. This game is going to be a team effort to run, and it will need the imaginations of everyone. The enemies and bosses are GM-run. With all this said, I thank you for reading this portion of the game.

The game is broken into chapters. Each chapter has a plot and goal, and once it is reached, it will close. This gives everyone a mission. The information below will be for Chapter One. Once chapter one has come to an end, a summary will be written summarizing its events, and we'll move onto Chapter Two. As of now, I am undecided if I will accept more players later. There is always a possibility, so we'll see.

For Chapter One, the game begins in Freeze City. Players can post at their leisure, have their characters interact with others, but I discourage your character causing too much trouble. What I mean by trouble is don't have the whole, human army chasing you. Having a few police officers chase you, and then losing them or what not is fine. I will be sure to let you know if I feel your post needs to be edited due to a possible plot complication.

In conclusion, thank you for reading this portion of the game. Please continue reading below.
The Setting
Chapter One: The setting takes place in Freeze City, a dome in the north in the middle of a winter wasteland. The dome protects the humans from the cold, and although it's still freezing, the temperature is at a bearable level for survival. The humans of Freeze City are very poor and endure hardships trying to survive every day. The technology-level of this city is modern.
The Dancing Jackal
Once an abandoned, run-down bar, it still is pretty run down, but its inhabitants have managed to spruce it up and make it homely. The bar's residents are wolves posing as humans, having been drawn to the city by a mysterious smell coming from the government facility. They pose as employees in the day, making a small profit that they split amongst themselves. At night, they are thieves, robbing the supply trains that ship food to the city.

Roles

Bartender (1)

Taken


Waitress (1)
Bouncer (1)



Other roles

: Wolfish Visitors of Freeze City (3)

I will only be allowing three male characters and three female characters. Technically, just two male characters since I will be present in this game as the third male. As I mentioned in the above statement, do not feel discouraged if you see more than five applications. I will be selecting the applications that I feel are passable in this game.
Chapter One Entities
Wolves: The wolves in this game are not werewolves. They are the four-legged canis lupus, but possess special abilities. They can fool humans by magically setting before their eyes a human illusion of themselves. This allows for the wolves to walk around freely, but in this form, they cast a wolf's shadow. Wolves in wolf-form and human-form can leap incredible heights, run extremely fast, have powerful jaws than can bend iron, and sharp claws that allow them to scale walls, vertical inclines, and even slash enemies. If wolves are wounded, they heal quickest during a full moon, but the light of the moon is enough to soothe their wounds. Each wolf will have one unique characteristic specific to them alone. As the GM, I will be policing what you have written as their characteristic. Nothing like fire, ice or any element or extreme ability that would make this game seem like X-men. (This is the only playable entity)

Humans: Humans don't believe that wolves still exist since the last one seen alive was 200 years ago. If any Human sees a wolf, they will think it is a big, stray dog. Some humans don't mind wolves, while others won't hesitate to call the dog catchers.

Hunters: There still exist wolf hunters who believe that wolves are alive and have adapted to live among the humans, hiding in human flesh. Hunters track dogs best using their trusty hounds that cannot only sense a wolf, but see through their human disguise. Hunters won't hesitate to try to kill a wolf. Their interpretation of the Book of the Moon has made them blind and they feel the wolves to be a threat to human existence.

Dogs: Normal dogs aren't a problem. It is the dogs of hunters that pose the biggest threat to wolves. They can be just as strong and dangerous.

Nobles: They are the remains of royalty. They are wealthy lords and ladies of the sky, living in their flying ships of luxury that soar from one human civilization to another, taking what they need, and doing as they please. They believe in the prophecy of the Book of the Moon and feel they need wolf's blood to open the gate to Paradise.
Chapter One Objects
The Book of the Moon: a.k.a. The Lunar Tome, "From the great spirit was born the wolf and man became its messenger. When the moon turns to blood, the gate to Paradise will appear, but only the wolves shall know how to find it and be permitted entrance." The book implies that man was born from wolves. Humans are supposedly wolves that have forgotten their true form. However, once their form is forgotten, they cannot revert to being a wolf again.

The Lunar Flower: It is the flower that the wolves smell and is currently being contained within the government facility. It is the last of the lunar flowers, and it is one of the keys to the gates of Paradise.
Character Profile
Code: Select all

Human Form

Name:
Nickname: This is optional if he/she doesn't have a nickname, then don't put one.
Approximate Age: The age your character appears.
Height:
Weight:
Hair Color:
Eye Color:
Complexion:
Written Appearance: What the picture doesn't describe. This is like tattoos, piercings, scars, or any extra details.
Visual Appearance: Refrain from taking pictures from the anime please.
Character Traits: A list of words that describe your character.
Personality:
Likes:
Dislikes:
Current Story: What are they doing now? Background is unnecessary.

Wolf Form

Pelt Color: The color of the wolf's fur. Please use natural colors. No pink, purple, blue wolves please. This isn't My Little Ponies.
Height:
Length:
Written Appearance: What the picture doesn't describe. This is like scars, strange marks or characteristics, and physique.
Visual Appearance: Do not use pictures from the anime. I will not accept it. Only use pictures of actual wolves. No Okami wolves or ninja wolves.
Unique Characteristic: To better explain this, in the anime, some of the wolves had a special characteristic such as one wolf had a better sense of smell than the others, the other could communicate with other animals, one just had the driving urge to find Paradise because he could sense the correct path, and the other I guess knew how to use a knife in his human form. You can only make up one, and so be sure no one has the same ability as you.
Feel free to design this profile layout however you like. This is just telling you what your profile should have. You can add more if you feel inspired to add more. Just don't add less.
Clarifications
Your character may have a human form, but he/she is still a wolf. Therefore, if you want your character to be able to use a weapon of some kind, it has to be listed as a "unique characteristic." The reason why is simply, wolves don't have hands. So if they're grabbing anything in human form, they're using their teeth. More than likely, your wolf will not be able to handle a firearm because the wolf can't manage to squeeze the trigger and reload.

There is no pack mentality with wolves. There is no alpha, beta, or omega. The wolves are the first beings, and the humans were born from the wolves, so they co-exist just as humans do. They are logical creatures and do what they can to survive whether as a team or alone.

The clothes on the wolf's human guise cannot be removed because they are an illusion. In actuality, the clothes may just be your wolf's fur. However, the clothes can be altered, but not by physical means. The wolf's human guise cannot be altered for it represents who the wolf would be if they forgot that they're a wolf.
Be sure to read the first page of the OOC before you start creating a character sheet.
1. Do not post OOC comments in the IC. Use the OOC when making OOC statements.
2. Use grammar and spelling to the best of your ability and try to post at least five sentences. If you are in dialogue with another character and you don't think you can produce

five sentences

, then go into PMs with that person, collab, and post the conversation as one huge post.
3. The enemies are controlled by the GM. I will give you freedom to make trouble for yourself, but the enemies that move the plot along are controlled by me.
4. In the case of duels between players, both players need to use T1 or otherwise known as turn-based combat. You write your actions as an intention, giving the other player a chance to dodge or counter. The GM will be observing these in-game duels, and if he needs to intervene due to illogical movements or play, he will pass the final judgment. If you do not like this, then learn how to fight. 'Nough said. You should be able to go into PMs and collaborate with the player you plan to duel. Maybe you guys can decide on a stalemate and make the fight look cool. There is no need to try and kill each other or hate on each other over an in-game fight. It's just a game, so please be civil.
5. Whatever the GM says, goes. I try to be fair. I try to permit most characters, but if I say no, then it's no. Please don't argue with me. I'm sorry if you wanted your way, but this is my game and I try to make decisions for the good of the plot.
6. This RP may have mature themes, but there will be no love-making (sex). If pants come off, take it to PMs or where others can't see it.
7. Do not post ahead of other players. No one wants to feel pressured when they play this game. You may have all the time in the world but others may not. If you post to someone, let him or her have a chance to respond. If you post towards more than one person, let each of them respond. If I feel that a certain player or players are going ahead of others and are not giving them a chance to reply, then I will have to place a limit on posts.
8. No god-moding, no meta-gaming, and no breaking character. The first two are self-explanatory, but just in case you don't know what meta-gaming is. It is when you have your character know knowledge that only you, the writer, should know. Breaking character is known as breaking the fourth wall when you write a post with implication of OOC knowledge or in response to OOC statements. Another definition for it is when your own emotions filter into your character's emotions.
9. If you play a character with an Asian name, then I expect that character to be and appear Asian. No exceptions.
Taking place in...
Arcs are bundles of posts that you can organize on your own. They're useful for telling a story that might span long periods of time or space.
There are no arcs in this roleplay.
There are no quests in this roleplay.
Here's the current leaderboard.
There are no groups in this roleplay!
Welcome home, Promethean. Here, you can manage your universe.
Arcs are bundles of posts from any location, allowing you to easily capture sub-plots which might be spread out across multiple locations.
You can create Quests with various rewards, encouraging your players to engage with specific plot lines.
Settings are the backdrop for the characters in your universe, giving meaning and context to their existence. By creating a number of well-written locations, you can organize your universe into areas and regions.
Navigation
While not required, locations can be organized onto a map. More information soon!
There are no groups in this roleplay!
By creating Collectibles, you can reward your players with unique items that accentuate their character sheets.
Once an Item has been created, it can be spawned in the IC using /spawn Item Name (case-sensitive, as usual) — this can be followed with /take Item Name to retrieve the item into the current character's inventory.
Give your Universe life by adding a Mob, which are auto-replenishing NPCs your players can interact with. Useful for some quick hack-and-slash fun!
Mobs can be automated spawns, like rats and bats, or full-on NPCs complete with conversation menus. Use them to enhance your player experience!
Current Mobs
No mobs have been created yet.
Locations where Mobs and Items might appear.
You can schedule events for your players to create notifications and schedule times for everyone to plan around.
Add and remove other people from your Universe.
Orphanage
By marking a character as abandoned, you can offer them to your players as pre-made character sheets.
12 sightings
Belle
played by Prose
The lone wolf who never chose to be alone and seeks the tantalizing scent which haunts Freeze City.
The Forge
Use your INK to craft new artifacts in The Road to Paradise. Once created, Items cannot be changed, but they can be bought and sold in the marketplace.
Notable Items
No items have been created yet!
The Market
Buy, sell, and even craft your own items in this universe.
Market Data

Market conditions are unknown. Use caution when trading.

Quick Buy (Items Most Recently Listed for Sale)
Welcome to Freeze City.
Discussions
Most recent OOC posts in The Road to Paradise