(i will add character avatar soon)
Name~ Carmin Tetra Teach
Age~ 23
Species~ human
Appearance~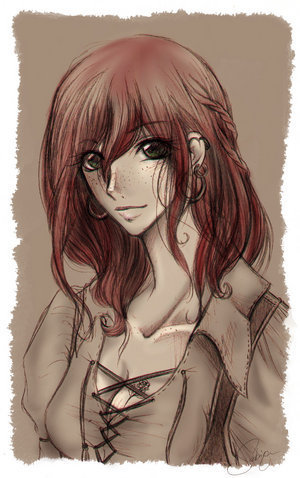 Personality~ Carmin has a pretty down-to-earth/tough personality, but yet she's always causing some sort of trouble. She's good at getting what she wants and can usually sweet-talk her way into anything. Carmin is also pretty smart and is good at puzzle solving, making her a good addition to any team. She likes to give advice, whether it be good or bad. Carmin is also very shady and loves to gamble.
Bio~ Carmin lived with her brother for a while in South Carolina, and she left home at age 17. (Connor had already left) When she was 18, she joined her first crew. She worked with the crew for 4 years, and was prized as the best sharp-shooter. She eventually hooked up with the captain, and at first their relationship was steady, but he started to abuse her. Nobody helped her with her problem, for fear that the captain would go on a rampage. One night, when he beat her again, Carmin couldn't take it any longer, and shot him in the head. She quickly escaped the ship on a rowboat before anyone could kill her. (although, she did get a bullet to the elbow)
Later, Carmin lived on her own and was a regular at the taverns. She would often times gamble and drink rum, washing all her money away. When all her money was gone, she turned to pick-pocketing on the streets. She was quite good at it, and she never got caught.
One day, at the bar, Carmin found out that the first mate of the crew wanted revenge on her for killing his brother. So, he put a huge bounty on Carmin's head, and she barely made it out of the pirate town alive. Carmin decided to keep her identity a secret, but she has a very distinctive appearance, and her bounty kept rising, so she turned to her younger brother for help. She practically BEGGED him to be a stowaway on his ship to hide from other pirates trying to kill her. With enough luck, Carmin was able to stay on his ship.
Theme Song~ Dance Without You-Skylar Grey
Other~
-Carmin has two main weapons: a sword and a golden pistol she won from gambling. She uses the pistol more than the sword, mainly because she's a great shooter, but she isn't bad at sword fighting. She also has a whip, but she uses it in desperate situations.
-Carmin has been in the situation where a pirate kidnaps someone and leaves them on a desert island with a pistol with only one bullet. (used to commit suicide)
She used the driftwood on the island and cut down trees to make a boat, then escaped the island. Later, she shot the man with his own pistol, and got her stuff back.
-Like Connor, Carmin hates it when people make fun of her, ESPECIALLY because she's a ginger. Like traditional gingers, Carmin considers herself crazy and unpredictable, but only when she's drunk on rum. :D