Margery Sarah Lovett || Eighteen || Female
---
---
P e r s o n a l i t y :
Following the pattern of a lot of those who were born and raised in this exclusive school, Margery has a somewhat quirky personality. When she was younger, the girl had a bad habit of spacing out all of the time, and would sing under her breath at the most random of times, causing many students to view her as just a little bit creepy. This wasn't a great impression for the people that she would be spending the rest of her adolescence with, but what was worse was the fac that, when she snapped out of her own daydreams enough to hear someone insult her, Margery was not the most pacifistic of people. She has a brutally sarcastic sense of humor, always has, and a tongue so sharp that it could cut through diamonds. Of course, when she couldn't intimidate people into not talking about her, she would resort to violence, and people have yet to forget the time that she threw a kid out of a window (a first story window, to be fair). Needless to say, Margery has never been the most socially adept of people, and therefore her friends are few and distant. It bothers her quite a bit, of course, but she is stubborn and competitive to a fault, something which causes her to refuse to ever let any loneliness show. Instead, she only gets a bit pricklier, and the vicious cycle of unintentional self-isolation repeats itself. Her biting tongue and violent temper aren't exactly making her many friends, and by now many of her peers just automatically avoid her, a prickly young woman to say the least.
Of course, Margery is actually reasonably sensitive, and seems to hear every bad word said about her, only to seal it up until the bottle breaks, in which case she tends to break a few things. Other than those various flaws, though, she is an incredibly loyal person, and those who have earned her trust and loyalty will find it a gift that continues to give. She would do anything for someone she cares about, regardless of whether it puts her in the line of danger. One realizes how precious something is when they lack it, and so she has the tendency to be a bit clingy when it comes to those who are willing to tolerate her. This may translate to jealousy as well, though her jealousy transcends just being jealous over those she cares about. She can be a bitter person, far from an optimist, and often daydreams about the things that others have but she can't. It is certainly greed, except that her pessimism makes her doubt that she can ever achieve her dreams. She doesn't have the highest of self-esteems, after all.
However, there is a reason that those who tolerate her do so, and it isn't pity. Besides her loyalty, Margery can be surprisingly kind, her actions often not quite lining up with her cruel words. She memorizes people's favorite foods and gives it to them when they seem to be blue, and is willing to lend a helping hand to a friend in need. She has a particular fondness for stray animals and broken things, and her room seems a haven for broken toys and stray animals, earning some annoyance from those who enter it. Her sarcastic sense of humor also translates to cleverness, and Margery is quite a foe when it comes to a verbal sparring, something that contrasts to her average grades. She doesn't put too much effort into academics because she doesn't think they matter, but she is actually quite intelligent and resourceful, once one gets to know her.
Sarcastic || Sensitive || Loyal || Clingy || Self-Conscious || Witty || Reasonably Kind || Prickly || Clever || Pessimistic || Slightly Violent
---
---
B a c k g r o u n d :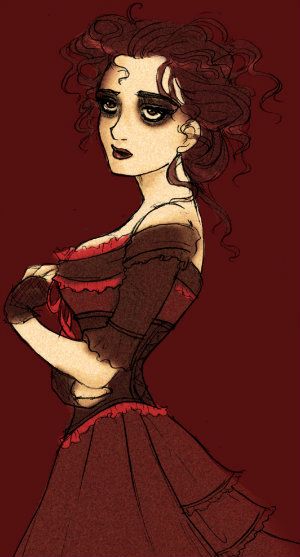 Like all of the other clones, Margery was raised in the institution, from her original 'birth' of sorts to present day. Even before learning of her actual identity, something which she didn't do until Sweeney Todd learned of his, she had admired the young man from afar. Many of the other students have considered her somewhat odd from the beginning, and her habit of singing a bit under her breath has never really helped to get rid of that fear. Still, she is probably the best cook in the school -though, it helps that there aren't really clones of chefs in this school- and people will eat her food, as long as it isn't meat. Margery pretends not to mind the fact that most people, especially children, appear to avoid her, but of course she minds. When she became aware of her identity, she denied that she would ever do such a thing as put human meat into food. Of course, she has wondered now and again if it would make her meat pies taste better.
O r i g i n a l ' s - p a s t :
Until Page 18
W h e n - y o u r - o r i g i n a l - d i e d - a n d - h o w ?
The original Mrs. L0vett died in a cell in the December of 1801, choosing to take her own life via poison. How she acquired the poison is debated, but the point is that she took her own life before she could be used as a solid witness, and before she could be taken by the noose.
D r e a m s - o r - g o a l:
Honestly, Margery hardly dreams of following in her original's footsteps. Well, with the exception of the fact that she wants to own a restaurant someday. Rather than being known as an accomplice in murdering and cannibalism, she wants to be a chef who makes food that everyone will acknowledge as tasting good. Of course, she does dream also of living a life in which she is able to experience finer things, like gourmet foods and exotic trips, but that is a secondary goal. However, she fears that this dream will never be achieved, if she continues to be stuck in this school. The cafeteria ladies don't even trust her to help out in the kitchen, making her envy the fact that Sweeney gets to run his own barber shop.
W h a t - i s - y o u r - o r i g i n a l - f a m o u s - f o r ?
She was an accomplice to Sweeney Todd's murders, and used the human meat as pie filler.
---
---
F e a r s :
Being Ostracized
-- For a good portion of her life, Margery has been viewed as somewhat strange, even by the standards of other clones who attend this school. This may be due to her habit of singing under her breath when she is alone, or the fact that she spent most of her childhood either by herself cooking or daydreaming. She didn't exactly start off on the best foot with most of her peers, and was the sort who would react to any sort of bullying with a violence that isn't exactly known for turning enemies into friends. Though she may deny it vehemently, hearing people say things about her bothers Margery quite a bit, and she is afraid of being isolated.
Claustrophobic
-- Margery's original died in a small cell in Newgate Prison, and she herself has always been afraid of small, confined spaces that resemble such a place. Long story short, she suffers from somewhat severe claustrophobia. Being stuck in such a place for too long will give Margery a panic attack, and she will begin to have terrible nightmares and hallucinations of the walls closing in around her. In general, it inspires great anxiety in the young woman, heightened heart rate and all. She'd rather be hanging from a cliff than locked up in a cell.
L i k e s :
+Cooking
+Singing
+Musicals
+Old Fashioned Clothing
+Day Dreaming
+Heights
D i s l i k e s :
-Small Spaces
-Stereotyping
-Being Alone
-Assumptions
-Bad Cooking
-Silence
O r i e n t a t i o n :
Pansexual
C r u s h:
Sweeney Todd