[center or left]
Scarny Lee Scarlet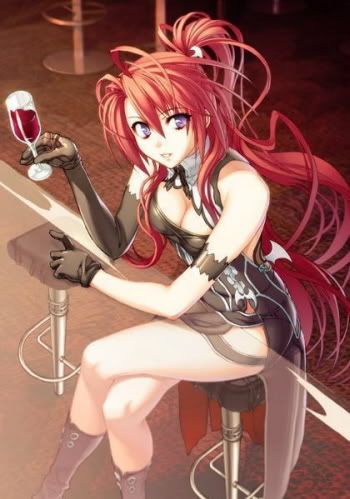 [/center or left]
Gender: "Isn't it obvious?" Female
Age: "Trying to get lucky?" 19
Race: "Its a secret" Vampire
Love Interest: "Wouldn't you like to know?" Not sure
Ranking: "Whats it matter?" Eldest of the Scarlets
---
Eye Color: "Take a look." Blood Red
Hair Color: "Can you see?" Red
Height: "Taller than you." 6 Foot 5
Weight: "Never as a lady her weight . . . nevertheless I'm not a lady." 156
Appearance: "Cant you see it all or do you want more?" Her fangs always seem to be out ready to feed
---
Personality: "Oh this should be good." She is NOT a very social person. She loves to con people into bed so that she can sue there blood. She has gotten girlls as well before. When she was put on her "diet" she did get even more angry then she already gets. Yes she has a temper. A short temper at that.She has only had one true love and at that time she was the most sweet person in the world. Now she only comes around people when she wants something to eat. She will generally hold small balls or dances so that she can choose her next victim. Those stopped when she was put on the "Diet".
Likes: "You look nice"
₪ Blood
₪ Music
₪ Art
₪ Nature

Dislikes: "Never mind you dont"
» People
» Crowds
» Being Bothered
» Animal Blood
Fears: "Ha I have no fears"
◊ Death
◊ Love
◊ Trusting
◊ Loss
---
Skills/Talents: "Ican show you if you want"
◊ Art
◊ Music
◊ Hunting
---
Source(s): Google Images
Other: She drinks her blood as if it were wine like in photo