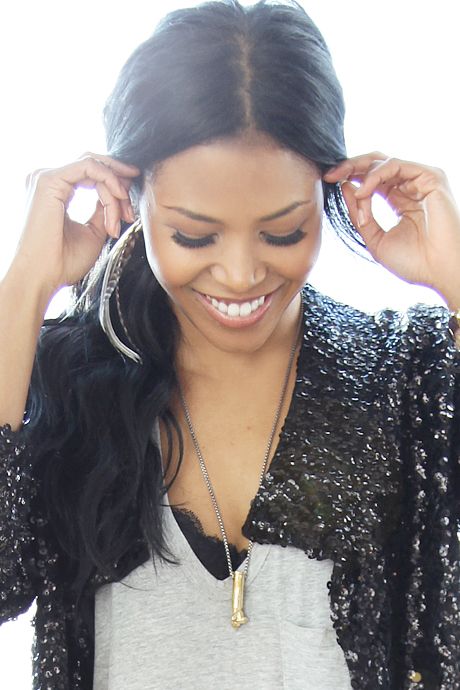 Name:
Desirée Okonkwo
Nickname:
Sugar
Alias:
Jane Smith
Age:
22
Gender:
Female
Blood Type:
A Positive
Zodiac Sign:
Gemini
Nationality:
African-American
Social Class:
Low
Birth date:
June 8
Birth Place:
LA, Cali
Occupation:
DJ
Title:
-
Height:
5'8
Weight:
130 lbs
Hair:
Black
Eyes:
Dark Brown
Distinguishing Features:
She has long and thick black hair that she happens to adore. Her skin is lighter than most Africans, this being due to her father's lineage.
Clothing:
Military-design jacket, a tank top, worn out denim jeans and black boots with a heel. At work she wears clothing that suits the night club such as tight clothing and flashy outfits.
Clothing:
Tends to wear leggings under her jeans to keep herself warm. Otherwise she wears sweats. Her tops vary from large sweaters to form-fitting turtle necks.
Weapons:
There is a dagger she keeps hidden usually in her boot. Her main weapon is the MP5 or the UMP.
Health:
Well. Young and fit.
Physical Flaw:
She isn't big and buff, meaning her strength compared to other trained individuals are low. Easily overpowered if grabbed by someone of a larger stature.
Intelligence Level:
Average
Long term goals:
Save up enough money to go to college.
Short term goals:
Work and live her life while she can.
Secret Desire:
She's somewhat of a sadist.
Most at ease:
When someone is by her side. She feels more confident and reassured no one someone has got her back.
Least at ease:
When she is alone in a place she doesn't feel safe. It's relaxing to be alone at home, sitting on top of your roof, but it's another thing to be alone in the middle of a dark forest away from civilization.
Personality:
As a Gemini, she just loves to talk. It can be anyone, a stranger or someone she had met 10 years ago, she just adores conversing. She can be rather fickle and restless, and also short tempered.
Personality Flaw:
Short tempered.
Biggest Vulnerability:
Her love for socializing. She isn't what you call easy to manipulate, but she takes other's words into consideration over her own opinion, and may hesitate when making her own decisions.
Greatest Fear:
Dying. Plain and simple.
Biggest Regret:
Not going to college.
Biggest Accomplishment:
Graduating high school.
Morals:
She has rather good morals unless it comes to the actually fight. If they deserve to die, then it's not a problem at all for her, rather, it's something she enjoys. If they don't deserve to die, then she prefers to have someone else take care of the job, but if given orders she won't disobey. It only applies to soldiers. Innocent victims are not her targets and she avoids them any way she can.
Relationship Skills:
She is a very sociable person and is able to easily strike up a conversation. Making friends is like second nature to her. Despite her friendliness with any person, stranger or not, she will stay cautious at the back of her mind.
Family:
Mother – Visits time to time. Biological father – Never speaks to him.
Religion:
Atheist.
Hobbies:
Photography, dancing, running
Talents:
Track & Field Star, impressive speed, agility and stealth
Habits:
She is a rather fidgety person off the job. Although her demeanor appears calm and not nervous, there is always one part of her body that seems to start moving without her noticing, whether it is a tapping finger or a shaking leg. On the job, her body immediately disregards that usual habit because it is overcome by the fear of a mistake.
Speech Pattern:
She speaks with a normal tone, though she watches her speech to make sure it is correct; she is quite the grammar Nazi. She speaks softly to those in a higher position to her. Otherwise, she is quite loud and cheerful.
Sleep Pattern:
Tends to sleep during the day since she works until late at night. She tries to grab a nap whenever she can, so she can be seen napping in the strangest places and/or positions.
Biography:
Desirée was born in California. Her biological father, a Caucasian man, accepted the costs of his child, but ended up with another woman and was never in her life; save for the finances. Her mother was the one who worked hard to bring her up right. A driving force in their family of two was her mother's belief in the Lord. Her mother never forced the religion upon her, but she wasn't quite thrilled to see that the more Desirée grew up, the more distant she grew from God.
She just didn't believe in such a powerful force. She had never felt his presence, or ever felt that she had been blessed by him.
Her mother never had much money, just enough to get by. When Desirée finished school, she couldn't even continue her education in college. Her marks weren't the best, and she wasn't the most involved of students; grants or scholarships weren't going to help her. So she decided to work until she would one day save up enough money.
It was not easy to find work. In fact, it was difficult for an 18 year old to make some money. Her options were limited to minimum wage with retail stores and McDonalds. Somehow, she lucked out and met someone who worked 'underground'. She was able to get herself a job as a messenger, and a new alias by the name of 'Jane Smith'. She worked for a few years as a messenger, and that was where she got to know Jess.
By the second year, she was able to snatch a job as a DJ. Coincidental she worked nearby Jess' bar.
Other:
Likes to ride around on her motorcycle with Jess. Cheaper and much easier to afford than a car.