»

翔

||

志豪

« :: [ 8 of ◇ ]
→ Spide - 天之羽如神 ←
Hex Codes ||

Dialogue

: #D5647E .:.

Thoughts

: #990000
---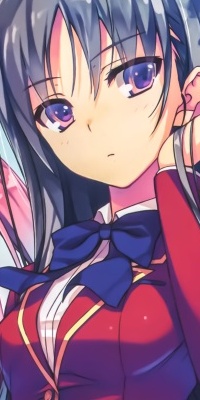 ╔

│

│

│

│

│

│

│

│

│
╗

│

│

│

│

│

│

│

│

│
« N i c k n a m e s »


→ Zhihao {zi-how} - Her last name. Hsiang demands people to call her this to show her respect.
→ Xiang {sh-ih-ah-ng} - The standard pronunciation of her first name, only used by close friends and people she is on first name basis with.
→ Little Bird - Either used as an unneeded pet name or an insult. Xiang means soar which led to its usage. Use at your own risk.


« G e n d e r »


→ Female


« A g e »


→ 17|| {Seventeen}


« S e x u a l i t y »


→ Heterosexual


« P o w e r

x

S t r e n g t h»


→ Intermittent


« R o l e »


→ Number/Student
╚
╝
---
---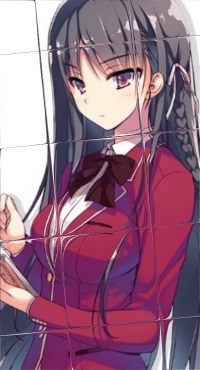 ❥❥ H e i g h t

|| 5'7 // 170 cm
▬▬▬▬▬▬▬▬


❥❥ H a i r

x

C o l o u r

|| Black
▬▬▬▬▬▬▬▬


❥❥ E y e

x

C o l o u r

|| Light Red
▬▬▬▬▬▬▬▬


❥❥ L i m i t e r s

|| Wears special gloves to limit the strength of her power.
▬▬▬▬▬▬▬▬


❥❥ D e s c r i p t i o n

|| An ever-constant scowl and a figure demanding respect from her body language alone. Harboring snow white skin and piercing crimson red eyes, her lack of apparent feelings attributed to many years of staying inside. Her black hair remains neat and tidy, sporting a small braid. She dislikes standing out, so her face is devoid of any markings, scars or piercings. Before being whisked away by the considerate armed men, she was always taught the value of being minimalism. She doesn't posses an extensive wardrobe, instead categorizing a single outfit to its intended purpose. Her clothing's sole goal is placing her in the background, a side character that contently does her job as a decoration. Her posture speaks louder than her appearance, her head held high and an air of audacious arrogance.
---
---




» L i k e s «
EDM || Oddly enough, Hsiang is an avid fan of electronic music. Enjoying trance, dub and hip-hop, she would not be caught dead dancing to the music, but simply listening to it is a popular pastime for her.

Culture || Hsiang is very interested in other people's cultures. When awkward silence ensues while talking to someone, learning about another's ethnicity and culture is her fallback topic. While the desire to learn about other people isn't enough to get her to actually pursue connecting with her peers, it's probably the only thing she'll talk about if she does like you.

Puzzles || An enjoyable hobby that allows her to sink her head and not talk to people. Jigsaw puzzles, rubix cubes and downloadable brain teasers, a palliative alternative to social interaction.

Change|| Hsiang is not easily entertained for long. Besides puzzles and EDM, her hobbies and interests will change at the drop of a hat, whatever seems interesting or will aid her in reaching the top.
» D i s l i k e s «
Pretentious Foods || Hsiang doesn't exactly have a preference on her food, essentially thinking of it all as simply sustenance. She hates wasting time and money which is essentially what is being used up to make expensive dishes. Despite her above average rank, her meals consist of high calorie fast foods that are usually only fed to lower numbers.

The ranking system || One of the most radical and outspoken oppressors of the School Ranking System, Hsiang is infamous for declaring to the royals face to face that she will dethrone them. She begrudgingly adheres to their methods only to tear it down once she reaches the top.

Conceited people || Despite possessing a well-groomed ego of her own, she despises the people who measure others worth by the strength of their powers. She also hates people who are more confident than her, it gets a bit annoying trying to prove them wrong.

Spiders || Ew.
---

« Bold.:. Ambitious.:. Arrogant.:. Pessimistic .:. Fragile »


▬▬▬▬▬▬▬▬
❥❥ At first glance, it seems that Hsiang is doing things just for the sake of takings risks. She breaks the rules on a daily basis, only being able to retain a relatively high status due to her power and grades. Her actions seem indiscriminate, but in reality, her moves are all calculated risks. She does admit to enjoying a possibility of failure in her plans, it isn't enough to sway her to take the leap unless the net reward is proportionally worth it. Hsiang holds a fire within her to match her willingness to take chances. She wants the throne. Usurping every one of the members of the royal family and completely abolishing the ranking system. She will NEVER settle for less, sporting a bit of a competitive nature.

She dislikes being proven wrong. Hsiang will never admit to her mistakes even if she is fully aware of them. She will confidently flaunt something that she knows is incorrect just for the sake of not having to confess to it. Her actions also ride the line of petty, holding grudges for things that are seemingly trivial and frivolous. Critical or minuscule, earning back her respect after a single mistake would take a lifetime of paying back the debt. She always assumes the worst of people, feeling as if everyone has an ulterior motive until proven otherwise.

On the surface, she hides behind a confident front. Playing the role of someone who is assertive in her actions and her speech. However, when things don't go her way, she is susceptible to breaking down. Hsiang is like glass, taking on features of her environment and only biting back when bitten, but if pushed too far, she will shatter into a million of pieces.
---
╔
╗
=→ P o w e r

x

A b i l i t i e s

←
° Manipulation of the properties of Glass || Aside from its shape, she can tamper with glass in any way she sees fit. Making it more resilient to blunt force, or making it so brittle that it shatters from light winds. She can also change how light will refract on the glass, Hsiang could change the prescription of someone's glasses or turn a window into a mirror.
° Breaking it down || Hsiang is able to break down glass into its primitive form which is purified sand. Turning windows into a pile of grains and specs into glass-less rims. She is also able to create glass from this purified sand substance, making up from her previous weakness of not being able to reform the shape of the glass. If a pile of the sand was sprawled across the ground, she could make a glass spike protrude out of it and stab any unfortunate bystander that happened to be next to it. Combined with her ability to increase the density of the glass allows her to make glass weapons and glass barriers that could withstand the force of a speeding car. She carries around a pouch of this sand wherever she goes, able to reform it into a glass shank if necessary. Likewise, she would be able to refine normal sand into glass, though it would take twice as long to create the glass due to having to squeeze out all the impurities.

→

P o w e r

x

W e a k n e s s

←
° Cannot create glass out of nothing || Hsiang cannot create glass, she is only able to manipulate its properties. If you lock her in a room without glass or sand in a 20 feet radius, she is powerless.
° Too slow || The breaking down of the glass and reforming of it takes a moderate amount of time. She would not be able to defend herself from a sneak attack or a fast projectile.
° Go for the arms|| Her power is controlled with arm and finger motions. If you can bound her wrists together, then she cannot use her powers nearly as effectively.
╚
╝
---
---

❥❥ Starting from the humblest of beginnings, Hsiang was born into a modest household. An only child taught from an early age to dream big and develop an adamant ambition. She still believed in conservative methods, not spending unneeded money on things such as toys or extra clothing. Her family owned a small restaurant, using their hard-earned funds to pay for Hsiang's schooling. Her schedule was packed with going to school in the morning and working at the family business all afternoon. As a result, she never learned acceptable social skills. Still, she was content with this life. She lived in a happy family, spending most of her time fiddling her thumbs in the outskirts of Beijing. Her lack of drive to pursue social relationships became a topic of concern to her parents, maybe some sort of disability? Hsiang just liked to keep to herself, she found a few close friends, but they either grew apart or moved away.

Her powers developed when she turned 7 years old. It started with simple glass cleaning. Hsiang was cleaning the windows and accidentally discovered that she didn't need the rag. The glass was spotless and Hsiang was stunned. She was young at the time so she thought little of it. She didn't think it would hold this much weight. She started to use her powers in public for the sake of convenience. Her parents noticed this, instructing her to never use them despite how minor they seem. Her parents were aware that Callister would take anyone with powers, and they weren't prepared to lose their only child.

At the age of 10, her family's business started going downhill. They weren't getting nearly as many customers and were considering selling their property. Of course, they never told young Hsiang this, but she knew that when the meals starting getting smaller or when things in the home went missing that something was up. What started with good intentions, ended badly for the Zhihao household. Hsiang took to the streets, performing her ability on dirty glasses or panes as a sort of circus trick. While it did collect some extra change, it only took a week for her to be forcefully abducted by men in suits. Her parents were mailed a suitcase of cash, a reverse ransom. Hsiang was gone, and the family was a husk of its former self.
---
Skeleton© || eratø
Faceclaim || Suzune Horikita .:. Youkoso Jitsuryoku Shijou Shugi no Kyoushitsu e
Portrayed by || Phantom