"Quote Here."
---
Name:
Quintus Augustus Pearce

Nicknames:
He prefers his full name, but he will respond to Quint

Age:
19

Gender:
Male

Sexuality:
Heterosexual

Role:
Scientist 5, 40% injection

Face Claim:
Cameron Mitchell

Hex Colour:


#E3170D
---
Power:
Quintus has developed the power of sound manipulation. He is able to manipulate the sound waves created by other objects or himself. He is unable to generate sound waves like one might generate fire from their hands. The only way he can create sound waves is through his voice or by interacting with other objects to have them create sound. Due to this, his powers can be weakened if his mouth is covered. They can also be weakened if he cannot hear/detect sound waves to control or if there is complete silence.

Most of Quintus's powers are seen in the form of him quieting, amplifying, or changing sound waves. He cannot completely silence sound waves, but he can quiet them. Likewise, he can amplify a sound to a very high volume. He is able to change a sound wave to make it sound like anything that he wants. This includes voice mimicry. However, it helps if he has heard the sound before.

Since he was given the second lowest injection of the serum, he has relative ease controlling his powers. Occasionally they will do the opposite of what he wants or randomly change a sound. He is not immune to the effects of sound, but he has a high tolerance for it now.
---
Appearance:
Quintus stands at 6' 3" and weighs 170 lbs. He attributes his height to his mother's side of the family. Though he appears thin, he does have some muscle to him. His hair is dirty blonde and naturally wavy, though he will sometimes style it. His eyes are blue. Rarely will he ever wear contacts, as he prefers his glasses. However, there are times where having contacts in is more advantageous for him.

He aims to look nice wherever he goes, but he also wants to be comfortable.
---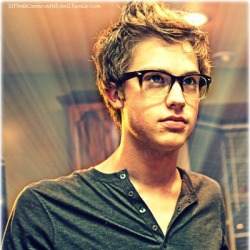 Personality:
Quintus is fairly dorky. He'll readily admit that he's a nerd and proud of it. He knows he can be weird, but he wouldn't trade it for the world. Though he's intelligent, he can lack common sense. He's also socially awkward and often times isn't sure how to interact with those he's just met. Sometimes, he'll just blurt out random things instead of saying what he wanted to say. With those he does know, he is able to chat comfortably with them and make jokes. He can be sarcastic, but never intends for it to be rude.

He is generally trusting of others, believing in the good that is in everyone. He's the guy who is willing to give everyone a second chance. This can be a flaw at times and get him into trouble. That being said, Quintus is a genuinely kind guy once you get past his awkwardness upon meeting him. He's there for anyone who needs him and will do anything to help those he cares about. He'll listen to what you have to say even if it's at 4 am. Really, he just wants others to be happy even if it's at his own expense.

Quintus is sensitive and can be an emotional guy, despite normally having a kind and sunny demeanor.

Outside of his scientific work, he enjoys reading, writing, watching movies, and both listening to and playing or making music. He considers himself a well rounded individual due to his interests in both science and the arts.

Likes:
+Reading
+Listening to Music and Playing Music (Singing and Playing Guitar)
+Writing
+Working Hard
+Science
+His Friends and Family
+Video Games
+Movies

Dislikes:
-
-
-

Fears:
-Being unable to make someone happy or help them
-Having to watch someone die
-Hurting someone he cares about or being hurt by them

Strengths:
+
+
+

Weaknesses:
-
-
-
---