---
---
---
---
|| Given Name ||
Ryder Wolf.

|| Taken Name ||
Gray.

|| Nicknames ||
Wolf or Prince, mainly.

|| Gender ||
Male.

|| Age ||
Nineteen.

|| Sexuality ||
Bisexual - he lives by the belief that no one should ever be expected to love another based on their gender, and so he leans in both directions.

|| Race ||
Furress.

|| Species ||
Wolf.

|| Occupation/Title ||
Prince and sole Heir to the Furress race.


---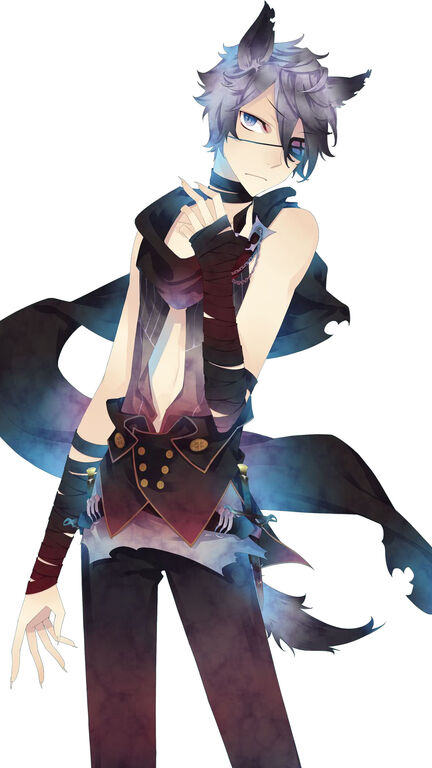 || Hobbies ||
Running || More like sprinting. The Furress forests stretch for hundreds of miles.
Hunting || As is necessary for the Heir to the race; he needs to be skilled in hunting.
Training || If it even counts as a hobby. Gray spends most of his spare time training.

|| Habits/Quirks ||
Movement || Being as active as he is, Gray need to move regularly and rid himself of excess energy, or his legs and arms will fly and jerk outwards randomly.
Eye patch || Gray fiddles with and fixes his eye patch regularly, mainly out of habit.
Nails || As his nails are among his highest priorities, he checks and trims them quite a lot.

|| Likes ||
Forests || He enjoys the wildlife, the fresh fruit and also chasing down prey on hunting trips.
Teaching/Training || He just enjoys imparting wisdom, really... 'Wisdom' is probably the wrong word to use here.
Climbing || Whether it's a tree or a building, Gray loves nothing more than to climb.

|| Dislikes ||
The Meraidus || He doesn't hate them, of course, but he finds fish to be disgusting.
Large, open spaces. || Having spent most of his life in the forest or in busy woodland cities, Gray hasn't had the chance to get used to open spaces, so they make him a little uneasy.
Extreme temperatures || He can't get comfortable if he's too hot or too cold.

|| Phobias ||
Extreme heights || "I've every right to be nervous! Y-you know what happens to us, right..?"
Public humiliation || "Again, I don't think this is ever pleasant. For anyone."
Falling || "I guess it's not the falling that scares me, it's hitting the ground afterwards."

|| Relationships ||
Layla Dove || "A curious thing, that one. I'd call her a friend, if nothing else."
(Character) || (Opinion)
(Character) || (Opinion)

|| Personality Traits ||
Curious | Adventurous | Optimistic | Witty | Clever | Mischievous

|| Personality Description ||
TBA.


---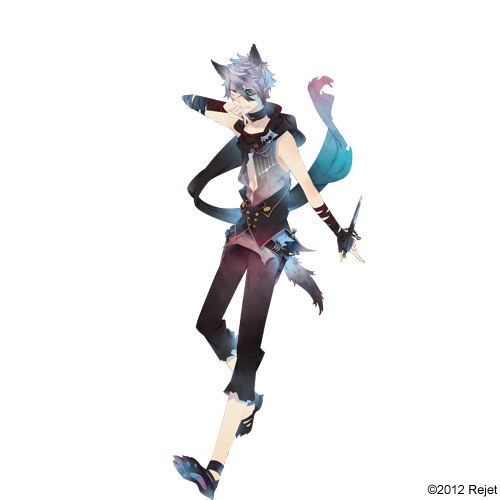 || Hair ||
Gray's hair is undoubtedly the sole reason behind his chosen name. It is unkempt and tousled, sitting scruffily on top of his head in no particular style. Gray often has his hair cut and trimmed in order to keep it short because it otherwise causes him to become irritated. It is a very light shade of grey with odd and unnatural shades of blue, and a much darker grey at the tips. While it is mainly swept to the side over his forehead, there is one thick bundle of hair that rests between his eyebrows and reaches down to his left cheek.
|| Eyes ||
Only one of Gray's eyes is regularly visible. It stands out, much like his hair, as a very light and pale shade of blue with a thin strip of violet lining the inside of the iris (though barely even visible). The other eye, however, is an unusually bright colour of emerald green. This eye is the one kept hidden under an eye patch, for the reason of adapting this eye alone to the darkness for the purpose of hunting in the pitch blackness of the forest at night.
|| Complexion ||
Gray is an incredibly pale boy, with very little colour to his skin at all. This, of course, means that cuts, scrapes and bruises stand out by a mile, and it is much harder to hide a blush or the heat of anger rising into his cheek.
|| Height & Weight ||
Gray stands at an incredibly height of 6'7", towering over the tallest of the Furress by an entire foot (at the very least). Additionally, he weighs around 6st, meaning that he is rather underweight for a man of his height. Regardless, he prefers it this way, as he favour speed and agility over brute strength.
|| Body Build ||
As mentioned before, Gray is a slender man. He is incredibly tall, however unreasonably slim. This overall body build allows him to move quicker through the forest trees and his light weight means that he can tread almost silently; both are ideal for hunting effectively. Wherever muscle can be found on his body, it is usually toned.
|| Distinct Markings ||
Naturally, Gray is covered in light scars, cuts and bruises from occasional scuffs with forest animals. Mainly, he suffers splinters in his hands or he scuffs his knees on the tree barks, or a twig will stab into his usually bare feet. He has nothing tattooed in ink for he thinks it a hideous thing to do to his own body. Other than that, he has no other markings.
|| Other Features ||
Gray is a natural-born Furress, and as such he has the common traits of the ears of his species protruding from the top of his head and sticking out from his hair (matching his hair colour), a set of sharp claw-like fingernails on both hands (black in colour) and a long, bushy tail poking from just above his rear (also matching his hair colour).
|| Accessories & Piercings ||
He wears an eye patch on his left eye, elbow-high fingerless gloves that are ripped in odd places and a belt with chain wrapped around it and long, black knives hanging from scabbards on each hip.
|| Clothing Style ||
TBA.
(As shown on photos).
---
[img]--[/img]
|| Current Place of Residence ||
Gray lives in a home structure similar to an incredibly large tree-house, with large rooms for each member of the Royal family and bridges running from one room to the other. Lights hang off of the walls, giving the structure a warm, friendly glow.
|| Bedroom Quarters ||

Gray's bedroom is the second highest room in the entire structure, just below his father's bedroom (to be inherited when he takes his place). It is a fairly basic room, as he does not require many luxuries to be happy, and sleeps on a sofa that also acts as a pull-out bed. It is regular-sized, and acts as both a bedroom, a living room and a kitchen.

|| Pets & Companions ||
--

|| Weaponry ||
[img]--[/img]
--

|| Friends & Family ||
--

|| Story ||
--