---
---
""We struggled with the negotiations, they got aggressive, but in the end we were able to slash the prices. It should be just fine."
---
|| Theme Songs ||
Normal||
Iron
||
Fighting||||
---
||Nickname/Title||
"Mr." is actually his title and rank, its not just because he is a man. His birth name is long gone.
|| Age ||
34
|| Gender ||
Male
|| Sexuality ||
Heterosexual
|| Role ||
Mercenary
---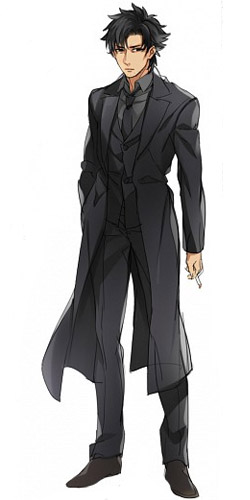 || Hair Color ||
Black
|| Eye Color ||
Brown
|| Skin Tone ||
Peach
|| Height ||
6'3"
|| Weight ||
230lbs.
|| Appearance ||
Mr. Nex is a well kept and clean-cut person. He has a slicked back black hair, clean clothes and usually wears a suit when not in his armor. His face is usually a placid mask. In fact, no one has ever seen his reaction change no matter what situation he is in. He always calm and collected, his voice never betrays the emotion some people believe he does not feel. His body is incredibly well toned and has on the slightest tell of bulk to it. He has many scars across body. Not one of them is on his back. He has a prominent scar on the right side of his chin.
---
---
|| Personality ||
Mr. Nex is pragmatic. Anyone who once knew him would say so. He ways the pros and cons of every situation and seems to be impartial to most occurrences. His demeanor is always very professional and business like, never really dropping his perfect posture. He never speaks informally and refers to most people with respect. No matter who he is speaking too, a life long friend or a hated enemy, he will speak to both in the same way. Calm, rational, business like. Words are fluff and lie in Mr. Nex's opinion. He speaks frankly and with little flair, but he is socially tactful and never insults someone unless he wishes too. He reads people very well but always seems to trust someones actions more than their words. He believes heavily in the weight of currency and business. His pragmatic nature leads him to believes enterprise is the way of the future. He is usually a very quiet man unless it comes to the concern of business and money. Like they say, "Gold can't always get you mercenaries, but mercenaries can always get you gold." Mr. Nex takes that truism to heart.
Mr. Nex is a mercenary in every sense of the word. He believes everything has a price, even human life. Not always in money, but a price all the same. He prefers people do not see things from his point of view and form their own opinions. His loyalty can always be bought and almost no job is off limits. Not to ay he doesn't have lines, but less than most people would have. Though he doesn't show much emotion, his voice isn't derived of it completely. He does not speak in a monotone, but a hearty bass that his demeanor or face would ever betray. His life is in the ink he uses to sign a contract. Though, once he has signed a contract with someone, then the terms of that contract are essentially scripture from the heavens. No matter how much more money is offered or even if his very existence is on the line, he will never betray a contract. Ever. If you hold his contract, you hold his soul. He will take orders and interpret your needs. Whatever may come, he is your man.
He always keep everything exceptionally clean and you would never find one of hi suit with any kind of crease or wrinkle. His room on his ship would be immaculate and their would be no trace of any particle of his being around, from hair to blood. Being a soldier for so long, the discipline never left him, in fact, it's become more a part of him than ever.
|| Personal Weakness ||
-His loyalty to a contract can be fatal
-He does have a modicum of pride, and if you manage to truly insult him.......he will kill you. Call him Mr.
-Mr. Nex has a hatred for narcotics of most kinds, especially a drug called Peerless that destroyed his family and home town. He will kill all he comes across with little pragmatism or thought, who deals in Peerless. He also refuses to transport it. He might even be willing to break a contract for it.
---
---
|| Abilities/Tech ||
Warfare: Mr. Nex spent most of his life on the battlefield. War is like a second home to him. He is an expert in warfare and most things involving it. He can provide the group with covert and battlefield tactics along with decades of firsthand experience with many different kinds of enemies.
CQB: Mr. Nex specializes in Close Quarters Combat. He predominately uses his monofiilament blade in combat. most guns aren't efficient weapons from a distance of 1 meter, which is Mr. Nex's comfort zone. Though, most of the time, this is out of reach, so he uses his
heavy pistol
or if you really piss him off, his massacre cannon. He specializes in a unique form of unarmed fighting taught to him by the Chronus Group. It is incredibly deadly making him impossibly lethal no matter the distance, equipment or situation.
Military SOP: Mr. Nex has spent most of his life working for, under or beside the Novahlis Military. He knows the ins and outs of how they operate, what they would do in what situation. He knows their standard operating procedure inside and out and provide insight into it for any group he is a part of. He knows basic patrol lines, where they will and won't go, and what they would do when encountering someone like Jack.
Monoblade:
His best friend. If he were to have to choose one thing he could own for the rest of his life, it would be this knife. it is .45 meters long and not even a millimeter thick. When held straight, it would be hard to even see the blade. It is maintained and sharpened with a monofilament wire, allowing it to be sharp enough to cut through thick iron or steel with little resistance. It's base material is incredibly sturdy, not even breaking when shot. This knife in never far away from Mr. Nex.
Assault Armor:
His EXO armor is standard hardware for all "Mr." ranked members of the Chronus Group. It is a baseline enviroment adaptive combat ready suit. An exosuit with enhanced movement servos in joints, a self-contained atmosphere and multiple layers of ceramic plating. An assault suit is basically a scaled down suit power armor with enhanced mobility in battlefield conditions. While regular quality power armor slows down the wearer, the assault suit grants almost equal protection as power armor without compromising the wearer's range of movement. Using exosuit requires special training, since the movement enhancing servos "run for you" with minimal muscular input. This means that a soldier with an exosuit can easily out perform a regular soldier in extended combat situations due to the more efficient use of energy. It is a step down from the more durable but slower Beowulf Power Armor, worn by the most senior members of the Chronus Group. His armor is similar to the picture, except matte black.
Massacre Cannon:
The Massacre cannon was made for the purpose of killing people, regardless of the protection. It constantly needs to be charged and powered and has a limited life in combat. It is a rather large gun that shoots out magnetized electricity in focused beams. It flash fries most who come in contact wih it, especially if their in a power suit. Though it is not a guaranteed one shot one kill. its basic purpose is puncture through the human body like a lance of lightning. It is experimental military hardware that was given to Mr. Nex when he was a member of the Chronus Group.
|| Biography ||
Not much is know about Mr. Nex's past. He comes from a far off land called Ialla. At some point before his 20th birthday, he joined the Chronus Group the largest and most influential Mercenary company in all of Novahlis. He then eventually arose to the rank of Mr., one of the highest rank one can obtain in the group, and was given a new name, leaving his old one to burn away. Up until a year ago, he was a prominent commander within the group and well respected by most. Something happened, and he is believed to have been killed by one of the 15 heads of the Group
Shepard Mendax
. He now wanders the skies, looking for a new contract......and to settle a score.
---
---

"It's not like I'm going to massacre them all on sight."