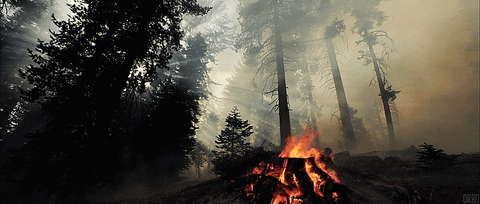 There was a war. A nasty war between the gods. It seemingly came out of nowhere, all of them against each other, fighting, killing, trying hard to be the winner through it all. During this war many important objects were lost and the gods grew tired. Those that fought were the first to fall asleep, but soon all of them fell victim to this sleeping plague. Those that managed to stay awake were unable to wake the others, it was as if they were dying from this war. The gods went silent and the last thing anyone heard from them was a message from Hermes stating that the gods were dead. Every artifact that was owned by the gods were stolen by the creatures that hunted the demi-gods, making them much more powerful. These creatures were what ruled everything now. They hunted as the pleased attacking the demi-gods that stood in their way.
At the camp, they were welcoming a new camper. This poor boy came in during a panic, campers trying to figure out who will be going to try and fix this, or if anything would be done at all. It had been a while since a child was left unclaimed at the camp, but cabin 11 was always welcoming. He made himself at home. Then something happened that nobody thought was possible during this time. He was claimed, claimed by Hades himself. Everyone was stunned, not only was it rare for one of the big three to have a child with a human, it was even rare for Hades and they were supposed to be dead. All the gods were supposed to be sleeping. The boy was moved into the Hades cabin, which brought up a new surprise. The boy was not alone in the Hades cabin as it also held twins. These twins were claimed by Persephone, though. Unfortunately, the goddess of spring didn't have a cabin as it was very unlikely that the goddess would ever cheat on her husband. Still, the two had been claimed by her, so the camp thought it would be necessary to just let them stay in the Hades cabin since there was nowhere else to put them.
The three have a bit of time to introduce themselves to each other and the boy is able to figure out what's going on. The three do not get to stay much longer at camp half-blood as the son of Hades is asked to go and find a way to wake the gods. Since the boy was able to be claimed, there had to be some way to get the gods to wake up again. The twins of Persephone offer to come along and the son of Hades' best friend decides to join them as well. The four now must defeat the kindly ones and get back those artifacts for the gods. Those artifacts are what the gods need to wake up.
For this RP, we will be using the Percy Jackson universe, but it'll be more like it's based off of Percy Jackson and less like it's set in the same universe. Anything dealing with the events of Percy just didn't happen and the demi-gods part that were part of that story are not around and never were. The treaty between the big three gods doesn't exist either. Instead, it's just a rare occurrence for them to have children in the modern age. Also, almost all of the major gods have cabins already. Some don't because either they never have children with humans or they don't have children at all. That should be all the changes to camp half-blood but if there are any other questions, feel free to ask.
I do also want this to be collaborative, so there aren't a whole lot of details on which kindly ones our characters will face, since that will be what we come up with together. I'd like to be able to come up with ideas with my partner, so I don't feel like the only one coming up with things.
I want this rp to be an MxM romance and I want to play the twins of Persephone (There can be another romance with the other two characters and that can be FxF or MxF)
I can write up from 2 to 5 paragraphs, of course I can manage to do more or less depending on what I'm given, but my preferred minimum is 2 paragraphs.
I'm still a college student and will be still taking classes through the summer, so I may get busy from time to time. I should still be available to post at least once a week, but I will probably post way more than just once a week.
So I know you've read this please tell me your favorite animal in the OOC thread
I'm 22 and female for those that care about the age of the person that rp with.
I don't mind OOC talk, and would actually love to encourage it! Even if we're just talking about our characters in the rp and planning for what to do next, either way I'd like to keep some kind of communication up.
Please ask me any questions you have!
Please be open to have romance in our rp!
Be willing to play multiple characters
Be able to match my posting length. I set a minimum of 2 paragraphs per present character.
So I know you've read this section, tell me your favorite color in the OOC thread
Understand that OOC talk is going to be really important for this RP so please be cool with OOC chat and keeping up with it
If you have any other questions on what I'm asking for, please ask.
Font Headers found at
Fontmeme
Taking place in...
5 posts here • Page 1 of 1
5 posts here • Page 1 of 1
Arcs are bundles of posts that you can organize on your own. They're useful for telling a story that might span long periods of time or space.
There are no arcs in this roleplay.
There are no quests in this roleplay.
Here's the current leaderboard.
There are no groups in this roleplay!
Welcome home, Promethean. Here, you can manage your universe.
Arcs are bundles of posts from any location, allowing you to easily capture sub-plots which might be spread out across multiple locations.
You can create Quests with various rewards, encouraging your players to engage with specific plot lines.
Settings are the backdrop for the characters in your universe, giving meaning and context to their existence. By creating a number of well-written locations, you can organize your universe into areas and regions.
Navigation
While not required, locations can be organized onto a map. More information soon!
There are no groups in this roleplay!
By creating Collectibles, you can reward your players with unique items that accentuate their character sheets.
Once an Item has been created, it can be spawned in the IC using /spawn Item Name (case-sensitive, as usual) — this can be followed with /take Item Name to retrieve the item into the current character's inventory.
Give your Universe life by adding a Mob, which are auto-replenishing NPCs your players can interact with. Useful for some quick hack-and-slash fun!
Mobs can be automated spawns, like rats and bats, or full-on NPCs complete with conversation menus. Use them to enhance your player experience!
Current Mobs
No mobs have been created yet.
Locations where Mobs and Items might appear.
You can schedule events for your players to create notifications and schedule times for everyone to plan around.
Add and remove other people from your Universe.
The Forge
Use your INK to craft new artifacts in The Sleeping Gods. Once created, Items cannot be changed, but they can be bought and sold in the marketplace.
Notable Items
No items have been created yet!
The Market
Buy, sell, and even craft your own items in this universe.
Market Data

Market conditions are unknown. Use caution when trading.

Quick Buy (Items Most Recently Listed for Sale)
None
Discussions
Most recent OOC posts in The Sleeping Gods