Nathan Reese
[url=theme song url here]Theme Song Title (TBA) || Band (TBA)[/url]

15 || American || Nate
---
|Gender|


"Who knows?"
Male


|Birthdate|


"I'm old for my year I guess"
15th of February 1998


|Sexual Preference|


"It's a bit... Complicated..."
Bisexual, but only likes females with more dominant personalities


|Grade|


"If it was easier to study in my situation, I'd probably be a bit better..."
D average


|Smoking Spot Confessional Status|


"I'm really happy to be with them!"
Currently a member of the Smoke Spot Confessional


|Secrets and Scandal|


"Not a whole lot, but what there is tends to shock people..."
It's not widely known though most freshmen knows, at least those in his class.
Has been seen several times using his feminine looks to be mistaken for a girl.
It's simply something he enjoys and hates that people use it against him.


|Class|


"My father's an IT engineer and earns a good bit..."
Higher economic class.


|Occupation|


"I don't like relying on my parents for money, despite that they say it's alright..."
Works part time at a clothes store, though doesn't have a locked schedule.
---
|Eye Color|


"It's not commonly seen though"
A dark blue, but he enjoys using lenses


|Hair Color|


"It's on top of my head, it shouldn't be hard to see it. But is it my real hair?"
His hair is currently silver-white, though he colors it a lot as well as use wigs.


|Body Type|


"I doubt it surprises people really"
Very thin, even if he was female


|Height & Weight|


"Probably not very healthy, but I like it..."
5'4 foot, 99 Lbs


|Birthmarks, Tattoos, and Scars|


"I only have my beloved piercings"
His lip is pierced on several points, as well as his ears
---
|Personality|


"describing your personality is like giving up your goals, impossible"
While he might not appear like it on first look, Nathan is very good-willed and really only want people to be alright. He hates seeing people get hurt and has more than once offered his own well being for others to be alright. He really need people around him, though it's hard to find people that approves what he does. People are scared off of it and it isolated him for a fair bit, at least till his family moved to Colorado. It was like having blank papers, though he naturally managed to screw up there as well. His good looks weren't enough to save him for being isolated when the word started to get shared around that he has appeared as a girl on several occasions. However, negative response only made him more into it and decided to simply continue, letting people think what they wanted.

"I just hate it when people use what I do as in insult against me, doing what you want to do should be encouraged, not pushed down on. People calling me gay for doing what I wish is disgusting, but if I did the same to them, I'd simply be beaten up. It's a part of the human mind, to not approve of what you cannot have. I was born with a gift, or a curse, that most boys don't have. I want to use it for someone, while they can't. It's not my fault..."


|Likes|


✔ || Being Understood || "It's not easy doing what I do with so many people calling me things and threatening me. I love those who understands how it is for me and supports what I do"
✔ || Acting || "It's what I do really, if I didn't like what I do, I wouldn't do it. I find it amusing seeing all the shocked people when I reveal what has been going on."
✔ || Being a girl || "I just like it, simple as that. I'm already as female as I could possibly get in a male body, so why leave it be? If I can't play around with it, it wouldn't be worth it at all"
✔ || Smoking || "I know it's not good for me or anything, but it keeps me going through the day. It keeps away the depression and helped me get some friends, so I don't complain"
✔ || Mostly anything from Japan || "Clothing, movies, plushies, you name it. I love the culture and I love everything I got from the amazing country!"


|Dislikes|


✘ || Haters || "Most would have guessed that I really don't like it when people hate on me for doing what I like. It's not normal, I get it. But making fun of me because of it is just straight out bullying"
✘ || People using the word gay as an insult || "It's just stupid. It's a sexual orientation, not an insult you throw around you. Saying it means nothing to me, but it might do to others"
✘ || Seeing people sad || "While my own situation isn't a dance on roses either, I hate to see it when others are sad. Too bad I can't do anything but making it worse..."
✘ || Unnecessary violence || "While it's not unavoidable, I don't like it when people fight for no reason, especially one-sided fights. It makes me feel uneasy"
✘ || School || "If it was up to me I'd never have anything to do with school, I'd do my own thing. Sadly enough, the system is pretty unavoidable at the moment"


|Strengths|


"What kind of strengths can I have apart from making things worse?"
Nathan's strengths definitely doesn't reside in physical strength. He's weaker than most girls honestly, but despite this, he is surprisingly headstrong and hates to go back on things later. He is normally quite confident in his decisions and he is smarter than his grades say. Besides this, he can, with a bit of effort, become pretty much anyone he'd like. He is also a very understanding and approving person, knowing how hard it can be to not be accepted. He is also quite popular among some groups of girls, though it comes down to what type of guys they like of course.


|Weaknesses|


"Oh, this is gonna be loooong"
Nathan's primary weakness is that he can't really take care of himself if he for some reason ends up in a fight, though of course, it isn't exactly something he'd like to start either. He doubts himself from time to time, mainly because of his habit of dressing up, and it makes him feel insecure. Without people to support him and what he does, he sometimes become depressed as well, though it isn't something all too frequent.


|Fears|


"I dunno, fear is a very general word"
He isn't of the kind that is very easily scared, though he fears being forced to do things for others, as in, being threatened. Other than that, he is a bit afraid of big dogs, though he likes the small ones.
---
"An example of how easy it is to be an entirely different person with minimal effort"




|Equipment|


"I don't like weapons, so I don't carry any. Other than that, what I carry depends on who I am"
The most standard is a pack of cigarettes or two and a Zippo lighter. If he appears as a girl he'd might be carrying with him a bag of some makeup just in case.


|History|


"I know a lot of people from the Confessional had pretty bad childhoods, I feel almost out of place"
Nathan's story is pretty tame really. He was born into a good family five years after his older sister, who was set to look after him a lot when their parents worked. The two of them got quite close and it was she that introduced him to both Japanese culture which he quite soon fell in love with, and at one point, the thing he had no idea would later become a big passion of his. It was mainly as a joke when she dressed him up in some of her old clothes, mainly just to show that she was still the boss, and he quite quickly started to enjoy it. He hadn't been expecting to be able to continue though, as he had been guessing that his body would start growing and become less suited eventually, but it never did, so he kept going behind his parents back. His sister knew of it halfway at least and supported it, though she was worried, and for a good reason really. He became more and more experienced with makeup as well and eventually became as close to the border between male and female as one can get.

Eventually, his sister moved out, going to New York to pursue her dream of becoming a photographer and model, something she later became, after a fair bit of work. It proved to Nathan that anything could really be done if you tried hard enough, something he later would. He became more and more confident with his work, and at one point, took it to public as well, never once getting a weird stare or anything. He was convinced at that point, he could continue.

Eventually, the family had to move though. They had found a place to live where his father would have an even better paying job. The family packed their things, and during this period, the parents found out about what he had been doing. He had been scared, but they had approved of it, to his big shock. He hadn't been expecting it at all, but they did, saying that if it was something he enjoyed and liked, they wouldn't stop him from doing it and would support him till the end.

He continued doing what he wanted for about six weeks at the new school before it was actually revealed, to everybody's shock really. He had been such a good actor and done his styling so well nobody had been able to guess. When it was revealed, he just shrugged casually and said "What secret? I'm just doing what I like, I've never hidden it, nobody asked" And despite being true, he was never really seen in the same light again and started to smoke to handle the depressed emotions.


|Other|


Yes, those pictures were all of the same person.
*this section might be edited in the future*

"An example of what you can do with a lot of effort"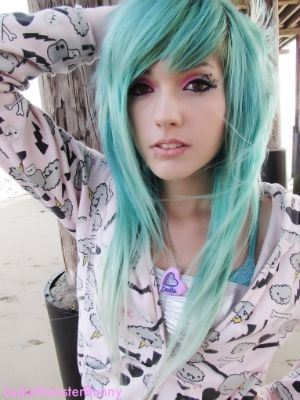 |

Roleplayer Name:

Robbhus |
|

Roleplayer Age:

16 and a half |
|

Roleplayer Limits:

I'm fine with everything as long as sensitive and serious topics such as drug-use and self-harm is taken seriously. |