Roman Hart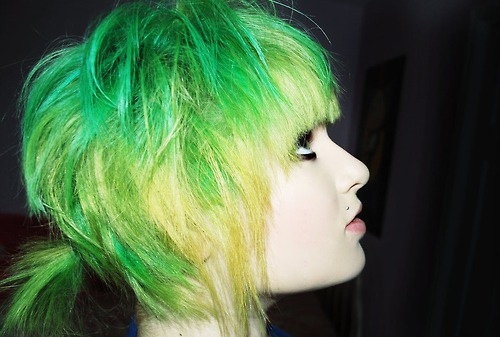 Gender:
Female
Age:
Fifteen
Physical Description / Appearance:
Roman has bright green short hair, with yellow underneath. Her misty grey eyes are usually covered by thick, black-framed glasses. Her nose has a black nose ring on the right nostril, and is fairly large. Her lips are plump and usually painted with a cherry red lip stain, accompanied by double white snake bites. She has a scar on the corner of her lip, giving her a lopsided smile. She has high cheekbones and often wears eyeliner and foundation. Her ears, slightly smaller to the average person, are covered in a variety of piercings and are sometimes accompanied by black earbuds or neon headphones. Her neck is slender, often dressed in five or more necklaces and her favorite neon headphones she painted herself. Her arms are also slender, covered in tiny cuts and many objects at the wrists. These are usually a multitude of hairbands, leather braclets, musician wristbands, and some silly bands. Her hands are on the larger side, her nails always painted in black paint each finger has at least one ring. She has a poocha shell anklet from her brother, which is usually hidden by knee-high white converse covered in Sharpie sketches and Quotes. On the back by the zipper, one can find "I did your mom... a favor. I helped her make you... a sandwich" and "Like A Boss". Her clothing style is very quirky, involving many colors coming together as an outfit. She is tall, like her mother, at five eleven and lanky.
Personality:
Roman is a sarcastic, light-hearted soul that loves Drama with a passion. She is very compassionate to new students and students who have lost siblings. She fights for what she believes in and never backs down to bullies or anyone setting out to prove her wrong. She is more of a bossy person when it comes to leadership, wanting everyone and everything to be perfect. She is often very protective of children and her close friends, sometimes to the point of aggression. She is very rebellious to the prep and jock authority and is often happy when Jordan switches a prep or jock to the bottom. She is dedicated to what she does with the Supervisior, and wishes every student had the social life of the preps. She often is very insecure and many times so no faith in herself. She loves sports and is very talented in gymnastics, swimming, tennis and track, but does not want to be apart of a group so vicious and distant.
Clique:
Et Cetera
Like or Dislike Supervisor?:
Jordan is her best friend
Thoughts on Supervisor:
Jordan is a role model and leader to Roman. She hopes once she's a senior she can become a Supervisor like Jordan. They are very close, and are often very sarcastic to each other.
History:
Roman Veronica Hart was born on August 13th, 1996 to Parris Samuel and Victoria Sarah Hart. Her father had to leave for Afganistan a month after her birth, and her mother had been fired from her previous job at a dairy company. She moved into a rental apartment with Roman, and worked at the diner close by. She would often have the teenage boarders babysit Roman. Once Vicky got enough money from the diner and the guilt money from her parents, the teenagers created a photo album for Vicky of a picture of each of them with Roman. She moved to the quiet suburbs on the edge of the city nearby, continuing her job at the diner. She became pregnant again when Roman was two. More teenagers in the neighborhood would babysit, and they also made a photo book for the three years until Vicky had her twin boys and she became pregnant for the third time, when her husband came home for the first time. Vicky got an extra job at a Starbucks to pay for the in-home nanny she had to hired for her five-year-old spunky child and her two twin brothers. She also got the job because her son Tyler had many medical problems. Once Roman started school, Vicky became overwelmed and begged her husband to come back home. Once he was sent back for medical reasons, he became a house-husband of sorts and started to get to kno his children. Roman hung out with her father more than any other person. He was her hero.
When Roman turned eight, Tyler was expected to live for a few more months before finally passing away. Roman made her faher take her everyday to see her sick little brother. She couldn't believe her six-year-old brother wasn't supposed to live for much longer. Once he finally passed away, Roman tried to comfort Taylor at the funeral but fell to the pain of sadness and let the tears flow freely. Once the funeral was over, Roman knew she had to be the strong older sister. Many of her friends at school were sympathising with her, and tried to get her to be happy. She realized that her brother was in heaven now and he wasn't in pain anymore. She started to be happy with her friends and her mother quit her second job for a part-time job at the diner since her father was hovering over a small fortune. By the time she got into middle school, she was the happy star of everyone at the elementary school. When she got to middle school, she realized some of her new friends were only friends with her because she was a girl jock and prep-in-the-making. By eighth grade, she was totally dedicated to Drama and developing her quirkly style and optimistic qualities.
Freshman year started with a bang as her brother, now a seventh grader, was diagnosed with bipolar disorder. She was the only one he trusted to come with him to his therapy sessions, so some rehearsals for Drama Club had to be rescheduled for her, and afterschool activites postponed or cancelled. She started to date bad boys and developed her own bad girl style. She died her hair, grabbed some piercings and a hidden tattoo, and developed a taste for beer and weed. Then her guidance conselour foudn her in the bathroom, overdosed on some Aspirin. After the overdosing incident, she adapted fully into her quirky, happy ball of sunshine attitude. Now, sophmore year couldn't be better with Honor Roll, Drama Club, and her best friend Jordan.
Hobbies / Likes / Dislikes:
Hobbies:
Tennis
Track
Swimming
Gymnastics
Sketching
Singing
Theater
Likes:
Cheetos
Memorizing Quotes
Spending The Day In The Drama Room
Hanging With Friends
Daydreaming
Her Mother
Her Family
Dislikes:
Stale Cheetos
Forgetting Quotes
Spending A Day In The Trashcan (Being Put In There By The Football Team)
Being Alone
Her Brother Dying
Her Bad-Influence Friends
Bullies
The Football Team
Secret:
Roman wishes she could join the sports teams without being re-labelled as a female jock, and that the football team would get a heaping pile of karma.
Other:
Always Have:
Her favorite camoflauge messenger bag
Her cell phone
Her Ipod
Her wallet: I.D., debit card, a few pictures, some old recipts, three crumpled movie tickets, and about fifteen dollars
Her Marc Jacobs aviators
Her color-coded scripts
Her journals and sketch books
Family:
.Parris Samuel Hart

.Victoria Sarah Hart

.Roman Veronica Hart

.Tyler Victor Hart

.Taylor Vladmir Hart

.Alexandria Samantha Hart
Theme Song:
Blackbird
by The Beatles