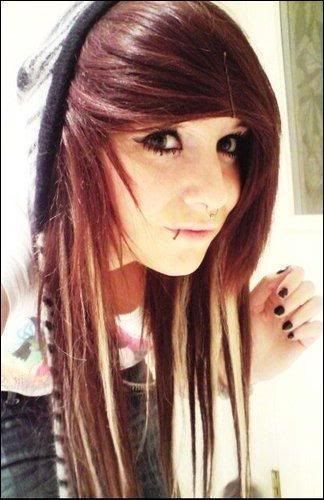 Name: Maya 'May' Bridges
Gender: Female
Age: 16
Physical Description / Appearance: Maya isn't very tall neither very small with long auburn hair and hazel brown eyes. Sometimes people mistake Maya as boy when all her hair is tucked into a beanie and is ridiculed for the way she dresses which is normally; waistcoats over vest tops; huge woolly jumpers; bright Converse; long colourful knee socks; colourful glasses; etc. Her eyes are always outlined black and mostly Cleopatra eyes, bright red lipstick or pale lip-gloss is layered onto her lips and dabs of blush is added to her pale cheeks. One negative thing about Maya's appearance is that she is incredibly pale and looks like a deathly ghost sometimes.
Personality: Maya is hyperactive, random and ditsy for a nerd but does quite well in Math so that threw her into the Nerd Category. She's mostly happy and brightens people's mood even though she doesn't mean to and is accidently funny when she means to be deadly serious. Often Maya is deep in thought and finds herself stuttering over a question the teacher explained two minutes ago but this brings enjoyment to other people, making them laugh which makes her laugh herself to detention. She's also very artistic and often found doodling away anywhere and drawing anything as she is quite calm and tries her best to please people even if it takes more than enough time.
]Clique: Nerds
Thoughts on Supervisor: "Why do we need a supervisor in school? Aren't they the people on the checkouts in Wal-Marts?"
History: Maya had a pretty straight forward life and was incredibly close to her brother, they did everything together! They were still greatly close until he left for the army but half a year later... He got blew up in a explosion and died. Maya was devastated and locked herself in her room for days maybe even weeks! She was buried in a pile of tissues until one Christmas, her mother and father had bought her a keyboard which progressed into her own Piano which stands proud in the Bridges' Music Room. This got Maya into lessons and music which let her move on from her brother's death.
Hobbies / Likes / Dislikes: Maya loves to listen to music, any music as long as it isn't classical. She practices her music in any free time she gets; She likes to play newer music rather than the more classical stuff like Beethoven. Maya hates snobs and people who think of them selves to highly. Maya loves to draw and spends a lot of the money she earns/gets on art stuff like pens, pencils, sketch pads, etc. She's often found in her room spinning around on her chair to find some information.
Secret: Maya sometimes has a private cry in the toilets when things get rough, She hates it when people taunt her with horrible stuff about her brother.
Other: Maya secretly wishes she was an ETCETERA.
Theme Song:
Pencil Full of Lead
by Paolo Nutini
Oh, one, one, two, three, four
Oh, I've got a sheet for my bed and a pillow for my head
I've got a pencil full of lead and some water for my throat
I've got buttons for my coat and sails on my boat
So much more than I needed before
I got money in the meter and a two bar heater
Oh, now it's getting hotter, oh, it's only getting sweeter
I got legs on my chairs and a head full of hair
Pot and a pan and some shoes on my feet
I got a shelf full of books and most of my teeth
A few pairs of socks and a door with a lock
I got food in my belly and a license for my telly
And nothing's gonna bring me down
Oh, no, oh
Oh nothing, oh nothing, nothing's gonna bring me down
I got a nice guitar and tires on my car
I got most of the means and scripts for the scenes
I'm out and about, so I'm in with a shout
I got a fair bit of chat but better than that
Food in my belly and a license for my telly
And nothing's going to bring me down
Oh, nothing, oh, nothing
Nothing's going to bring me down, oh
But best of all, I've got my baby
Oh, best of all, I've got my baby
She's mighty fine and says she's all mine
And nothing's going to bring me down, oh no
Oh, best of all, I've got my baby
Oh, best of all, I've got my baby
She's mighty fine and says she's all mine
And nothing's going to bring me down
She's mighty fine and says she's all mine
And nothing's going to bring me down
She's mighty fine and says she's all mine
And nothing's going to bring me down, not today, no, no