XX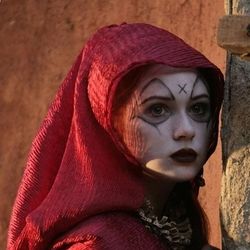 Aliases || Plasma, Roz
Age: 18
Sexuality: Bisexual
Faceclaim: Karen Gillan (Soothsayer)
Hexcode:

#572B38
---
---



O U T S I D E || ----------------------------------





H E I G H T || 5'2"

W E I G H T || 116 lbs

E Y E S || Hazel

H A I R || Red

O D D I T I E S ||
Numerous permanent markings across her face: Diamonds that go around her eyes and a small "x" in the middle of her forehead.

A P P E A R A N C E ||

Looking at Rozalia, the first thing most people notice is her facial markings on pale face, also her lips are a tainted black color, as most would assume from her time with the cult. Given her energetic nature and short stature Roz is often seen as the smallest one of the crew, but fortunately it means less eyes on her and is underestimated most of the time. The smile she wears on her face isn't always out of kindness, sometimes it means something devious is up, or another idea popped into her hear.
Rozalia's hair is mostly unkept as she doesn't seem to care too much about it, and most of the time her hair is covered by her hood. Speaking of which, Roz is mostly seen inside light red robes, which is one the few things she's kept from her home planet. The robe helps her conceal her face as well as items she may carry, ranging from her blaster, to numerous knifes, to any small trinkets she likes, though she does keep two plasma daggers on her at all times, which she first got during one of the Stardust's raids. While most on the ship wear boots, growing up, and being in the cult, Rozalia rarely wore shoes so she is seen mostly barefoot unless specifically told otherwise by her Captain.



---
---
--------------------------| | I N S I D E
L I K E S || ✓ food ✓ messing around ✓ staring at stars ✓ liquor ✓ chaos ✓ sarcasm ✓ noise ✓ shooting ✓ fighting

D I S L I K E S || ✗ quiet ✗ being told not to do something ✗ sitting around doing nothing ✗ being ignored ✗ politics

Q U I R K S ||
-- can be found sleeping in random places
-- has a speech impediment where all her S's are pronounced like Z's
-- tends to light small things on fire when bored

F E A R S ||
-- bugs
-- being forgotten
-- dying slowly

S T R E N G T H S ||
-- Gunner: After arriving on the Stardust, Roz took a liking to their gun system, she really likes things that are loud and go boom. After learning all the in-and-outs of primary gun Rozalia sort of took ownership over it, it becoming her baby
-- Close Quarter Combat: Rozalia prefers close quarter combat and has trained herself the most in this technique. It works well with her powers as well with her twin plasma daggers; which she has named Stab and Cut.

W E A K N E S S E S ||
-- Leading: Rozalia isn't one to want to lead a group and would rather be given orders than to give them out. This doesn't mean it stops her from whispering ideas, good and bad, into people's ears and encouraging them.
-- Moral Compass: Growing up without much for a parental figure and always just doing stuff to either survive or to be entertained led Roz to not being able to understand "doing the right thing" and "right vs. wrong."

P O W E R S ||
-- Flames: Rozalia much like Hellfire, has the ability so conjure flames, but only from her hands. She can also control existing flames around her to a certain point; if there was a small fire on the ship she would be able to cease it control it, while a big flame like an entire building, she wouldn't be able to control.
-- Immunity: Since Roz has the ability to make and control flames, she also completely immune to flames and being burnt.
---
---
D E E P
X
D O W N | |--------------------



|Trickster - Outgoing - Fun - Chaotic|


Rosia really has only one side that people see, she's not all about putting on a front for other people and rarely hides who she is. Though one think people quickly tell about Rozalia is that she doesn't really know the difference between good and evil. Another way to put it is that she doesn't have a moral compass. She will say what she whatever comes to mind and do whatever she wants when she wants, until being corrected by someone she respects or likes.

Loyalty is something most people have in the Outerverse, and Rozalia has a light and complex grasp on the idea. Though she is very loyal to her Captain. She is also very loyal to those few that are close to her, willing to do many things for them.

Around the Stardust, Rozalia likes to have fun. The occasional trick and prank around to lighten the mood, but mainly when she is bored. From changing the music to play in someone's personal comms to completely flipping the circuitry in someone's room. this doesn't mean she is an optimistic and will easily speak her mind outloud, regardless of who is around, leading to multiple arguments.

Being a Devil's advocate is a fun little game Roz likes to play. Whether this is light gossip about what one person said about another to have them argue/maybe even fight, convincing someone that they have to do something stupid to prove themselves, all around it is fun for Her
Lastly, Rozalia doesn't go on about making up stories and lies for no reason, or to get out of trouble, she tends to be very honest with her crew mates and most people. But if she can tell small white lie to get a reaction out of someone about what someone else said or was going to do, there isn't much that would stop her.



---
---
---------------------------------------- | | H I S T O R Y

Rosia grew up on the streets of poor planet on the outer ring, Anvari, growing up other orphaned aliens and begger species. This leading to her not having a real education. As she tried to live and survive on the streets, she resented anyone who was upper class and taking everything for granted as she suffered. She hated when they would look down upon her and shove past her. While she learned to survive on her own, she quickly learned how to play someone's ear to get them to do things. Not only to get things she wanted, but also to do things that entertained her, whether these things be good or bad. Because of this, she never really got a grasp of a moral compass or of what is considered right or wrong.

Another thing that should be noted is that Rozalia has the ability to conjure and control flames out of her hands. She got her powers over a small time on her planet when she was forced into a priestess cult on her home planet of Anvari when she was a young teen. This is also where she received her facial markings over her eyes and on her forehead. Upon being in the cult for two months they put Rozalia through a trail to see if she was worthy, injecting her with numerous different serums and even using some lesser known alien magic on her. By the end of it Rozalia had fainted from the pain and then was thrown out of by the priestess for being too weak, them thinking Roz had failed and would die soon. Upon waking up, Roz's hands felt warmer than the rest of her body and when she looked down upon them, there were flames in both of her palms, but no pain. This is when she learned that not only could not hurt her, but she can control fire.

Roz knew better to just show off her powers, as most people who were dangerous on Anvari were hunted down and shipped off to who knows where. She stuck to what she knew and worked the streets for small gangs; mostly gathering and delivering intel. Luckily with running with small street gangs she learned how to use a blaster, alongside with occasionally training up on her flames.

One day when Roz was drinking in an alien bar she noticed a woman of certain character walk in, a women that quickly caught her eye and Rozalia knew was trouble, her next paycheck, or both. Disturbing this person can either mean a fight or a conversation, either one Rozalia wouldn't mind, even though she hadn't gotten into a fight in awhile and was itching. While watching this woman strike up conversation with another being at a table, she slammed her fist down in anger and stormed out, but when she slammed down her fist there was like a flicker of flame.

After this new woman left the bar, Rozalia decided to follow her out to see where she was going. She almost lost her a couple times, when she turned a corner to an alleyway all of the sudden, she was gone. Next thing Roz knew was, she felt two blasters pushed against her backside and a voice questioning her. Rozalia laughed and taunted this woman that had her at gunpoint before offering to go with this woman. The rest, well, is history.