Hazel Naganen
Age: 16
Gender: Female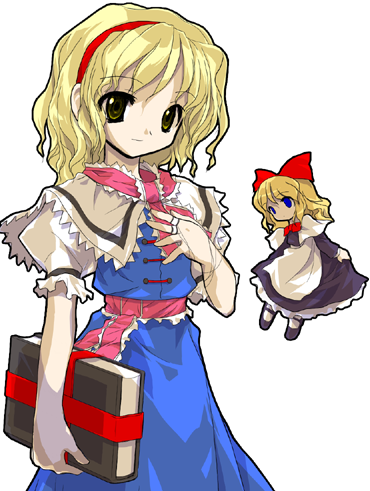 Description: Hazel doesn't have anything in common with her as come with her appearance; her eyes are deep red. One could say that they are black, if there is a lack of lighting in the place. She is not albino, even if her skin is surprisingly pale, like if she doesn't appreciate any of the vitamin D that the sun provide when one is outside. Her hair is as gold as a land of wheat with what appears to be a red band in her hair. She is around of 5'8 high, and doesn't weight much. She wears a light blue dress with long white sleeves and a long pink ribbon going round her neck and another one round her waist. Also, appears to be wearing socks and has black sealed book, on which is drawn a strange pentagram, on which she commented that it looks "familiar". Also, don't be surprised if you see a human-like doll around her, nor that string twirled around her delicate fingers. She always hide a dagger under her dress, without hurting herself, and a neck with a purple crystal is found around her neck in which a dense white fume is moving around.
"I don't get it… my past seems blurry, and yet, people says that I lived for 16 years already... Who am I really? It may be revealed to me by the voices in my head."
Powers: She consider herself as a half-shadow warlock, and half-puppeteer.
"It is funny how birds once came from shadows."
Personality: While she appears to be friendly at most time, she doesn't despair anyone. Evil or Good, she says that no factors shall be counted in her head. Momentary, she'll appeared lost, or without any consciousness.
"Why people kill themselves? Maybe it is for the pleasure of oneself… Who knows?"
Likes: She likes acid stuff. Not like, floor-traveling acid, but the ones that aren't damageable to her. She likes to see people happy, even if they are in harsh time;
"There is no reason for one to be sad, unless to admit their weakness"
. She strangely like fire, but not enough to consider to be in them.
"Did you ever bit into a lemon? I think they are one of the best fruit out here!"
Dislikes: She doesn't like people judging others by stereotypes, and doesn't like people who are always thinking about depressive stuff. Thinking about losing is okay for her, but if they are thinking too much about it, she can't stand it. She doesn't like negativity. She also hate when people are saying that she is playing with dolls, but in the way that she is still a child.
"Why people are associating rain mostly as sad moment? I think rain is good and tasty!"
Others: the voice in her head is male. Her puppets are created with magic, and strangely resembles to her, with some fixation. The book on which she held on resembles strangely as a thinner version of the spellmaster in the solatium academy.
Theme 1
Theme 2
*Author's note: Yes, I know, she is inspired off of Alice Margatroid from the Touhou Project, but she has a totally other story, so shat dat~