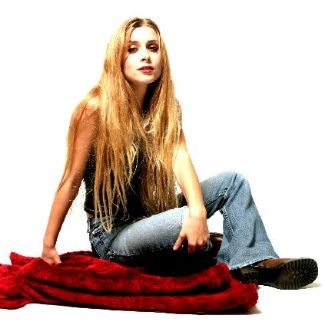 Appearance::
Janice is a leggy 5'7" in height, with a slender figure, and an easy, understated elegance about her. Her straight, light brown hair is worn to middle back, and her eyes are hazel. Much of the time, she has the quiet demeanor one might associate with a bass player. She generally attires herself in the styles of the day, favoring a gypsyesque sort of look, with silk blouses and scarves, denims and leather boots or platforms.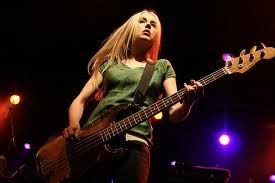 Personality::
Jan's personality is dominated by her curiosity and artistic nature, to a great degree. She is often happier to listen rather than speak, because she learns and understands more, that way. Still, she can be vivacious once she gets going, and really desires to express herself. It tends to take her a while to warm up to others. One is not likely to hear her life story on any first meeting, nor even in the first year of knowing her. But she is articulate and unafraid to speak up, when she feels some point needs to be made. She isn't generally impulsive, and will usually think things through before she acts.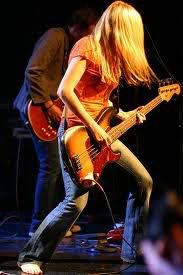 Background::
Janice Alison Stroud was born in Somerset county, in the city of Bath. She enjoyed an upper middle class sort of upbringing, amidst the beautiful city's theatres, museums and other cultural and sporting venues, that make it the centre for tourism that it is. Her father, Andrew, was a professional pianist and arranger for big bands, one with a very gifted ear for music. Janice was her parents' second as well as last child, born three and a half years behind her sister, Krista. While their father was off on tours, their mother, Benita, stayed at home to take care of them. Of strong Protestant beliefs, she had both girls enrolled at the thoroughly Christian Monkton Combe school, as soon as they became old enough to attend.
Janice began picking up the piano at age seven, via her father's influence. She exhibited his natural ear for music as early as then. With the exception of a few lessons, much too rigidly formatted for her young sensibilities, he was largely her teacher, up until she began to learn on her own. It became something of a solace for her, as well as a hobby. An outlet she could always turn to, to express the moods or feelings a youthful vocabulary couldn't yet articulate. While her sister demonstrated no such aptitude, she did begin participating in the school choir, and developing the makings of a rather talented singer. Seeing the attention it brought to Krista, she naturally wanted to do this too. But, Janice did not possess the kind of voice Krista did, and quickly dropped it, after she was roundly mocked by her sister for her inferior ability. She kept strictly to playing music, after that.
Eventually, she expanded instrumentally by learning the organ, and playing for audiences both at school and at church. This was a good bit more fun than tinkering around on piano at home. The sweeping, lush sounds of the organ could easily fill a room, and the energy of an audience was invigorating, inspiring. To say nothing of those pedals –– it was fairly thrilling to hold them down, and create a surging wave of bass, that could be felt throughout the room. This, it seems, was a presage of deep things to come.
The Stroud sisters were essentially good girls, as they grew, having (mostly) taken to heart the guiding principles their Christian school sought to instill. However, like most young people, the onset of adolescence brought changes in interests and perspective. Both girls were pretty, and subject to increasing amounts of attention, especially the more extroverted Krista. Janice enjoyed attention at times, but also felt a need to keep some space about her. Nonetheless, she wanted to be cool, and well thought of by her peers, as much as most. Both she and Krista developed tastes for popular music. Both loved to dance, and this led to a love of Motown, and the artists of Stax Records. Funk and soul grooves resonated with Janice in a way that would become foundational in her approach to playing music.
Once Krista began singing with some local acts, Jan felt a bit jealous. She became determined to perform with a group, too. Of course, keyboard instruments were rather challenging to lug around; and you couldn't always count on having one available at a jam or rehearsal. Around this time, a friend loaned her what was to be a very pivotal record in her evolution. "You Can't Sit Down", by Phil Upchurch, was a monster of a record for its day. While fairly simple musically, it had loads of attitude and verve. It also featured outstanding bass work, which attracted Janice's attention to the bass guitar, for the first time. Enough so she persuaded her father to buy her first bass, and promptly began to learn how to play. She took to it quickly, and then pursued spots with local bands. Most prejudice toward a bird playing an instrument was vanquished by her talent, as well as her usually easy going manner. Those hours spent listening and dancing to Motown contributed to a keen sense of groove. And melody came from her years of piano and organ playing. She continued to play those instruments too, where opportunities arose, and in some ways keyboard remained her first love. But she became more and more identified as a bass player, around the local scene.
A desire to make it professionally in music eventually carried her to London. There, Janice successfully auditioned for the jazz-rock group, the Jett Blacks, that included the very talented guitarist, John McLaughlin. This sustained her for a time, and led to opportunities for (better paying) studio work. Over the next several years, she played on numerous recording sessions. As well as bass, she played keyboards, and wrote arrangements. She ended up working with numerous artists, including the Stones, Donovan, Cat Stevens, and Rod Stewart. With more and more demand for her talents, she found herself completing two and three sessions a day, six and seven days a week. Come the advent of 1968, she was feeling
very
burnt due to the ridiculous workload. Her last relationship, with a man she had once thought she might marry, was reduced to a stressful shambles. She knew she needed to cut back, take a break for a while. Fortunately, she now had the savings to do that.
During the break, she took better care of body, mind, and spirit than she had since her career had first taken off. She read, exercised, planted a flower garden, went dancing, had a few pleasant dates, saw Venice and other parts of Italy. As well as caught up with family, including her sister, who was now married and newly a mother. These things led her to a good bit of soul searching, and consideration as to what she really wanted to do next. Which she definitely wished to ascertain before her savings ran out.
She didn't have to think on it for too long. A particular opportunity came along that changed everything.