Full Name
Hugh Allen O'Hogan
---
Club Given Nickname
Reaper
Age
43
Club Position
Sergeant - At - Arms
This patch indicates that its wearer is the "Sergeant-at-Arms" of a charter. The Sergeant-at-Arms is responsible for discipline and security within a charter. He also serves as a bodyguard for the President protecting him from danger - he is almost always at the side of the President.
Bike
Harley Davidson - 2011 Soft Tail Cross Bones
---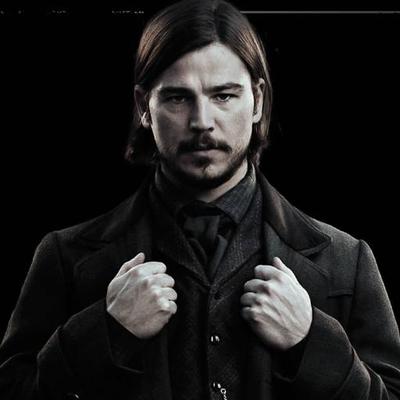 Ethnicity
70% Irish && 30% American
Ink/Scars
InkThe Club Tats
Dragon - Left Shoulder
Reaper of Time - Right Shoulder
ScarsRight Chest - Two Bullet wholes with a scared line connecting themKnife Scar - Leads from the edge of his mouth and all the way up to the right earBurn Markings covering his whole right hip and thigh
Personality
When it comes to Hugh, he's a man of very few words. He won't ever say much unless he feels it necessary to speak. When given orders he mostly goes with "Aye" which mean Yes or Certainly or he'd even occasionally say Sir along with it. Then there is the very rare occasion he'd say "Ní hea" Nay, meaning No. If you ever hear him say Yes or No in English, you know he means it and won't change his answer.
He's a very wise individual, this is mainly because he watches everyone and looks out for them. To him, the crew is his family and he'd always put them first and foremost. If it means going behind the Presidents back, he would, but only if it isn't too trifle of a manner. He might be the Serg. but that doesn't mean he's the President's dog. As long as he knows he is protecting him, he finds that whatever he does would be best to keep the President out of harm, along with his crew. If that meant getting rid of a few people secretly, he would do it without hesitation, though of course he'd get full information on the situation before heading in blindly.
History
You can say that Hugh as been pretty much born into this life. His father being the President of the Irish Biker Gang which is connected with SoA. This is how he was able to meet the President during their kid years. They weren't close back then, just knew of each other. When Hugh's little brother was born, his father backed out of the Irish and moved to America. The one who helped him was the leader of SoA. He never joined the gang, maybe hung around here and there, but that was all. He wanted well done by his sons, but by the time he realized that it was too late for Hugh, Hugh was already in high school getting into all kinds of trouble.
When they left to America, Hugh was on his last year of middle school, when his brother was killed by gang member thugs, just because the boy was Irish. Samcro helped get revenge for Hugh and his father. Still, Hugh felt it wasn't enough, he wanted to do what he could for Samcro. But as much as he tried to do good, all he was ever good for was fighting. One fight after another. It kept coming at him like pins to a magnet. There was no end to it. Eventually, he gave up and just went with the flow of things. He'd eventually find his way hanging out at Samcro during the day when he'd escape from school. He'd hang with whoever was there, slowly learning about things. It was as if he were the Prospect in ways, even though he was just a kid.
During high school, he was finally able to meet "President" (INSERT NAME). Like what was said before, they weren't really friends or anything, just knew of each other and spoke here and there. Even if they were friends, it would never work out. He was on the high road and Hugh was on the low road. Way to opposite, friendship wasn't there. Don't get them wrong, they never hated each other, just never tried to be friends.
At first Hugh done nothing about it, but once he heard people talking bad about "President" (INSERT NAME), it would some how seem to upset him more than it should. He actually thought highly of this boy, why would others think so bad? It pissed him off to the point, fights started up and he felt the need to protect this kid and deep down the other reason was because he owed it to Samcro.
Now, wondering about his mom and what happened to his father? Well his mom, he never thought much off, for all he knows he doesn't have one. When he turned 21, his father died of a drug over dose out of depression, losing his son and probably his wife too, that part was unknown. Now after all this, you can't say that it won't mess up a kid who is constantly in fights and lost his family. It messed him up good. So much that he'd join a biker gang and want nothing other than to be Serg and Serg alone. Never asks for anything more or less.
Once the leader passed, as the last request, his son was to become President. Not just yet, but eventually over time, him and Hugh had started that friendship that they so happened never had. And then shortly after that once they were older. Hugh became Serg and (INSERT NAME) became President.