Born 12th of Frostfall 4E 174
Not someone to go unnoticed. Not because he dresses a funny way or because his looks as such are very strange. Aevar is broad and strong, built like most Nords. It's his eyes. There's ambition in them. There's hate, love, pity, compassion... Whatever he feels, it shows in his eyes. It's as if there is a fire in him that no one can stomp out no matter how hard they try, and one look at him will tell you that.
That being the most notable thing about his appearance, there's not much to say for the rest. Aevar wears thick leather armor with a ringmail shirt over it, but no heavy armor. Furs to keep the nip of cold away and worn boots.

By the way he moves it's easy to see that this is a man used to hard work and fighting. He shaves the sides of his head and keeps his beard, which in some way adds to his imposing stature. His garb is the color of the nature he often surrounds himself with, mostly brown colours.
Steel Axe: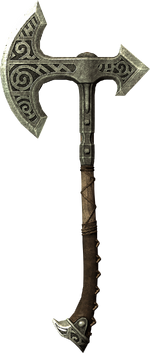 Nordic Sword: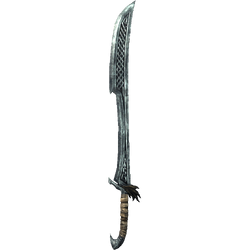 Backpack:
Which contains all other necessities such as food, whetstone, flint and steel, maps and more.
Aevar's positive traits are that he is very loyal to his friends. The fact that he has few is another matter in his mind. He is a hard working man, ambitious and someone who keeps their word and follows through with things.

His negative traits are that he is quick to anger and holds his honor high.

There are many sides to the man, and you won't really know where you've got him before you get to know him. It takes a lot to shock him. Battle never will, as that is what he feels he is best at. Taking lives.
Aevar cares little about the opinion of others. He doesn't care if you don't like him, not even if you say it to his face. But, he will retaliate if you insult his honor.
Despite his tendency to make quick and sometimes rash decisions, he is quite intelligent, which comes from his ability to read other people and figure them out.
Born to parents that ran a lumber mill in Falkreath Hold, life wasn't so bad. His parents loved him and brought him up a good strong lad. Both his father and mother helped run the lumber mill, while his father hunted and his mother prepared the food. In fact, they didn't need to hunt as they traded their wares for meat, but it ensured them that they didn't have to buy meat at markets. Falkreath Hold is covered in trees, so business was good for the family, and Aevar spend many hours of his young life running around and exploring said forests. He raided beehives for honey as a boy and grew bolder and bolder. When he was fifteen, his father gifted him with a fine steel axe he'd bought in Riften. Aevar was ecstatic and soon discovered his natural talent for weapons. A bow he'd learned to use years prior, but this fine axe was something very different. It felt good.

Some years passed and he grew to become a young adult, ready to make his own decisions. Though it was not the worst region, there was still the hostilities and tension between the Stormcloaks and the Imperial Army. As time went by, there were more and more incidents and Aevar no longer felt that he could sit idly by while his countrymen were being killed. Neither did he want to wait for the Imperial Army to come through and kill him and his family. He'd rather die gloriously in battle.
The decision was made; he'd join the Stormcloaks.

When he joined the army, he felt at home. More at home than he felt with his parents, and that says a lot. He was brought up with love and courage and many great memories, but in the army he was challenged. He could hone his skills with sword, shield and axe as well as use his strength. Quickly, he proved himself in battle. And of battles there were many. Not great ones, but small clashes and skirmishes. Aevar proved himself and his skills to such an extent that he was given a gift, only bestowed upon high regarded members of the Stormcloaks. A Nordic sword, forged in the way of his Nord ancestors.

With his new sword in hand, and a few days of leave, he returned home. So happy was he that he walked all the way, no stop for anything and no pause.
What he saw when he came home to his father's lumber mill was unexpected though. There was not much of their house left. A few bodies lay strewn over logs and on the ground. Aevar dropped his belongings and rushed to his father, who sat propped up against what remained of the wall. He was dead and had been for a few days. His mother was no where to be found, and the rage that filled Aevar at that moment was immense. He sobbed, clenched his fists and let out an incredible roar.

For all that he had done, could the Gods not favor him just for a little while? Why did his parents have to die? What was the meaning of it all?

Many thoughts ran through his head, and time passed quickly. He wasn't sure how many hours had passed when he opened his eyes and sat up. Aevar looked around, the sun hadn't set yet, but it was darker. The bodies that lay around him were dressed in crimson cloth and leather and steel. They bore an insignia. Imperials.

It made no sense though. Aevar had gone off, fighting with the Stormcloaks, against the Imperials. There had been no major battles, neither sides harmed civilians willingly, and his parents were not Stormcloaks. Aevar never knew why there had been a disagreement between his parents and the Imperials, that would resulted in violence.

That was the end of war and picking sides for him. Even though he was still young and strong - in his prime - he learned this lesson fast.
He buried his parents, took his things and left his father's lumber mill. Aevar was not going back to the Stormcloaks. He wouldn't hunt down Imperials. He wouldn't pick a side. All he wanted to do was make his own living and do what he was good at. He stopped caring about the unrest in Skyrim and started caring about himself and his goals.