Toni Ruth

Meaning of Name:
Priceless One;Compassionate One

Nickname(s):
Rockstar

Reason for Nickname(s):
Occupation

Gender:
Female

Age:
19

Date of Birth:
11 July

Zodiac Sign:
Cancer
---
Empathic-Meteorokinesis
Power to manipulate meteorological phenomena through emotions or feelings.The weather is tied to the user's emotions.User can sense, create, shape and manipulate weather, i.e. the meteorological patterns, creating rain, wind, hail, lightning, snow, sleet, fog and temperature changes.This includes the ability to generate various natural phenomena or control the intensity of the weather.This power can be dangerous if the user is not careful with handling their feelings.User can sense,feel,detect,fully interpret and replicate the emotional resonances like emotions, moods, and temperaments of billions or more subjects at once.

Limitations:
May only be able to receive emotions
Abilities may be emotion-based, and therefore it becomes unstable if user gets emotional
Hard to contain if the user does not have complete control over their emotions
Too much might cause incoherence
Requires an atmosphere as a medium i.e. air and space
May have to be/stay in contact with earth
May be unable to create earth, being limited to manipulating only from already existing sources
Distance, mass, precision, etc. depend upon of the knowledge, skill, and strength of the user, and their power's natural limits
May not be able to generate weather effects, having limited control over existing ones
May not be able to control the weather after they cause the effects to manifest

Strengths:
Musical Empathic Projection.That's it.That's literally fucking it.Bitch could sing and that's all she thinks she could do.Well,guess what,honey,you got another thing coming.

Applications:
Panempathy
Ecological Empathy
Empathic Element Manipulation
Disaster Manipulation
Terrain Manipulation
Atmospheric Adaptation
Environmental Adaptation
Weather Generation
Weather Sensing

Weaknesses:
User may not be aware they possess this power
May be constantly active
Some users may not be able to turn ability off
Might get taken over and act on those emotions
May be unable to control their feelings
May not be able handle large amounts of emotions at once
Too much will strain the user's head/brain
Too much will cause the user headaches
May be physically weaker than most due to constant mental strain
Could suffer from mental breakdown
Too many emotions at once can drive the user insane (especially if they do not accept the power)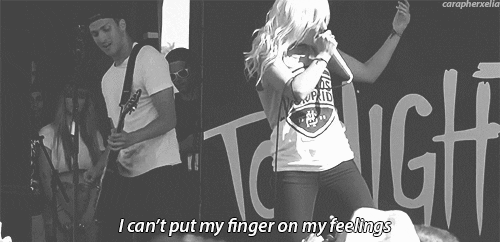 ---


Sexual Orientation:
Bisexual/romantic

Relationship Status:
Single

Sexually Active?:
No

Relationship History:
Toni is the type of person to fall in love deeply,but she's too reserved to even ask someone out on a date.The only two serious crushes she had didn't work out because they only saw her as a friend and if they'd wanted more only wanted to have sex.She was disappointed and hurt and terrified of making the mistake of falling in love again.

Virgin?:
Yes


---


Height:
[color#004080]5'4[/color]

Weight:
115 lbs

Body Build:
Skinny

Eye Colour:
Brown

Glasses or Contacts?:
No

Skin Tone:
Pale

Distinguishing marks:
N/A

Hair Colour:
Blonde

Type of hair:
Straight

Hairstyle:
She's lazy most of the time.But when she's not lazy,she could even go as far as dying her hair green.

Physical disabilities:
N/A

Style:
She literally just wears whatever the fuck she wants.If she's gonna look like a badass bitch in leather,she'll do that.If she wants to go hood in a snapback,she'll do that.If she wants to be a fucking pretty princess,she'll do that.Need I say more?

Tattoos and Piercings:
The treble and bass clef in the form of a heart,over her heart.And a nose stud.

Jewellery or Accessories:
One piece of jewelry she can't be seen without is a subtle heart-shaped locket.

Overall Attractiveness:
Well,she's got quite the number of fans.All she cares about however is being cutesy.


---


Mental or Behavioural Disabilities:
Panic Anxiety Disorder

Good personality traits:
Apologetic || Bubbly || Caring || Sympathetic || Artistic || Easygoing || Positive

Bad personality traits:
Seclusive || Reserved || Hesitant || Self-depreciating || Emotionally unstable

Personality:
Toni is a really sweet,loving person.The only thing about her is that she looks at it in the wrong way.She's "paranoid",she's "annoying",she's "clingy",she's "hyper""..It takes her a while to open up to people,and when she does,she cares for them with all her heart.She will immediately let them know about everything she comes across that reminds her of them.She indulges in everyone's pleasure.If she can't share happiness with anyone,she would rather not be happy at all.But at the end of the day,no matter how hard she laughs and how big her smile is,the tears she hides will always remain in her eyes.


---


Likes:
Animals,warmth,music,anything soft.

Dislikes:
Whatever makes her cry.

Favourite Colour:
Baby blue

Favourite Music:
Pop-punk,RNB,Acoustic,Classical,etc.

Favourite Food:
If sweets count as food,then that.

Least Favourite Food:
Escargot.Her bandmates dared her to try it before telling her what escargot was French for.She cried her eyes out.

Least Favourite Literature:
Stories without happy endings.

Favourite Form of Entertainment:
Don't laugh,a tea party.

Most Prized Possession:
The locket she wears is a small music box.Her father gave it to her when she was eight.


---


Hobbies:
Singing,songwriting,cooking instant/frozen meals,cloudwatching,sleep,etc.

Fears:
Complete loss of control.

Quirks:
Childish,crybaby,always wears her heart on her sleeve.

Secrets:
Her emotional breakdowns cause meteorological disasters.

Plays a musical instrument?:
Guitar.Other than that,she's an outstanding singer.

Plays a sport?:
Sucks at basketball,so probably not.

Spending habits:
Very stingy.Coming from a poor background,she's scared of spending more than she really needs.Everyday meals consist of instant/frozen food and leftovers.

Smokes:
Yes

Drinks:
Yes

Other drugs:
No,that's just a rumor.


---


Upbringing:
Family was poor,so she was homeschooled.Main source of social interaction was the streets.Parents grew ill,had to find work,started street performing.Months after she got discovered,she developed her first power:Empathy.She was able to feel other people's feelings which made it easier for her to relate to them.When she sang,she sang from the heart.But the more people she met,the more emotions she encountered.She eventually developed Panic Anxiety Disorder.By the time she reached maturity,her real power kicked in.The more she sang,the more she got heard,the more she got famous,the more she had to deal with.Eventually,she couldn't handle it anymore and broke.Her first panic attack canceled her final show.Toni never dared go onstage again.

Dream Job:
Singer

Occupation:
Formerly Pop-punk Frontman

Finances:
Formerly low-middle class,now pauper.

Home:
Formerly mainly tour bus,promised family to bring back money.

Transportation:
Formerly tour bus.


---

Hex Colour:
#004080

Timezone:
EST

Player:
theycallmeemo