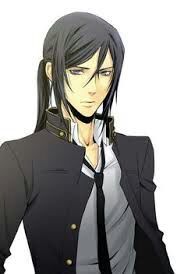 Name
: Duncan McAlister, AKA Duke, Al, Alister
Age
: 25
Physical Description
: Duke stands at just under six feet tall, with long dark hair, usually pulled back in a ponytail, and dark brown eyes. Whenever he is on the job he tends to wear a simple suit; black shoes and pants, white button-down shirt, black vest and jacket, black tie. Along with the suit he always wears a pair of simple white gloves. Outside of the job he prefers jeans and t-shirts. Anyone who has seen him shirtless knows he bares four long red scars across his back.
Personality
: Duke is the kind of guy to stand back and wait for the right time to make himself known. Normally he is quiet, but he has a good head on his shoulders and those who know him well know that it is generally a good idea to listen to him when he speaks. If you ask people who have worked with the Spirit Detectives what they thought of Duke, they would say he was quiet but nice. When it comes to getting answers he can be very serious though.
Ghost Hunting Background
: Duke has been interested in the paranormal ever since he was walking down the street alone one night and witnessed a group of people disappear around a corner with no explanation. He has only been professionally hunting ghosts for about three years, but has seen a lot during this time, and before.
General Background
: Duke lived a normal, quiet life for the most part. Growing up in the woods in the middle of nowhere he got used to being alone, but he likes being around people. When he was young he began to have nightmares and to see things he could not explain. After high school he studied criminal justice for a couple of years in a community collage before a guy from the school asked him to come check out a supposedly haunted house. After what he saw that night, he dedicated himself to finding answers about the paranormal.
Reason for Being Here
: Duke is one of the founders of the Spirit Detectives group, so he has to be there, but he also enjoys an interesting case.
Useful Skills
: Duke is good at drawing out ghosts, good and bad, and can often get a reaction from them when others cannot. They like to draw energy from him to answer questions or, occasionally, fling plates across the room.
Anything More?
: Duke has two minor psychic abilities. Sometimes spirits come to him in his dreams and give him clues, and he has a bit of psychometry. This is the ability to touch an object and sometimes read the past through it. He can hold the knife used to murder someone and get a glimpse of how the crime happened.