Sydney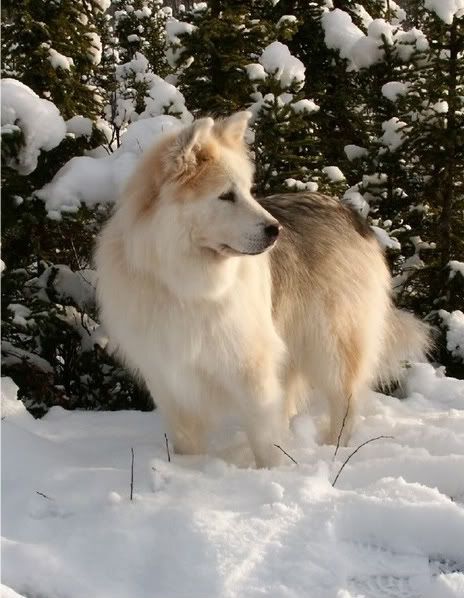 character.
The Council Representative
age.
4 years
gender.
Female
breed.
Mostly a mixture of different husky breeds (most prominent: Mackenzie River Husky)
pack.
South
appearance.
She, like all dogs, has a skinny build. However, it is hidden by her thick golden-white fur, making her look far more well-fed than any other dog when in fact she is not. She has a black saddle and her fluffy tail also has a black stripe down the middle. Her ears, small and triangular, are trademark of her husky heritage. Her eyes are dark and knowing, always flickering around, making sure that everybody is safe. Her paws are dainty, her claws sharp and arched. Her fur is probably the cleanest of all the dogs, despite her having maybe the longest coat. This is because of all the time she spends in the bay. Besides the skinniness, she is still strong.
She has the voice of authority but the heart of the young.
markings.
She has plenty of scars - they're just hidden under her fur.
personality.
Sydney is a responsible dog. Young, but ambitious, she was appointed to be the voice of the Council among the other dogs because of her insights and her intuition. She carries a great deal of responsibility on her shoulders, but she carries it well. Easy to get along with, Sydney's loyalty to her pack is matched only by her love for the water. She is fierce in her own way, making sure that all the wishes of the Council are being carried out among the dogs. She is practically fearless, often standing up to larger and stronger males. She almost never takes no for an answer, and always makes sure dogs are doing what they were told. She gets along well with the pups and always tries to bring happiness into the rest of the pack when all seems dismal and bleak.
She is also somewhat of a thrill seeker. If she sees a human with a net, oftentimes she'll run towards the humans, leading them away from the rest of her pack. When asked why she does this, she usually states, "It's fun. And it keeps everybody safe."
fears.
She fears dark, closed spaces. She was scavenging in the landfill like every dog must, but somehow, all the trash started sliding down, nearly suffocating her. Ever since then, she has hated the feeling of being trapped, with nowhere to turn.
likes.
Hamburgers, swimming, the thrill
dislikes.
The Council (sometimes), bringing bad news, death
strengths.
She is very intelligent. A good tactician, she is not necessarily the strongest dog on the fighting team because of her build. Nor is she the swiftest, but she is usually the smartest.
weaknesses.
Her lack of speed, her love of the thrill. Sometimes, she loses her head.
mini-biography.
-- I'll do this...later --