[Game Master]
eirakitten
[Acceptance || Posts]
Allowing Applicants || No Posts
Guns. Drugs. Money. Alcohol. Crime. This may seem like something that would be a fun way of life. If so, then you have never been in a mafia. Yes, there are some perks and fun times by being in one but the majority of the time you are covering your tracks or in hiding if you were caught. The Cuevas family is no exception from this. They're one of the most powerful and well-known mafias in the city of New York.
They're a tight knit family who would do anything to protect the ones they love, but they also have a hard time allowing strangers into their lives. There was only two exceptions in the past and one more awaiting approval. But first she has to prove herself worthy.
A newcomer to the family has arrived. He is a Cuevas but was never allowed to spend time with the family because his mother didn't want him growing up around crime. This changed when his mother died because of a drug overdose and later shot herself in the head because the drugs weren't working as fast as she wanted them to. He is now living with his uncles, cousins, etc.
Now it's time for him to experience all the things his mother wanted to keep him away from, but worse of all, he's going to enjoy the new life he was thrown into unwillingly.
---
---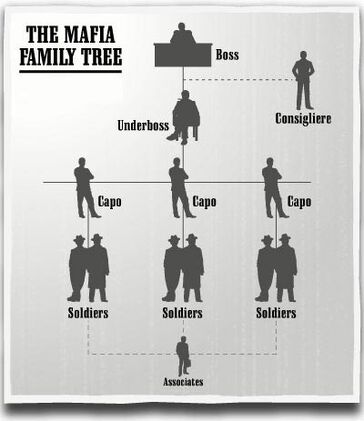 Associates are not actual members of the Mafia but rather anyone who teams up with them on a criminal enterprise of some kind. They could be someone who does business with the mob, including money-laundering bankers, crooked cops, lawyers, politicians, drug dealers, etc. There are also the Italian newcomers who have yet to be made, called cugines, and they play a minor role in the operation of the Mafia. Associates are also fair game on the streets, they are not protected by the organization. Anybody can be an associate in the mafia, however only Italians and Sicilians can be made.



The lowest-ranking members of the hierarchy of the Mafia and La Cosa nostra are the soldiers, the grunts of the organization who do the majority of, making deliveries, picking up cash, and generally sticking out their neck in the hope of making a name for themselves by demonstrating their loyalty to the organization. Children as young as sixteen have been admitted.



The capo, or caporegime, is the captain or lieutenant of a division within the Mafia. He heads a crew of soldiers and reports directly to a boss or underboss, who hands down the instructions. He ranks much higher in the hierarchy of the Mafia. He is also in charge of handling most money.



The consigliere, or chief adviser, is not officially part of the hierarchy of the Mafia, but he plays one of the most important roles in a crime family. He is the close trusted friend and confidant of the family boss. The function of the consigliere is a throwback to medieval times, when a monarch placed his trust in an adviser whom he could summon for strategic information and sound advice. The consigliere is meant to offer unbiased information based on what he sees as best for the family. He's not supposed to factor emotional concerns, such as retaliation and blood feuds, into his decisions. Unlike the under-boss (see below), the consigliere is not required to be a direct relative of the boss. Instead, he is chosen solely for his abilities and the amount of knowledge he possesses. Generally, only the boss and under-boss have more authority than the consigliere in an organized crime family.



The under-boss, or capo bastone, is second-in-command in the hierarchy of the Mafia crime family. His level of authority varies from family to family, but he is ready to stand in for the boss at any given moment. In the violent and volatile world of the mob, the under-boss can easily find himself at the helm of the family so, for the most part, they are usually groomed for an eventual takeover, particularly if the boss's health is failing or if it looks like he's headed for a stay in the joint. A family may have two under-bosses. An example of this was boss Carlo Gambino, who had Paul "Big Paul" Castellano and Aniello "Mr. Neil" Dellacroce as under-boss at the same time. However, one under-boss is far more common.



The boss, or capo famiglia, makes all the important decisions, much like a CEO of a company would. Although each mob boss may run his outfit in a different way, they have one thing in common: they are greatly respected and widely feared by their subordinates. All of the men in his outfit pay him a tribute, so he is also usually an extremely wealthy man. More commonly, the word "Don" may proceed his first or last name.
---
---

Omertà is the oath or "code of silence", never talk to the authorities.



Members are not allowed to talk about family business to non-members.



If a family member is killed by another member, no one can commit murder in revenge unless the boss gives permission.



This includes anything ranging from fist fights to knife fights.



Every month; members must pay the boss; also giving the boss a cut on any side deals.



Members are not allowed to commit adultery with another family member's wife.

---
---

Has been the boss of the Cuevas mafia for fifteen years now and ever since
he has been the best boss this family has had in a very long time.

She has been married to Antonio for about ten years now. She didn't know anything
about him being in a mafia until she married him.

He has always wanted to be the mafia boss, but without him being able to be
called under-boss there is no way that would ever happen. He needs to
become under-boss before he can do away with his brother to take over the mafia.


She was the first mafia member outside of the Cuevas family who was
accepted into the mafia without being brought in by marriage.


He was once married, but it didn't last very long because his wife was murdered
two years later.

She is the one awaiting approval. She has to prove her worth to the boss by
doing little errands, such as picking up money, etc. She moved from Ireland
after faking her death so she could get out of her Irish Mafia.

His mother, Antonio's sister kept him secluded from the rest of the family
because she didn't want him growing up around the mafia world. When she
died, he had no place else to live because he didn't have a job and wasn't
able to keep up with the bills so he had no choice but to take his uncle's offer
and move in with him and the rest of the family.

She has been dating Max since their sophomore year of high school and she
has no idea what the rest of his family is like. She is figuring things out just
as he is.
---
---
Reservations:
In order to reserve your character, please post in the forums.
Character Sheets:
You will have 24 hours to send in a work in progress and 48 hours to send in a completed sheet. A total of three days should be enough time to finish your sheet. If more time is needed, please let me know. Also, feel free to use whichever sheet you would like to, as long as the asked for information is on it.
Detail:
Please add as much detail as you can to your biography and personality. Dig deep into your characters, make them jump out of the screen at me. Give them flaws, give them shape, after all they're human.
Face Claims:
Face claim changes are welcome to be made. Just keep in mind the age, and that I'm allowed to deny the face change.
Posts:
When posting your replies, please be sure to add in detail. If you can't write at least a paragraph consisting of eight or more well thought out sentences then this surely is not the roleplay for you.
Abandoning:
If you are going to abandon the roleplay before it starts or when it starts, please do not make a reservation. I want writers who are willing to do what they can to make this a great story.
Any ideas to spice up the story?
Please post them in the forums. You are more than welcome to add in some twists and turns. After all, that's what makes for a great story!
Remember:
This story is fiction. In this roleplay I am allowing females to be part of the mafia, unlike in most mafias around the world in real life.
---
Code: Select all

[center][right][img]500x250[/img][/right][left][img]Name%20Picture[/img][/left]
[font=arial][b]Dialogue Color:[/b] [color=hexcode]hexcode here[/color]

[b]Theme Song[/b]
◈ [url=song url here]Title || Artist[/url]
Add more if wanted.[/font]
[hr][/hr][hr][/hr]
[img]100x100[/img][img]500x100[/img][img]100x100[/img]
[hr][/hr][hr][/hr]
[right][img]250x250[/img][/right][left][img]250x250[/img][/left][color=hexcode][b]Full Name[/b][/color]
Name Here

[color=hexcode][b]Nickname(s)[/b][/color]
Nickname Here

[color=hexcode][b]Age[/b][/color]
Age Here

[color=hexcode][b]Date of Birth[/b][/color]
Birthday Here

[color=hexcode][b]Relation to the Cuevas'[/b][/color]


[color=hexcode][b]Role[/b][/color]
Role Here
[hr][/hr][hr][/hr]
[img]gif%20here[/img]
[hr][/hr][hr][/hr]
[left][img]250x400[/img][/left][color=hexcode][b]Personality Traits[/b][/color]
[left][color=green]✔[/color]
[color=green]✔[/color]
[color=green]✔[/color]
[color=green]✔[/color]
[color=green]✔[/color][/left][right][color=red]✘[/color]
[color=red]✘[/color]
[color=red]✘[/color]
[color=red]✘[/color]
[color=red]✘[/color][/right]
[img]http://media.tumblr.com/13b320790a87b9502080de376015e773/tumblr_inline_n1xc7awekB1rb3m8r.png[/img]
[color=hexcode][b]Personality Description[/b][/color]
Be Descriptive.
[hr][/hr][hr][/hr]
[right][img]250x500[/img][/right][color=hexcode][b]Biography[/b][/color]
Be Descriptive.
[hr][/hr][hr][/hr]
[right][img]150x150[/img][/right][left][img]150x150[/img][/left][color=hexcode][b]Face Claim[/b][/color]
Face Claim Here

[color=hexcode][b]Portrayed By[/b][/color]
Your name here

[color=red][b]CREDIT[/b][/color]
[i]This character sheet was created by eirakitten.[/i][/center]
Taking place in...
2 posts here • Page 1 of 1
Dialogue Color:
#7C68ED
Thought Color:
#ED7C68
Outfit:
x
☪
☪
☪
☪
☪
☪
☪
☪
☪
☪
☪
☪
Max has been living with the Cuevas Mafia for about a week now and it seems as if his life will never be the same again. Losing his mother was something he never thought he'd have to go through for many years and yet, that seemed to happen without expecting it. Max tried all he could to help his mother get better, but there was nothing he could do without his mother wanting to change herself. Though if he were being completely honest with himself, if it weren't for Amaris being in his life, he wasn't sure how he would be able to handle anything that has recently been thrown his way.

Everything about this new life has been a bit overwhelming and there was nothing he could tell Amaris about his family without spilling the secrets the mafia holds close to them. He was let in without a single thought, just because he was blood and there was one other girl, Kira who had to prove herself to officially become part of the family. Max could never seem to understand why anyone would want to choose this life for themselves, but then again there was so much about this life that he still didn't fully grasp onto and understand.

Don't get him wrong, he is thankful for his Aunt and Uncle's willingness to help him out when they found out his mother passed away and he needed a place to stay, but never for one second would he have thought the reason why his mother kept the rest of his family a secret was because they were a mafia.

The male let out a sigh as he leaned back on his bed and pulled his phone from his pants pocket. He needed to see Amaris, talk to her, have a bit of fun. Really anything to get his mind off of everything he's been forced to go through. If there was one thing Amaris was ever good with, was making Max realize the joys in life. She showed him that there was more to life than struggles and horrible situations. But sometimes he needed to have her around for him to remember that and this was one of those times.

To Amaris
Could you come over? I'd like to see you.

Max sent the message before standing to his feet to go close his bedroom door. The male enjoyed his privacy and sadly the only way to get that was to keep his bedroom door closed because of the amount of people living in the New York home. Once the door was closed, he made his way over towards his stereo, turned it on, then made his way back towards his bed and sat back down. Max let out another sigh as he laid his head against the headboard and interlaced his fingers before laying them upon his stomach.
---
---
---
⬛
⬛
⬛
⬛
⬛
⬛
⬛
⬛
⬛
⬛
⬛
⬛
⬛
⬛
⬛
⬛
"It is those who seek to harm your family, who are the true enemy."
Dialogue Color:
#528B8B
---
---
Riven smiled softly at the feeling of warm sunlight spilling onto her face. She must of forgotten to close the blinds last night, not that she minded however. It was her favourite time of the day, those few precious seconds between sleep and wakefulness where she is completely aware of all the sensations which surround her. The sun, the birds, the feeling of Lucas sleeping on the other side of the bed.
Everything as it should be.
However, that time was short, only a few seconds after all, and soon Riven was required to become fully conscious and focus on her current task at hand. She hadn't gotten her role as Capo by simply lying around and so it is with this mindset that Riven swiftly pulls herself out of the warm covers and out into the cool morning air. Not bothering to see if Lucas noticed the disturbance, Riven quickly threw on a pair of shorts, a tank top and some combat boots before pulling her hair up into a loose ponytail. Though it was informal, it was the cloths Riven felt most comfortable in and the cloths she was most likely to be found wearing even in formal situations... Though there were always exceptions to the rule.
Once dressed, Riven quickly made her way out of her shared bedroom and down the hallway towards the kitchen. She could hear some noise around the house, signifying that other members of the family must be awake. She also heard music coming from the new kids bedroom. Glancing at the door briefly on her way past, she contemplated knocking and greeting the latest member of the Cuevas Family, however decided against it. She had never met the boy and, in personal opinion, did not believe it right that he should join the family.
Of course, the boy had more ties to the family then she herself did, but that wasn't her objection. That boy had been taken from his life and sheltered from it to some degree. It was going to be a shock to his system when he found out what being part of a mafia family is really like. He would of been better off being kept out of it.
Then again, it was none of her business and so Riven would keep her opinions silent.
Finally entering the kitchen, she set about putting on the coffee machine. She was going to need as much caffeine as she could get today, as it was going to be a long one. Not only did Riven have to deal with some quarrels her soldiers were having with some petty gangsman who thought they could start edging in on her territory, but she was also required to meet an associate who held some valuable information about a successful drug lord who was looking for partnership.
---
2 posts here • Page 1 of 1
Arcs are bundles of posts that you can organize on your own. They're useful for telling a story that might span long periods of time or space.
There are no arcs in this roleplay.
There are no quests in this roleplay.
Here's the current leaderboard.
There are no groups in this roleplay!
Welcome home, Promethean. Here, you can manage your universe.
Arcs are bundles of posts from any location, allowing you to easily capture sub-plots which might be spread out across multiple locations.
You can create Quests with various rewards, encouraging your players to engage with specific plot lines.
Settings are the backdrop for the characters in your universe, giving meaning and context to their existence. By creating a number of well-written locations, you can organize your universe into areas and regions.
Navigation
While not required, locations can be organized onto a map. More information soon!
There are no groups in this roleplay!
By creating Collectibles, you can reward your players with unique items that accentuate their character sheets.
Once an Item has been created, it can be spawned in the IC using /spawn Item Name (case-sensitive, as usual) — this can be followed with /take Item Name to retrieve the item into the current character's inventory.
Give your Universe life by adding a Mob, which are auto-replenishing NPCs your players can interact with. Useful for some quick hack-and-slash fun!
Mobs can be automated spawns, like rats and bats, or full-on NPCs complete with conversation menus. Use them to enhance your player experience!
Current Mobs
No mobs have been created yet.
Locations where Mobs and Items might appear.
You can schedule events for your players to create notifications and schedule times for everyone to plan around.
Add and remove other people from your Universe.
The Forge
Use your INK to craft new artifacts in The Streets of New York. Once created, Items cannot be changed, but they can be bought and sold in the marketplace.
Notable Items
No items have been created yet!
The Market
Buy, sell, and even craft your own items in this universe.
Market Data

Market conditions are unknown. Use caution when trading.

Quick Buy (Items Most Recently Listed for Sale)
None
Discussions
Topics

Replies
Views

Last post
Most recent OOC posts in The Streets of New York
There have been no posts in the OOC topic for this roleplay!