MEGAN RICE
Name - Megan Rice. She sometimes goes by 'Meg' by her friends while her parents call her Meggy.
Face Claim - Amanda Seyfried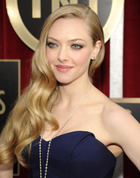 Gender - Do you really need to ask? Why can't you figure that out? Yeah, I can get pregnant, I'm a female.
Age - I am now age 19. I have been going to the Twilight Mansion since I was 13. My birthday is June 7th.
Likes/Dislikes - I love singing, running, feeling the sun on my fur, being with friends, having fun, playing piano, violin, and more. I hate boredom, annoying people, being ignored, death, reading; it just takes to much time, TV, yappy dogs, careless people, bright lights, boots, and more.
Fears - My only fears are just three simple things, going back to my childhood, finding my parents, and of course you in all my business, no that's not it, falling in love and having my heart ripped in half, again.
Powers - Hello, I have four legs, fur, sharp teeth, claws.. What the heck do you think I am? I am a werewolf, have known since I was 13 when I came to the Mansion. My fur has a dark gray color and my eyes turn to a darker blue color. I have a scar over my right front leg up to my torso from a fight when I was 15.
History - When I was growing up, I never did have a good childhood. My parents would beat me, I had no friends, everyone turned and stabbed me in the back, every guy I liked never noticed me, my sister and brother died; killed by my own father. I even ran away for a year when I was only eight. I used to cut myself, but now I stopped and I can't even look at my own wrists. I had a small case of a rare cancer but I got over it and now look at me, I'm breathing, strong, curvy, blonde, and I guess pretty. I owned a Frisian horse, a black horse breed, that I still own today.