Raisa Argo Gremory
---
---
---
---
"Please, just call me Argo... Miss Gremory is too formal, and Raisa is... a bit awkward. So, if you don't mind, I think I'd probably be most comfortable going by my middle name. Of course, if that's a problem for you to remember, I guess Raisa would be alright..."
---
---
Theme Song(s)
Sprinter (Piano Ver.) | Kalafina
Sprinter (Vocals Ver.) | Kalafina
(Lyrics Here)
M24 | Yuki Kajiura
Name
Raisa Argo Gremory. Although she's descended from the Argo clan, she bears the last name of her father, an outsider. Nevertheless, due to clan customs, she was given the clan's name as well. The reason she prefers to be called by that name is probably because of her desire to prove herself worthy of it, and earn the praise of her elders.
Nickname
Argo.
Age
15
Gender
Female
Demon | Mage
Mage
Sexuality
Heterosexual
Nationality
American
Group | Teammates
Group 2 | TBA
Face Claim
Misaki Mei from Another
---
---
---
---
---
---
Height | Weight
5'3 | 103 lbs.
Hair Colour
Black
Eye Colour
Her right eye is crimson red, while her left eye, usually covered by an eyepatch, is emerald green.
Physical Description
Short, thin, and pale, Raisa has the appearance of a girl who's lived most of her life indoors, perhaps not under the best conditions. Her eyes - or, more usually, eye, as her left is almost always covered beneath a white patch - seem to dart away from the gaze of anyone who looks upon her, as though uncomfortable with the idea of making eye contact. This evasive demeanor, combined with her small size and seemingly fragile appearance - she's almost unhealthily slim, with comparatively little physical development, especially in her limbs, which seem doll-like and delicate - perhaps make her seem even younger than she really is, no matter how much this clashes with her rather mature, cold, and composed attitude when she does actually speak up and interact with others.
A paradox of sorts, she seems shy and aloof, yet towards those who know her better, she tries to be a sort of big sister despite her young age, acting calm and never involving others in her troubles by complaining or asking for help, listening to their worries and assuaging them, and generally doing her best to help and protect them. This sort of two-sided attitude carries over into her appearance, with short, boyish hair and pale, pursed lips, yet a rather feminine, round, and soft face with a small nose, dull jawline, high cheekbones, and a small forehead perpetually covered by her bangs.
Her usual clothing isn't particularly distinctive, consisting of a white silken blouse tied with a crimson ribbon, over which she wears a heavier black blazer, accompanied by a matching blue-gray skirt and knee-high black stockings, with slip-on brown leather shoes to complete her ensemble. However, although it's perhaps not as iconic as the attire worn by some of her fellow students - not to mention the headmistress - it's practical and easy to move in, and doesn't draw much attention to her - just the way she likes things.
---
---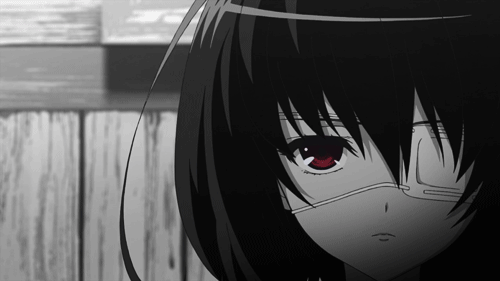 ---
---
"While my combat abilities may be somewhat lacking, I'll do my best to support you and keep you out of danger. After all, I can hardly call myself a captain if I don't do my part, too..."
---
---
Personality
Socially Awkward | Aloof | Undyingly Loyal | Calm, thoughtful, and generally very perceptive | Driven to prove herself, not burden others, and do her part.
Likes
Sweets. | Cute things, especially dogs, although she tries to hide this as to act "tough." | Being trusted, praised, or otherwise relied on. | Both hard rock and softer, more classical music - which she often listens to in a pair of earbuds she carries with her almost everywhere. She also likes singing a great deal, but this is another thing she tries to hide from others. | Being by herself when she feels conflicted, confused, or uncertain.
Dislikes
Being lonely. | Being insulted, belittled, or mocked, which hits especially close to home for her. | Losing or otherwise failing. | Sour foods. | Talking to people she doesn't know, as she's not exactly very good at it.
Habits
Avoiding eye contact, especially when her eyepatch is off. | Fidgeting with her longest, most prominent lock of hair when she's uneasy. | Long walks by herself, especially when there's something weighing on her mind and during the night.
Flaws
Lacks powerful offensive abilities, or control over the many supportive abilities she has. | Tries to keep all of her problems to herself, and feels that solving them is solely her responsibility, which weighs on her heavily. | Has something of an attachment issue, and will often justify any less than savory behavior of somebody she cares about simply because she depends on them so much, and wouldn't know what to do if they betrayed her, making her something of a doormat.
Abilities | Powers
All three of Raisa's powers stem from a single source: taking her magical energy and imbuing it into her body or objects in contact with it to achieve a multitude of different effects. For the most part, this simply entails increasing her own speed, strength and resilience, or the durability of something she's holding. However, due to her inexperience, this reinforcement ability is very difficult to utilize effectively without a catalyst, as without a well to draw in her power and focus it, requiring her to use either an artifact of sorts, or her family's ancestral powers in order to achieve the best possible effects. But, even with these aids to help her focus her abilities, it's difficult for her to actually manage the effects themselves due to her inexperience and lack of control, making it difficult to "turn off" her powers so to speak.
The first of these catalysts is the only one external to her body:
a long, two-sided knife with an enchanted ruby in its pommel.
Its purpose is to remain close to her body - hence why she carries it in a sheathe sewn into the inside of her skirt - and draw out the excess energy she can't control, then store it inside the ruby. Thus, when she wants to use her powers, she has an emergency reserve of power to draw upon. The enchantments on the knife also allow it to use the energy she's placed in it to repair itself, sharpen its blade, and generally increase its effectiveness as a weapon as well as as a means of power storage. The knife's enchantment also gives it one other use - converting physical matter under the effects of her powers into raw energy, and back again. So, given a means of targeting a precise area of space, she can convert her body and the things in contact with it into energy, and teleport them. Naturally, this takes a great deal of power, and usually only works over short distances due to the requirement of precisely targeting a given place, which would normally limit things to line-of-sight. Alternatively, she can use this ability to detonate objects she has reinforced, allowing her to utilize bits of the scenery or small thrown objects as makeshift explosives by touching the knife to them - although simply stabbing things is usually more efficient.
The second and third catalysts are actually parts of her own body - magical eyes inherited by those of her bloodline. By empowering her eyes, she can thus achieve two more different effects. Her crimson right eye has the power of changing the appearances of things with a great deal of her power in them. Of course, this requires so much of her energy as to only be usable on her own body, as well as perhaps her clothing and her dagger - although even these would probably be difficult to alter, since they are made more of physical matter than they are of her power. This ability also only changes how things are perceived - not what they actually are. And, due to the incredible amount of control required to maintain any given appearance, this is also an ability that she's terrible at using intentionally. Generally, due to her overflowing and uncontrolled power, it's almost always active on some level, and simply changes how she's perceived in accordance with her wishes. Given her aloof attitude and her awkwardness when it comes to social situations, this usually just means that it's very difficult for people to actually notice her, as though she's invisible and inaudible until she actually speaks up or deliberately tries to get someone's attention. Even then, she sometimes isn't noticed, leading her to be forced to isolation by her own abilities. She's terrified that one day she'll disappear completely, but like so many other fears, she keeps this bottled up inside.
Her final catalyst is her left eye, within which is, perhaps, her most formidable ability. It possesses the conceptual power, when strengthened by her energy, to "see through" things. Normally this just entails seeing through objects, like the eyepatch that covers it. However, given enough control and focus, she could potentially see through time as well as space, allowing her to perceive both the future and the past, through lies, allowing her to tell when someone isn't telling the truth, or through mysteries, allowing her to understand things just by looking at them. Of course, this is a very big "if," as control and focus are exactly the things she doesn't have, making it unlikely that she'd attain this level of power for a long, long time - perhaps never. Given that she can't actually turn its ability off, she thus covers her eye with the eyepatch, so that the only thing she sees through is that, rather than, say, the walls, floor, and ceiling, or through people's skin and into their internal organs. However, even with her immense lack of control, she still has one major use for this ability: seeing through space to locate a position she wants to use her dagger's enchantment to teleport to, allowing her to bypass the need for line-of-sight vision. However, once again due to her lack of control, this costs a great deal of power, and she may miss her target by quite some ways regardless due to her magic sight's instability.
In summary, although she has a vast amount of potential for such a simple power, her lack of focus and confidence leads her to be unable to use anything but its most basic applications reliably. Fortunately, she's remarkably skilled with her knife for such a young girl, which at least gives her the necessary power to defend herself in a pinch. In any case, though, in a team situation, she'd be infinitely more likely to be the one making the plans than the one carrying them out.
---
---
---
---
"I'm fine. Everything's fine. Right... there's nothing wrong at all...

...Pathetic, isn't it? I can't even smile without using my eye to fake it..."
---
---
Romantic Interest
TBA
Character Opinions
Rabesach Vanafrea
- Raisa isn't entirely sure what to think of this particular demon. Although his childish attitude makes him seem easy to understand, the sadistic demeanor and callous disregard for other people he displays is more than enough to put Raisa on edge. Although she feels like she shouldn't hesitate to interact with her own teammate, and that the distance between them is more her fault than his, she's a little bit wary of him, especially given what his powers can do, and his proclivity for exactly the sorts of violence that bring back the most unwelcome of Raisa's memories.
Makoto no Qilin
- Raisa wants to like Makoto. He seems like a nice enough person - if a bit reckless and wild - and although he has his issues, Raisa feels like she could help him. Their powers are easily compatible, making them a natural team, and she likes to think that maybe she could keep him from getting too far out of hand. However, given his attitude towards her as of their meeting, she gets the feeling that he's singled her out for some reason, and is shunning her. She's not sure what she did wrong, but she desperately wants to change his opinion of her and make amends for whatever offense she committed to so anger him.
History
An only child to a long and renowned line of mages, Raisa's childhood swiftly fell apart when her father, who had married into the Argo clan, had a major disagreement with the heads of house and with his wife, renounced his part in the family, and left suddenly, without ever even saying goodbye to the six year old Raisa. Since it was thus quite unlikely that another heir to the family would be born, all of the clan's expectations turned to Raisa to continue the proud family line of powerful mages. From a young age, she was constantly pressured to improve. But, from birth, she hadn't shown any signs of awakening the magical eyes that ran in the Argo family's blood, and which were essential to properly use the family's reinforcement and perception magic. Her mother was ostracized, the responsibility of turning her seemingly incompetent daughter into a respectable heiress placed entirely on her shoulders. This stress, and her grief at being abandoned by the man she loved, ultimately broke her. Although she cared greatly for her daughter, she began to grow unhinged, scolding, insulting and punishing the girl for her apparent inability to use the family's magic.
Raisa was an innocent girl who loved her mother dearly, and wanted only to please her. She thus couldn't understand when her mother struck her, or cried that she was a failure and a shame to the bloodline. She desperately wanted her mother to be proud of her, and rationalized her regular punishments as her fault, absolving her mother of all guilt and trying to maintain her mental image of a kind, caring parent. She tried her best to hide her injuries as her mother grew more and more abusive in her desperation, and always wore a smile wherever she went, even though she felt like crying inside. But finally, she could take it no longer. It had become clear, even to her young mind, that she would never be able to make her mother proud of her. And so, she made her first selfish wish.
If she couldn't become the heiress her mother wanted, she wished that she could just disappear and cease troubling the parent she remained unflinchingly loyal to.
But this, alone, was still not enough to awaken her eyes - and so her mother, mad with despair, at last took desperate measures. Committing suicide in a final, desperate ritual, she transferred her blood to her daughter, replacing the girl's left eye with her own and forcing her right eye to awaken. In agonizing pain, Raisa thus awakened from her torment to find the mother she had loved dead, and herself in possession of both her mother's power to "see through" objects, and a power actualized by her own wish: the power to change how she was perceived, and thus, to finally disappear. And so, hiding herself from everyone, she ran away, feeling that she was responsible for her mother's death, that she was a monster who would forever bear her mother's green eye as a reminder of the sin of her existence.
Nevertheless, much as she wanted to, she couldn't bring herself to simply kill herself as her mother had. After all, if she did that, her parent's death would be in vain. And so, she sought to fulfill her mother's last wishes, no matter what might come of it. Coming to the Survival Kit Academy on her own, she enrolled in the hopes that she could at last learn to control the powers that so terrified her, and perhaps become a person her mother would have been proud of. But with her confidence crushed by years of abuse, and by the trauma of her mother's death, that task seemed impossible to perform on her own...
Other
She strongly dislikes using her left eye's powers, as using it brings back the repressed trauma of her mother's death. Just looking at it in a mirror is enough to send her into fits of revulsion. Using it is infinitely worse on her fragile psyche - hence why she avoids it whenever possible.