---
---
---
---
If you can't learn from example, then there is no point in me explaining it to you.
---
---
Theme Song(s)
[url](Song Name) | (Artist)[/url]
Name
Zita Bombardier
Nickname
Zee. Bomb. Bard.
Age
25 Years Old
Gender
Female
Demon | Mage
Teacher | Demon
Sexuality
Heterosexual
Nationality
German
FaceClaim
Akari Acura | Hitsuji no Chaika
---
---
---
---
Open your eyes, look within. Are you satisfied with the life you're living?
---
---
Height | Weight
5'8" | 158lbs
Hair Colour
Dark Green
Eye Colour
Sky Blue
Physical Description
Zita is a fairly tall woman, usually taller than many of the men she meets. She has thick green hair that is very volumptous and tied into a pony tail at the back most of the time. Her attire consists of a pink mini skirt that exposes her hips and a top with a low neckline. She also has stockings that match her skirt in color, white knee-length boots with the heels and toes brown, and a yellow knife holder strapped to her behind. She is usually seen carrying her sledgehammer both on and off the battlefield.
When her powers activate, her hair becomes red and crimson markings appear on her face and body appearing as two sets of vertical lines appearing on the upper and lower sections of her forehead and cheeks.
---
---
---
---
Life is a succession of lessons which must be lived to be understood.
---
---
Personality
Apathetic | Patient | Obsessive | Wise | Observant | Black and White
Likes
Peaches | Morning Jogs | Smashing Things | Her Obsession | Cats
Dislikes
Other Animals | Sleeping | Conflict | Cockiness | Liars
Habits
Having no Expression | Smashing Things She Finds Unlikeable (That could include People) | Using Her Hammer for Everything
Flaws
Somewhat Gullible | Dense (Won't Know if Someone Likes Her Even if They Kiss Her) | Moves at Her Own Pace which is Slow and Easygoing
Abilties | Powers
Firstly, because Zita is a demon she has extremely high physical abilities which includes above average strength, speed, instincts, reflexes, flexibility, and stamina. Her strength and stamina allows her to hold her Comblade sledgehammer with one hand, as well move at fast paces without slowing down. However unlike most demons, she doesn't possess particularly strong senses or abnormal abilities like controlling fire or shapeshifting. She has consistently trained and improved her skills though, so her power is just as great if not better than most demons. However where Zita is powerful, in other areas she lacks aptitude. For example, close-combat is great but long-distance sucks. She can put you down quick but if you can dodge and get behind her, you can find her blind spot.
Iron-Blood Transformation
A technique that causes the body to be optimized for fighting. Activated by extreme mental concentration, Zita's physical abilities greatly increases beyond even demonic ability and her combat skills also improves considerably. The technique, however, has limited use per day as it puts a great strain on the body if used too many times. Even a demonic body can break, albeit much later than a human body would. The special thing about this technique is that it can be taught to others and has been passed down in her family for generations.
Null Hammer
Since Zita cannot use her body as a conduit for magic that is directed outwardly, she uses her hammer instead to direct that type of magic. Since her type of power comes from support type magic and a bit of offense magic, she can develop a nulling effect on her hammer. If her hammer touches anything magical or otherwise, the magic is dulled. Usually this is only a move used to get rid of incoming fireballs or dangerous magic but in some cases it can become dangerous. For example, if a shapeshifter is mid shift and her hammer touches the shifter, the shifter is frozen in that state which can be quite gruesome with the skin misplaced and bones cracked and unformed, being just a pile of flesh and bone on the ground.
Quake Hammer
This ability is an extension of Iron-Blood. Due to her heightened state of strength, she is able to emulate a good amount of force on any object with her hammer. For example, during a fight: Zita would hit a boy with the hammer and of course the impact would hurt and break a few ribs and maybe have internal injuries but he wouldn't just fall back a few feet. With the added force of this ability with is magic channeled directly into the part of the hammer making contact, the boy would fly backwards at least fifteen feet with wounds not just on his stomach where the hammer hit, but the hips and upper chest because the force works like a seismic wave with the impact being strongest at the center and weaker moving outwards. (One drop of water into a pool creates waves that expand in all directions)
---
---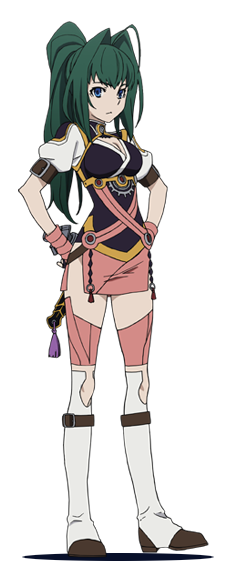 ---
---
When all if said and finished..I will stand by my decisions with no regrets. That is the meaning of will.
---
---
Romantic Interest
TBA
Character Opinions
TBA
History
Zita was born to an important clan of demons known as the Vildeirger [Vill - Dayir - Gur] Clan. They were an influential clan of politicians and mercenaries that even the hunters didn't dare touch. Her parents were second in charge to the head of the family, meaning: Her father was the heads' brother and her mother was a political marriage candidate. However the complication in this is that her father was a Bombardier and the Head a Vildeirger. Bombardier was the last name of their father's secret affair but to the Vildeirger,
Johane
had proven himself to be a Vildeirger by killing their father and allowing his brother (
Reigess
) to take the throne. It was after that event that Zitas' mother
Catherine
became with child and gave birth many months later to a beautiful healthy baby girl.
Growing up, many officials with the Head included wanted her to be a lady and take up helping the family gain political influence by marrying some rich guy from another region. However Zita was a tomboy and had no interests in those types of pursuits. So she persuaded her father to let her train day and night to eventually prove her strength and worth to the Head of the family. When that day came, she excelled of course and was given a spot in the mercenary faction of the family. There, she learned a lot about living life full of action and was able to fully grasp all of her power in time. However during the time that she traveled with the band of familial mercenaries corruption had been seeding it's way into the inner circle of the family.
When she returned to the house on the premise of a family visit, she discovered her mother dead and her father grieving himself to death. The Head of the family had become crazy with power and eventually sought to eliminate all who would oppose himself. He had made the mistake of thinking that her father would have been a traitor when the truth was that her father would have protected the Head until his final breath. So, with her mother dead and her father beginning to seek revenge; they operated a coup de tat and successfully put her father on the throne instead. Her father asked her to remain with him and take a high position in the familial structure but she declined and parted ways with him promising she would be back in due time. Nevertheless she didn't leave without teaching her father how to use a cell phone to call people with. For a while she wandered the human world, searching for wisdom and knowledge but eventually she decide to settle down to use her newfound ideas to teach others. So, with that in mind, that is how she found herself at Survival Kit Academy.