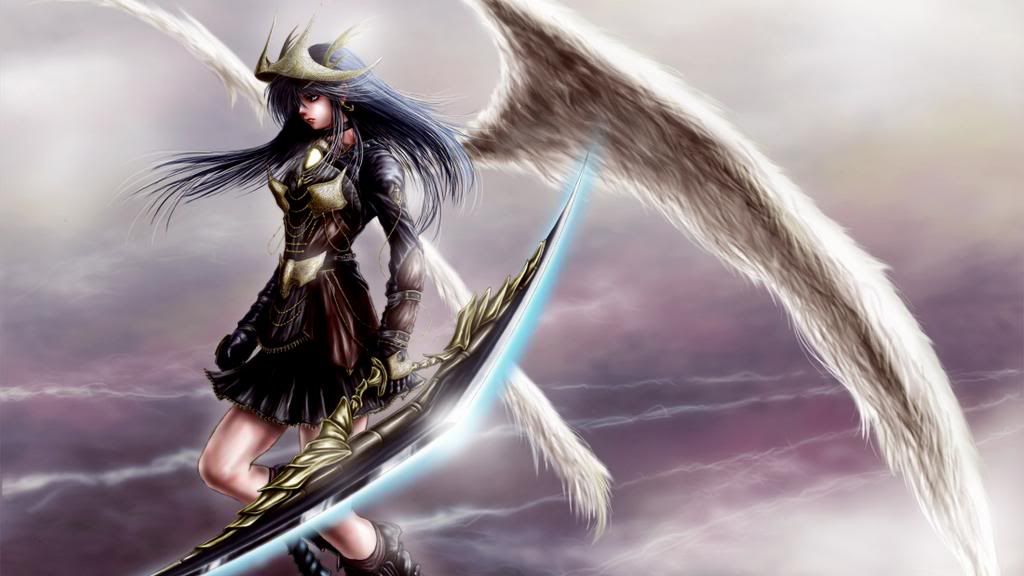 ---
---
---
---
25


Keyra is at first hard to get close to. Earning her loyalty and respect can be difficult unless you do the right things when first meeting her. She's used to discrimination as her own people do the same to her. Full wings are a rarity, add her bird like golden eyes and a few feathers at the nape of her neck and you've got the avian species of a Val. She is a good listener to anyone who needs to talk or vent about a situation or problem. Whether or not she gives you advice depends on your standing with her. Keyra is a warrior through and through. She is strong willed as well as level headed during fights. She believes in honesty, strength, courage and respect for one another. Her dislikes lie in those who are cowards, using other people to do the dirty work for them, liars and anyone who discriminates based off of appearances.

Though she's often quiet, she does speak her mind if the situation has a need for it. Keyra is very formal in her speech, regarding it as a sign of respect to the one she is speaking to. Usually she doesn't hand out her respective nature to another until she's witnessed them in battle. Her strong belief is that when one engages in a fight, it is their true nature brought to the surface. From that, she gets a larger glimpse into one's personality, the part that she judges, deeming it worthy or not. A strong and capable fighter who is honorable will gain her admiration and loyalty. Should one wish to try to get to know her more, simply asking to spar with her is an honor that she will gladly accept.


Keyra wields an enormous blade crafted by an old blacksmith back on her world. It is a very unique weapon as well as sentimental to her. The golden pieces of armor attached to her leather armor are not only for show, but also a trademark of her clan. She has no other weapons or items on her other than those.


The Val is highly skilled in wielding her large sword. The weapon (as depicted) is so large that it needs to be wielded not only with both her hands, but with her 5'8 body as well. She's fine tuned her entire form to move almost as one with her weapon. Her wings, though twice her size in both length and width, are not strong enough to actually allow her to fly, however, they do add to making her much more nimble than most and twice as fast. She can hover a few feet for a short time, she can streak through the air if given the proper setting and make minute adjustments to help her in combat movements. Should Keyra ever fall from a high point, her wings (if not damaged) can help to get her to the ground safely by simply gliding.


Keyra came from a small clan of avian's on her home planet Cabal. There were maybe a few small villages of the avian clan. Her parents were chiefs of one of the villages. When she was very small, the village was attacked by something dark. She does not remember much of the attack, only that her father had died protecting her. When she regained consciousness, the entire village had been wiped out. She searched for days for the other avian villages, but never found anything. Completely convinced that she was the last of her kind, she traveled to the one and only large city in Cabal. There she met a blacksmith who took her in and taught her how to wield a weapon. This man also crafted her blade that she carries now. Keyra was soon admitted to the Gathering Hall and took a lenient position to represent her none-existent race. When the message arrived to go to the Brass City, Keyra was chosen. Though the ones who chose her to go had said they'd done so because of her supreme skill in combat and tracking, she knew otherwise. Being the last of the avian type with her features, there was no worry to any other clan that may suffer a loss. Keyra left with no intention of returning. Boarding a ship, she headed to the Brass City.