"You are not my master, and I am not your slave.
You will be no different than others and I won't be here for long."
---
---
---
---
||

Name

||
Rae Devereux
||

Age

||
20
||

Position

||
Owned by the Head
||

Gender

||
Female
||

Species

||
Human
||

Specialty

||
Organization/Supreme Intellect
||

Sexuality

||
Heterosexual
||

Face Claim

||
Ryouko Ookami
---
---
||

Personality

||
defiant // cunning // hot tempered // outgoing // generous
||

Likes

||
✗

rice


✗

freedom


✗

family


✗

warmth


✗

music
||

Dislikes

||
✗

not being in control


✗

slavery


✗

demons


✗

loneliness


✗

soup
||

Appearance

||
Long, soft brown hair that goes all the way down her back with her deep brown eyes and thick, long lashes, she usually keeps her hair down and straight but has been known to put it up in a ponytail from time to time. She stands at five foot three inches weighing one hundred and nine pounds, she has a flatter chest and a small frame and is easily pushed around. She has no birthmarks but has smooth tanned skin only marked by the scars on her hands from working in the rebellion camp. Her eyebrows are thin and mostly angled to give her a permanent angered look, she likes to dress in comfortable clothing big sweaters, loose fitting pants and fuzzy socks.
---
---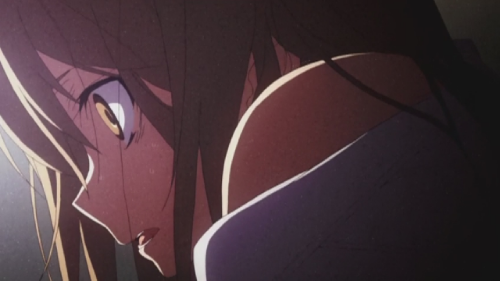 ||

History

||
Rae grew up in an underground rebellion camp living with her mother and three younger siblings, they had practically nothing and barely made it by with just each other, Rae never knew her father she only knew that he had been taken as a slave long ago. Being the oldest she felt like she had to take care of her family learning to grow up at a very young age she never really got to enjoy her childhood, instead she spent her days reading the book they discovered of scouting missions, she would pour over the information in every book they had memorizing all of it by heart. She was also able to map out the entire tunneling system the camp had while living underground, she became very skilled at recalling information and soon became the assistant strategist for the camp even at such a young age, organizing scoutings and rations of food.
One day the camp was raided by demons and Rae was separated from her family, fearing that she would never see them again she now focuses on finding her lost father in hopes that he will be able to help her find the rest of their family. She has been a slave for several months now but it very difficult to deal with, disobeying orders, running away etc. Because of this she has never been a slave to the same demon for longer than a few weeks, will this new home be just like the others? Or will it change her perspective on wanting to leave.
||

Other

||
Rae has fierce nightmares almost every night that wake her up in a cold sweat sometimes screaming, whenever she has these dreams she finds that she can't go back to sleep.