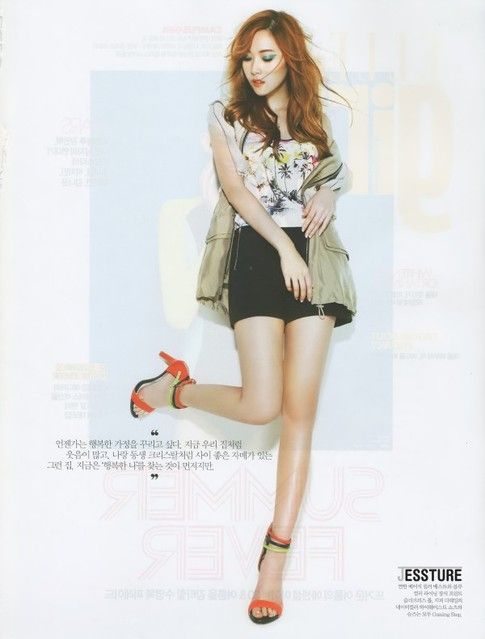 Name:
Aileen Seo
Age:
18
Height:
5'4
Weight:
105 lbs
Nationality:
Korean
Eye Color:
Brown
Hair Color:
Brown
Skin color:
Pale olive
Shape of Face:
Oval
Distinguishing features:
Aileen is recognized as a world-wide "doll". Her long hair and her sharp and distinguishing facial features have impressed people all over the world.
How does he/she dress?
She dresses in what is considered trendy in the 21st century.
Mannerisms:
She tends to keep her sentences short and to the point, a habit that came from media twisting her words. Off-camera she is more open and talks with a higher-pitched voice.
Habits:
She has a habit of spacing out. She can be talking one moment and suddenly stop and stare at nothing.
Health:
Healthy; Taking care of health is important as a celebrity
Hobbies:
She likes to swim or paint on her free time.
Favorite Sayings:
"Today you are you, that is truer than true. There is no one alive more youer than you." –Dr. Seuss.
Speech patterns:
When she talks too quickly her words start to jumble and become mixed up
Style:
Elegant, Trendy
Occupation:
Singer/Model/Actress
Talents/Skills:
Singing, Acting, Painting
Family History/Personal History before and after Titania:
Before being kidnapped to Titania she was a popular celebrity. She is famous throughout Asia and has a significant fan base in the west-coast as well. Aileen's mother was born in America but moved to Korea when she met Aileen's father. Thus the reason why Aileen has an american name. Aileen was born and raised in Korea, but she is more proficient in English than most Korean natives due to her mother speaking fluent English without a Korean accent. At a young age she was scouted to become a trainee and made her debut at the age of 16. She quickly shot to fame and now at the age of 18 she has acted in a few dramas and sang many hit singles including one in the American market. While preparing for a concert, she was taken by Wite to Titania.
In Titania she no longer has the millions of fans she once had in her own era. People come from different times and not many know who she is. At first she hated being so unknown and missed her celebrity life. After about a week she started to enjoy the bliss of being "nobody". Back when she was a celebrity she had no time for herself, had to watch what she did, had people stalking her, and she couldn't do normal things without being followed around by paparazzi or mobbed by crowds of people. For about a week, she was content. After that week, she started to grow bored of the calm life. She missed her old lifestyle and realized she felt like a nobody when she wasn't a
somebody
. Although she is not of noble blood, she has tried to appeal to Rufus Wite to be some sort of entertainer for Titania and maybe gain a place in the Court of Royals. Although her specialty lies in pop music, she has a large vocal range that she uses to entertain the many different types of royalty in the Court as well as the many different types of people in Titania. She pushes the idea of escape to the back of her mind. She thinks it would do her no good; she saw no way out of this "utopia".
Relationship skills:
Efficient. As an actor she can easily lie to get people to like her. She'll try to befriend a total stranger, but if they show her slightest bit of attitude or disinterest she will immediately stop trying.
Greatest flaw:
Attention-Seeker
Best quality:
Determination
How does Character see himself/herself?
A successful person
What would most embarass this character?
Tripping and falling flat on her face in front of a huge crowd
Strengths/Weaknesses:
She is able to hide her emotions very easily and is not easily hurt by words of others. Her weakness is her inability to cope to sudden changes in situations. A slow-thinker. She mainly acts on instinct, not on what her brain is thinking.
Introvert or Extrovert?
Balance of both.
What does the character want out of life?
She wants to live a good life with her friends and family. That's all. Only because she is here without them she feels the need for some sort of "status".
What motivates this character?
Support from her fans
What frightens this character?
Spiders and the thought of being alone
What makes this character happy?
Being around people she loves and knowing a person is smiling because of her. Oh, knowing she has the chance to sleep.