---
---
╔
╗
"Humans are greedy. They are selfish and despicable. You speak of hope? What you hope will almost never become reality. You speak of love? It's all a lie. We live to die, and yet we struggle to live. We are truly pathetic creatures."
The Crimson Wolf
The Unwanted Child
The Outcast
The Crystal Monster
Dɪᴀʟᴏɢᴜᴇ Cᴏʟᴏʀ ✦ Crimson || Tʜᴏᴜɢʜᴛ Cᴏʟᴏʀ ✧ Red
╚
╝
---
---
---
---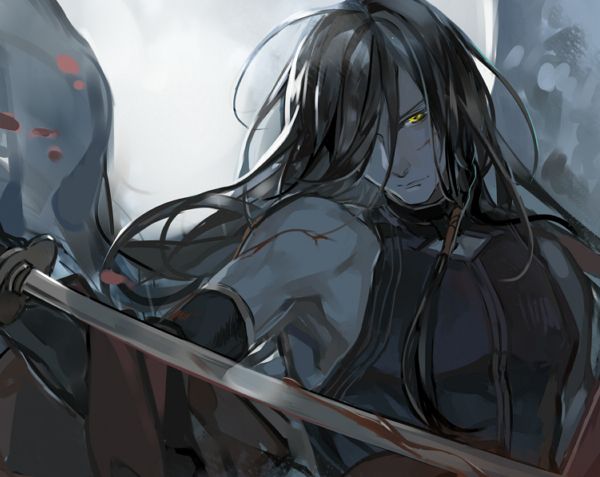 ⌈N A M E⌋
Lu Feng

⌈N I C K N A M E S⌋
Lulu: Toru's nickname for Feng. He doesn't like it at all, and weren't it for their friendship, he probably wouldn't have kept up with it.
The Crimson Wolf: A name he has earned due to his abilities and background.
Feng: Feng is what Lu Feng's prefers to be called by friends.

⌈A G E⌋
22

⌈G E N D E R⌋
Male

⌈T R I B E⌋
He was born into the water tribe.

⌈R A N K⌋
Outcast
---
---
⚔
P
E R S O N A L I T Y ⚔
---
---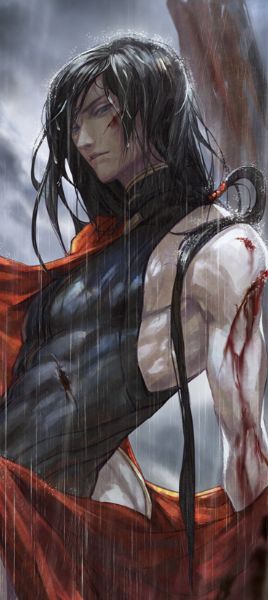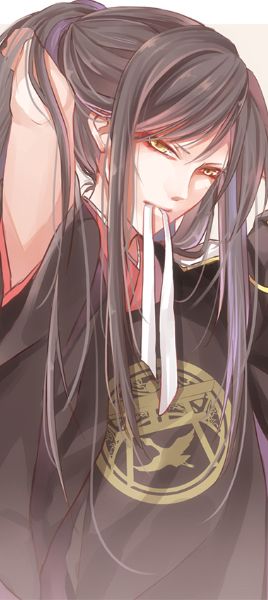 Nihilistic

† Cynical †

Stubborn

† Reserved †

Resourceful


Lu Feng's personality is very contradicting. While he is thoroughly cynical and nihilistic, he is at the same time devoted and protective, and even a little childish to the point where it makes him hard to hate. He doesn't usually lie, but he has a tendency to keep secrets and tell half truths. He truly isn't one of the friendliest people, and will usually try to keep others at a distance. Even when he means well and is trying to be nice, he often ends up being sarcastic. Especially so when he gives advice. He doesn't like the thought of making commitments, and can often come off as insensitive and reserved. Lu Feng tends to use logic; even when he tries try to meet others halfway something akin to empathy and emotional sensitivity, it rarely seems to quite come out right, if anything is even said at all.

Yet it should be noted that Lu Feng isn't all bad. He may not be your typical ray of sunshine, but he's creative and practical, knowing how to put novel ideas to good use – especially in dire situations. Additionally, Lu Feng is flexible, and though it comes with a certain unpredictability, Feng is still able to store his spontaneity for a rainy day, releasing their energy just when it is needed most.

On the other hand, his stubborn nature, difficulty to comprehend others' emotions, attitude that one should focus on the moment, can lead to unnecessary and unhelpful boundary-pushing. He has a tendency to escalate conflict and danger just to see where it goes, something that can have disastrous consequences for everyone around if he were to lose control of the situation. He is notoriously difficult to get to know, and is by all means a true introvert, keeping his personal matters to himself, and often just preferring silence to small talk.
---
---
⚔
P
R E F E R E N C E S ⚔
---
---
⌈L I K E S⌋
† Sake † Good Swordplay † Gambling † Toru † Pushing Boundaries † Winning † Wolves † Falcons † Star Gazing † Animals (especially small, cute ones but it's a secret) † Cranes † Birds in General † The Color Red † Versatility † Easy to move in Clothes † Light Weapons † Throwing Knives † Swords † Martial Arts † Sparring † Spider Lilies †

⌈D I S L I K E S⌋
† Stupidity † People † Opening up to people † Talking about his past † Bad Swordsmanship † Wasting Time † Getting Embarrassed † Commitment † Politics † Religions † Spiders † Having his personal space invaded (without giving his permission) † Pushy People † Annoying People † People touching/messing up his hair †

⌈D R E A M S⌋
† He doesn't have any dreams in particular at the moment.

⌈F E A R S⌋
† Spiders.
† Letting people get close to him.
† Betrayal.
† Large bodies of water.

⌈S E X U A L I T Y⌋
Homosexual
---
---
---
---
Lu Feng was born a stormy winter night, with the winds raging outside and the thunder ripping through the skies. As he had been conceived through forbidden love, a union between a woman from the water tribe and a man from the earth tribe, her parents feared neither mother nor child would make it through the childbirth safely. To some extent their worries were justified, because even though Lu Feng made it safely into the world and was born a healthy child, his mother Lu Mei didn't survive the childbirth. It most likely wasn't as much his fault, as it was the fault of an illness she had already been suffering from before the pregnancy. Yet his grandparents blamed it on him nonetheless. They wanted nothing to do with the child. They saw him as a sign of misfortune, a symbol for bad luck. For a while, they even considered drowning him in the river.

Yet Katarina, as the healer who helped bring him into the world was named, would have none of it. Although old, she was a kind soul, and if they wouldn't give the little baby boy a fair chance in life, the old lady would take it upon herself. She raised him as though he were her own, and although strict, she was also kind and loving when he needed it. They lived quite comfortably in a small house at the outskirts of the village. Lu Feng's recalls these days in the distant past fondly. They weren't without their complications, yet it was nothing compared to what would come later.

As time passed, however, it became more and more apparent that Feng did not belong the the people of the rivers and seas. His intense, yellow gaze tended to unnerve the other children, and his abilities frightened adults and children alike. Born with neither the water nor ground element, Lu Feng's abilities were a strange combination. They were strange, peculiar, if not even bizarre. The ability to grow and manipulate crystal was unlike anything the water tribe had ever witnessed before. Due to this he had a hard time fitting in with the other children, and was never truly able to find a friend. The few times it looked like he would make one, their parents tended to get in the way. Bearing the stigma of otherness and misfortune, their parents didn't want their children anywhere near him.

As long as he had Katarina, the one person he could always turn to no matter the situation – it was bearable. Lu Feng would bravely face the pain and humiliation, as long as she was there to treat those wound when he got home – physical or otherwise. Yet Katarina was old, and the day she would pass on would inevadably come. Eventually it did. It was the beginning of Lu Feng's eleventh summer when she left the world of the living.

Lu Feng was alone and terrified. With Katarina gone, there was no one left to care for the child – and none wished to take the responsibility of the cursed child upon themselves. At least, until a certain traveling merchant came around and offered to take him in. Of course, the man had a good reason to take such a huge risk. He had heard of the boys peculiar abilities, and whilst others only saw a freak of nature, the merchant saw a living gold mine. Naive and desperate as he was, Lu Feng took up on the offer. For three years to come, Feng would suffer more than he had done in all of the previous years put together. He was fourteen summers old, when he finally broke free from his shackles.

For a year or so, Lu Feng roamed around aimlessly; doing what he had to survive. Resorting to pity methods such as thievery, scams and even sometimes prositution, it doesn't take a genius to guess that he would often found himself in dire situations. At one point it had even gone so far, that if he hadn't crossed paths with Toru, Lu Feng would most likely not have made it. After the incident they somehow ended up traveling together... and before they knew it, they'd been traveling together for six whole years, developing a deep friendship somewhere along the way.
---
---
---
---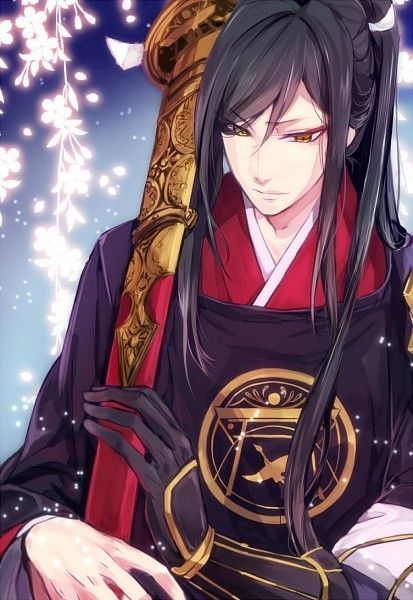 ⌈H A I R ✧ C O L O R⌋
Black

⌈E Y E ✧ C O L O R⌋
Yellow

⌈T A T T O O S ✧ M A R K I N G S⌋
† A large dragon tattoo on his back, covering a number of hideous scars.
† His arms and legs are also marred with scars.

⌈H E I G H T⌋
179 cm

⌈D E S C R I P T I O N S⌋
Lu Feng is a handsome young man, with long black hair that falls to his waist when not tied up. Due to his slender form, long hair and somewhat delicate features, Toru has a tendency to refer to him as pretty. This doesn't really go well with Lu Feng's pride, and is perhaps another reason the nickname 'Lulu' gets so much on his nerves.

Lu Feng's eyes are a beautiful golden yellow shade, and his eye lashes are long and dark. His face could be referred to as sculpted, with high cheek bones, full lips, a sharp jaw lines and flawless, milky skin. At least regarding his face. His arms, legs and back in particular, are marred with countless, for the most part rather hideous scars. He usually keeps these covered up by his clothes, and doesn't particularly like people touching or commenting on them.

Although he does claim not to be fond of his feminine appearance, Lu Feng is absolutely adamant about keeping his hair long. Whilst it is understandable since his hair is of very good quality and it does suit him, it doesn't exactly help his case.

The colors he usually wears are black, red, a tinge of white and gold.
---
---
⚔
P
O W E R S
✧

A
B I L I T I E S ⚔
---
---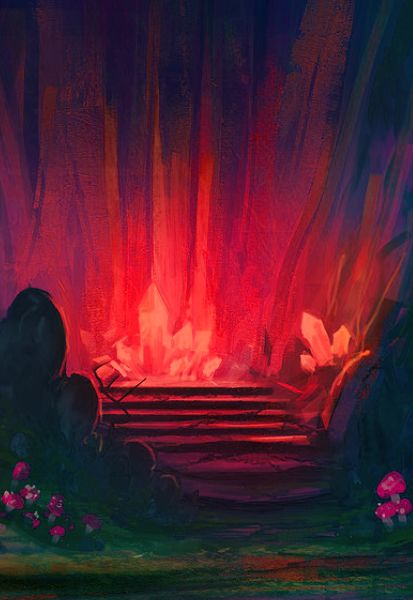 ⌈E L E M E N T⌋
Water and Earth

⌈A B I L I T Y⌋
Lu Feng was born the lovechild of a water tribe woman and an earth tribe man. Even if he was born with both the water and the ground element, however, his abilities turned out to be quite different.

Lu Feng possesses the ability to create, shape and manipulate crystals and crystalline materials: homogenous solids formed by a repeating, three-dimensional pattern of atoms, ions, or molecules and having fixed distances between constituent parts. Thanks to this, Lu Feng has learned to fight using a combination of impaling crystals, walls for defense, and tricks. He is even capable of surrounding himself in barriers composed solely of crystals and crystalline substances, ultimately granting the himself both offensive and defensive abilities. Lu Feng can turn crystals into tools, objects, weapons and other items, create semi-living constructs and/or create structures/buildings of varying permanence.

Because Lu Feng adores the color red, his crystals tend to take on a red shade. Hence one of his aliases are 'The Crimson Wolf'. If he wanted to, however, he would be capable of changing them into any color he desired.

⌈R E S T R I C T I O N S⌋
† The distance from where he can manipulate and the amount of matter he can compose is limited. Whilst he is surprisingly skilled with his powers, considering the controversy of it, Lu Feng still has a lot to learn and discover about them. He has never had a teacher to show him the way, and everything he knows is self thought.
† Crystals can be shattered by certain frequencies, so anyone capable of manipulating sound would have a huge advantage over him.
† Lu Feng cannot produce crystals out of nothing. He can build upon and expand on already existing components, but he can't conjure them out of thin air. As such, in order to be capable of producing crystals, some form of liquid always needs to be present.

---
---
---
---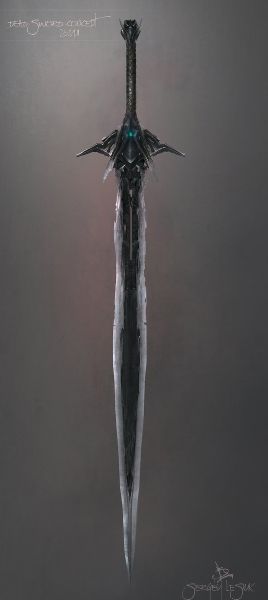 ⚔ The Rogue ⚔
† Acrobatics (Proficent)
† Bluffing (Expert)
† Climbing (Proficient)
† Stealth (Master)
† Sleight of Hand (Expert)
† Sense Motive (Expert)
† Gambling (Familiar)

† The Warrior †
† Swordplay (Master)
† Crystalbending (Proficent)

† The Ranger †
† Falconry (Proficent)
† Hunting (Proficent)
† Riding (Proficient)
† Cooking (Beginner)

† The Scholar †
† Penmanship (Proficent)
† Knowledge - Local (Familiar)
† Knowledge - Geography (Beginner)

⌈W E A K E S T ✧ S K I L L⌋
He is a complete catastrophe when it comes to cooking.
Lu Feng can't swim.

⌈S T R O N G E S T ✧ S K I L L⌋
Lu Feng is very agile and stealthy. Since he isn't incredibly physically strong, he relies speed and wit rather than raw power.
---
---
---
---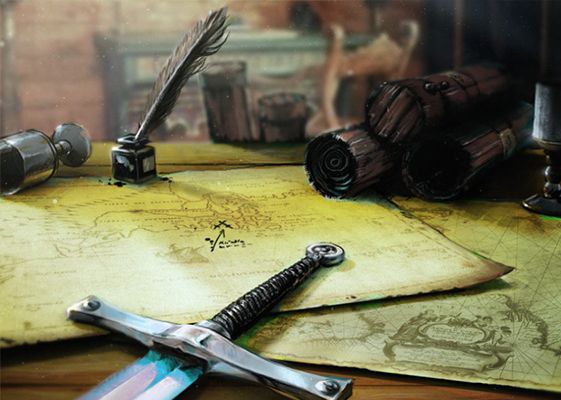 ⌈W E A P O N S⌋
† Kunai | 8
† Dagger | 1
† Throwing Knives | 8
† Steele Long Sword - The Crimson Dragon | 1

⌈A R M O R⌋
† Light Leather Armor

⌈I N V E N T O R Y⌋
† A golden pendant with a wolf head inscribed onto the surface.
† A leather money pouch.
† A water pouch.
† A Tinderbox.
† A hand drawn map of Imos.
† Four small paper rolls.
† Quill and Ink.
† A pouch filled with crystals.
† A silver spoon.