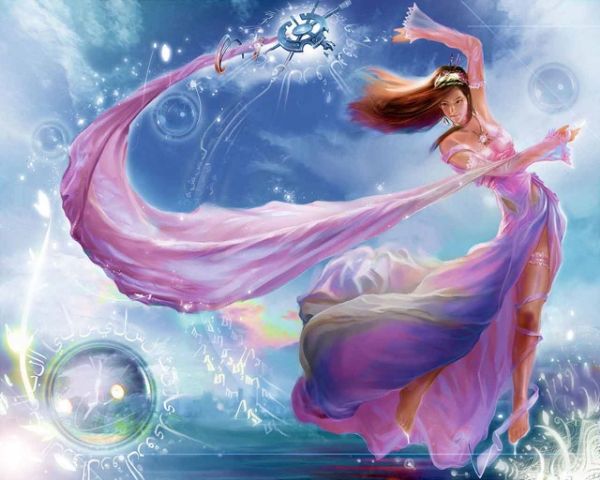 Full Name:Galene Thalassa
Age:
Born to the former leader years before Galene true age is not known, she appears to be about 25 in human years.
Gender:
Female
Tribe:
Water
Position in the Tribe:
Leader
Negative Traits:
Temper/Bi-polar/Uncaring/Guarded/
Positive Traits:
Patient/Passionate/Seductive/
Sexual Preference:
Galene doesn't really have a preference when it comes to sex, she likes to met interesting people. The more dangerous they are to her the more she finds them fascinating.
Likes:
Swimming in the dark, waterfalls, rain, her people, fish (Especially any kind of large sea creature)
Dislikes:
Heat/Fire Tribe/Desert/Losing/
---
---
Fears:
Being to far from water/Fire/Drought/Being a failure/Losing her tribe/
Hair Color:
Reddish Brown/Black
Eye Color:
A deep blue
Tattoos/Markings:
She has swirls that surround her but only if she gets really angry. Other wise she only has one mark on her body around her ankle. It looks like
Weight:
120
Height:
She stands about 5"5
Brief Appearance Description:
Galene could be describe like the water when she moves, almost liquidity graceful, and fearlessly beautiful. She doesn't like to put to much effort into her looks though, because on thing she is not is vain.
Carrying:
Her weapons are purely water based, as she can create her most effective devices from liquid. When away she always carries some with her so she is never unarmed. Her other weapons is a blue metal disc that has several blades on it.
Notable Skills/Abilities:
Galene was trained to use her manipulations to the best of her ability. She can stay underwater for a good amount of time, even thought its not the longest in the tribe. She has this connection to creatures that live in the water, but really it only seems to be at the moment nothing useful.
---
---
Personality Description:
Galene is as changeable as the water, she can be calm and serene at one moment, and wild and dangerous at another. She is a greatly caring person when it comes to her tribe. She loves her people with a deep fierceness and becomes very protective at times of dangerous. She becomes uncaring though when they decide to question her judgement. She knows that her people can be very fickle (many have the same personality trait she does). She has to show no matter what her word is law. She is patient though, or rather she can fake it pretty good. As often as she
When she gets angry...it would be a good time to get out of her way, she becomes fierce and deadly. Her whole form can change depending on how angry she has become. Her battle form is sort of the same, yet she has more control. The one thing she keeps guarded is her own heart, she doesn't believe in love. She has seen her parents lose each other to their passions and betrayals. It was hard growing up and not really knowing what it was like to be a happy family. She does however see herself with the same passions, she has a wondrous capacity to feel passionately.
She likes to be playful even in battle, if she is mocking and teasing her enemy or with a lover, she has this tone about her that leaves little to the imagination.
---
---
Biographical History:
What is known about Galene background is that she was the only daughter of the former leader and his wife. Yet her parents had very little to do with her upbringing. She was raised first by her 'nanny' and then by her head councilmen. Her nanny was really the man who would become her protector when she got older. He taught her to fight and the ways of the tribe. Her councilman taught her had to navigate the politics withing the water tribe. Their tribe was different, things were taught differently. She never really understood what had happened between the tribes, or why they were at war though.
She understands that each seem to think they have different rights to the land they live in, in truth, she sort of wonders if there is a way to stop the squabbles and work together to protect. She has never voiced these opinions out loud though, it seems that her people have very little to say about the war.
She does have a deep hatred though of the fire tribe, more then once she lost people she has loved to the man who leads them. She has never been close enough in battle to fight him herself though.