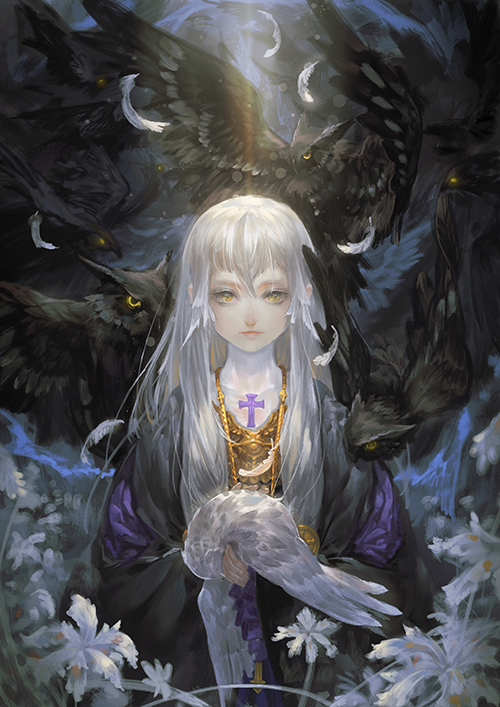 High Priestess of the Winds
The Bird Witch

Full Name:
Setsuna Fanir
Age:
14
Gender:
Female
Tribe:
Air
Position in the Tribe:
High Priestess

Amon

Negative Traits:
Blunt-
This could be seen as both positive or negative, depending on how one chose to view it. She is extremely blunt, and almost even painfully so. The fact that speaking her mind could hurt someones feelings or be seen as offensive in certain situations has never even crossed her mind. She simply always states what she believes to be the truth.
Absentminded-
It is not unusual for Setsuna to simply... drift off from time to time, disparaging into her own thoughts. This wouldn't be a problem, hadn't it sometimes interfered with her work or her social life: albeit; drifting off in the middle of a conversation may, yet again, be perceived as rude.
Slightly Clumsy-
Especially when she is tired, she had a tendency to mess up. Usually, she manages to keep her clumsy nature in check, though you will still see her nearly tripping or bumping into something from time to time.
Physically Frail-
Although she does have means to defend herself physically, in a combat against a trained soldier Setsuna wouldn't stand a chance. She isn't weak exactly, but seeing as she was not trained in the art of combat, her skills in this area are limited.
Cold-
Especially towards strangers, she may appear exceedingly cold, and in some situations maybe even ruthless. This is, despite her always being polite. She simply had a tendency to keep everyone at an arms length, and since she is rather quiet of nature (unless she has knowledge to gain), this is how she often is perceived. She rarely lets her emotions show, yet in actuality, however, she is a rather warm and kind person.
Positive Traits:
Perceptive-
Of both people and her surroundings. She is also a surprisingly good listener, and can from time to time spout some pretty helpful advice.
Patient-
In moth situations, she remains calm, treating everything with patience. Only rarely does she lose it.
Studious-
If there is one thing where she doesn't hold back, it is when she is given the opportunity to learn something now. Studying is a vital part of her life and persona- she loves information and knowledge.
Loyal-
To her tribe. She would do anything for her people- her heart.
Kind
- Despite accidentally being rude sometimes and acting cold, Setsuna has a kind heart.
Curious-
Setsuna is a very curious individual, loving to experiment and explore. She wants to know. To her, knowledge is the most precious thing the world has to offer.
Dedicated-
To her work and her people.
Sexual Preference:
Has never shown any interest in being involved in a relationship before, and thus this fact remains unknown. This may or may not ever be revealed.
Likes:
Snow || Clouds || The Moon || Fire, Water, Earth and Air || Birds (especially owls) || Studying || Learning || Writing || Reading || Peacefulness || Beauty || Gardening || Flowers || Windy Days || Storms || Thunder || Foxes || Kittens || Sweet Foods
Dislikes:
Noisiness || Crowds || Plume || Small Spaces || Whiny Brats || Morons || Unnecessary Conflicts || Arrogance || Having her private sphere invaded || Embarrassing herself || Being reminded of her Height || Being Disturbed while Working || Being treated as a child
Fears:
Small, dark spaces || Her village coming to harm || Being Useless
Personality Description:
Setsuna isn't one to openly share her emotions with strangers, and usually keeps a rather cool and blank attitude around them. While seeming to lack emotions, especially at initial meetings, Setsuna does not hesitate to voice her opinions. She is blunt but honest, saying what she thinks is right without giving much thought to how others might feel about it. She does have a softer and kinder side to herself, which becomes especially apparent when she interacts with her family and loved ones. It is clear that she has become the mother figure in her household, and she sure as hell lives up to this position. She can be a suprisingly good counselor when asked for advice, despite the fact that she is blunt. Where her personality truly shows, and perhaps also her cuter side, is when she is talking about her studies or given the chance to gain knowledge. It is almost like she makes a total personality switch and becomes extremely excited, easily starting to ramble about everything she knows with sparkling eyes. It is perhaps also proof of that she is actually still a child, and still far from a grown adult. She can have moments when she sort of drifts off into her own world, and becomes rather absent minded. During these episodes, she can very much be considered somewhat...strange.
Biographical History: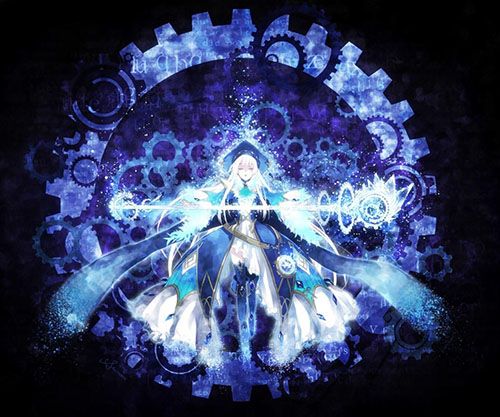 Setsuna's childhood was far from a unhappy one. She, as the eldest daughter of the Fanir family had her future set out for her from the day of her birth. For as long as she can remember, she has known that she would one day take over after her grandmother, a well respected village elder and also the high priestess of the air clan. Well aware of this, Setsuna has always felt a sense of responsibility. This is not to say that she couldn't enjoy her childhood, and she has many fond memories of spending time with her brother.
Quiet as she is- and was, even as a child, she spent a lot of time playing by herself, or studying by her grandmothers side. A big portion of her childhood consisted of studying, learning not only different rituals and procedures mandatory to be part of the high priestess knowledge, but also reading runes, writing, healing, death, birth and marriage procedures, knowledge about plants, herbs and other ways that can be used for healing both the body and the mind. She adored studying, and learning even more. She could spend hours and hours doing nothing else than indulging herself in her studies.
Although the disappearance of her father was a sad occurrence in her life, she knew she was far from the only child to lose their parents on an early age. Once it was decided he was most likely dead, a traditional death ceremony was held for him. Not even once during the procedure, did she cry. Instead it was her brother, who usually always wore a smile on his face, who cried for the both of them. This was what saddened her the most. After their fathers 'death', Camio started spending more and more time on his own, away from the village. Setsuna never even once questioned why or asked him to do otherwise, as she knew he had to sort out the turmoil within him on his own. As a result however, Setsuna was left alone caring for both her ailing mother and baby sister alone. Almost to her relief, their mother passed away a few months later. Even if Camio did his best to help in any way he could, he was more or less useless in this matter. Then there was her grandmother, who despite her old age also did her best to aid the family- yet her efforts did little to make it easier for the young priestess. During this period of time, Setsuna matured a lot. When she later at the age of fourteen was made the new high priestess of the air tribe, she could no longer be considered a child.
Today, not much has changed. Despite her young age, she is clearly the mother figure of the family, and cares for both Camio and Mio to the best of her abilities, while full filling her duties as the tribes high priestess.
She was given the name of the 'bird witch', as she inherited her grandmothers ability to communicate with, and to an extent, also control birds. This does not apply to soul animals, and the compulsion drains a lot of her energy- when overused going as far as being able to put her in coma. Nonetheless she has always had a strong connection to birds, which shows a lot in her relationship with Amon, Marchosias and Dantalion. These she has raised and trained on her own, starting from the day where they hatched. It is a tradition of the Fanir family to keep birds as pets, messengers and even spies. As her favorite bird is the owl, her choice was obvious.

Marchosias

Hair Color:
White
Eye Color:
Orange/Yellow
Tattoos/Markings:
Several markings connected to rituals and practices of her trade have been burned into her skin and can be found all over her body. Due to her garments, however, these usually remain obscured for the public eye.
Weight:
41 kg
Height:
152 cm
Brief Appearance Description:
Setsuna is very short, even for her age. Because of her height and petite, rather flat and formless body form, she is often mistaken for a child. Some might even go so for as to compare her with a life sized doll. With her refined features, it isn't too far fetched. She is fair of complexion and has long, white hair cascading down her shoulders, reaching to her mid thighs. A neatly cut fringe frames her face, ending a small distance above her large, golden/yellow eyes. When not adorned in the traditional of the high priestess, which usually consists of many layers of fine materials with charms, necklaces and other jewelry to go along with it, her sense of fashion is rather simple and practical.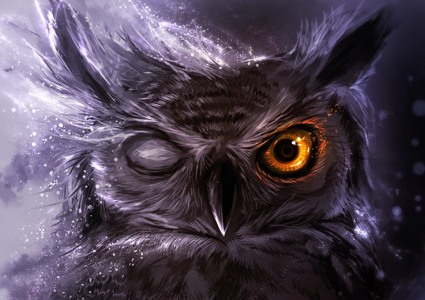 Dantalion

Carrying:
Leather Pouch-
containing medical herbs.
A Small Dagger-
For self defense, often hidden away in her garments.
The High Priestess Staff-
Although usually carrying it around, she does not do so at all times.
Charms-
Several, though the moon stone framed by gold is the most noticeable one, and also her most prized possession.
Marchosias, Amon and Dantalion-
her three pet owls
Notable Skills/Abilities:The Priestess
- Scrying
- Leading Ceremonial Procedures
- Bird Whispering
The Scholar
- Medical/Herbal Knowledge
- Reading
- Writing
The Housewife
- Cooking
- Gardening
- Handling Children