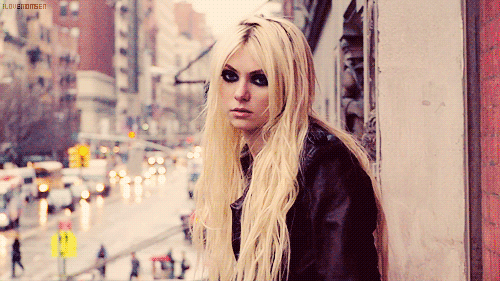 ---
Nicknames:
None
Age:
17
Gender:
Female
House:
Beauxbatons Academy of Magic
---
Height:
5'6
Weight:
120
Build:
Slender
Hair Color:
Blonde
Eye Color:
Blue
Appearance Description:
Deirdre is a little on the tall side, approximately 5'6" and slenderly built. Her skin is fair, the color of cream and she has blue eyes that she occasionally rims with eyeliner. Her hair is a long pale blonde, falling about halfway down her back. Her face would be described as slightly angular although not harsh looking as there is still softness to her features. As she attends a school that has a uniform, she doesn't often get to express her sense of 'style' much, however when she does get the chance to dress freely she usually opts for a rather rocker type style wearing leather jackets, black boots and muggle rock band tees or tanktops. Whatever the weather permits her to wear, really - she doesn't seem to put a whole lot of effort into her fashion. Sometime's she'll wear makeup, although not often and it's usually fairly light, mostly consisting of black eyeliner and some eyeshadows. She doesn't really follow fashion trends or anything as it doesn't interest her.
---
Wand:
Twelve and a half inch willow wand with a dragon heartstring core, swishy
Magical Skills:
O.W.L's
Oustanding -
Defense Against The Dark Arts
Charms
Exceeds Expectations -
Potions
Transfiguration
Care of Magical Creatures
Study of Ancient Runes
Acceptable -
Astronomy
Herbology
History of Magic
Likes:
Music
Singing
Her cat Renfield
Quidditch
Duelling
Snow
Charms
Sarcasm
Sweets
Swimming
Care of Magical Creatures
Dancing
Reading
People with a sense of humor
The idea of making friends
Making Jokes
Winter
Dislikes:
Arrogance
Flying (She's afraid of heights)
Heat
Boggarts
Dementors
Overly enthusiastic people
The color pink or any bright color, really.
The term 'Mud-blood' and the pureblood elitists who use it.
Divination
Herbology
History of Magic
---
Personality description:
Deirdre is a typically quiet person, she doesn't talk all that much to people unless she is comfortable with them – which she usually isn't and thus is a bit hard to get to know. She puts up a sort of cold exterior to try to project a certain amount of aloofness. She's brutally honest – probably one of her faults, along with her temper when pushed too far. It's usually best to not ask her something unless you know you can stand to hear the answer because it seems she seldom thinks to soften the blow of what she's about to say. On the up side you know she'll probably never lie to you. She has a tendency to be a bit sarcastic and is known to be quite snarky when confronted or provoked along with normally having a natural air of confidence about her which led her to not being a favorite of some of the girls she has attended school with. Underneath her protective layer of ice though, she is undyingly loyal to those she cares about and respects - she would do absolutely anything for them and like most people isn't nearly as confident in herself as she seems. Even though she pretends to not care about anything more often than not, she can be extremely compassionate and will listen to the problems of others for hours on end. She's usually willing to help if she can and is the first to protect an innocent in any situation with little concern for herself which usually gets her in trouble more often than not. She is quite fond of animals, both magical and non, especially her cat Renfield and enjoys Care of Magical Creatures. Stubborn and strong willed, Deirdre is also very independent - she doesn't like asking for help when she realizes she's taken on more than she can handle as she has always prided herself on not needing anyone although she realizes now that this has contributed to her being quite lonely. Most people wouldn't guess it since she spends so much time alone, but Deirdre loves to laugh and would very much like to have some friends which she could confide in.
---
History:
Deirdre Rose Damorte was born to young, pureblooded French witch by the name of Aveline Damorte and a muggle man by the name of Martin, who had little desire to stick around after learning of the magical realm. After that Aveline never heard from him again and returned back to the wizarding world, only to find that she was pregnant.
Whenever Deirdre would ask her mother about her father, she would always get the same answer much to her dismay 'He was a muggle, and that's all you need to know'. By the time she was about five she learned to just stop asking and rarely thinks about it anymore. They never had much money despite the fact her mother was working several jobs, which often left Deirdre alone or with the neighbors next door who had a few children about her age which she made fast friends with.
Her English is actually quite good, which probably came from the fact that she helped her mother out rather a lot with whatever jobs she could be brought along on which allowed her to talk with a lot of other witches and wizards who were on vacation in France from all over the world and so from a young age she learned not only French but English as well.
Before going to Beauxbatons she purchased her first wand, which is a twelve and a half inch willow wand with a dragon heartstring core.
Unfortunately, like back home, in school she never had very many friends for one reason or another. All her close friends have already graduated by now. She excels at Defense against the Dark Arts and is very advanced (She can produce a corporeal patronus that takes the form of a large dog.). She also enjoys Charms and excels at it along with potions and transfiguration but admittedly she isn't quite so good at Divination or Herbology which is fine by her since she has hopes to become an auror.