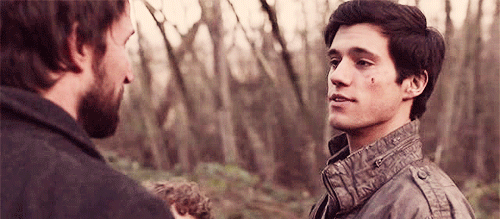 ♦ Jaime Courtney ♦ Damage Empowerment ♦ Twenty Six ♦
• ♦ • ♦ • ━━━━━━━━━━━━━━━━━━━━━━━━━━━━━━━━━━━━━━━━━━━━━━━━━━━━━━━━━━━━━━━━
━━━━━━━━━━━━━━━━━━━━━━━━━━━━━━━━━━━━━━━━━━━━━━━━━━━━━━━━━━━━━━━━ • ♦ • ♦ •
___ G E N D E R ___
Male

___ S E X U A L I T Y ___
Homosexual

___ O R I G I N ___
Clanton, Alabama
▀▀▀▀▀▀▀▀▀▀▀▀▀▀▀▀▀▀▀▀▀▀▀▀▀▀▀▀▀▀▀▀▀▀▀▀▀▀▀▀▀▀▀▀▀▀▀▀▀▀▀▀▀▀▀▀▀▀▀▀▀▀▀▀▀▀▀▀▀▀▀▀▀▀▀▀▀▀▀▀▀▀▀▀▀
X
♦
X
▀▀▀▀▀▀▀▀▀▀▀▀▀▀
___ D I S P O S I T I O N ___
Jaime isn't the most self aware person on planet earth. Almost awkward in a way until you get passed all the posturing and posing. His charm comes from a mixture of rambled anecdotes and a love for getting ass over heels drunk. Look, maybe he's got a bit of a problem with self control - its not like he had many positive role models in his life to show him the way. He was trained from practically birth to be a highly skilled time travelling assassin, that tends to fuck with a persons mental capacities quite a bit. It isn't that he lacks intelligence or anything. He's smart when he wants to be. Its just that he's so damn focused on one thing at a time that he tends to overlook the big picture.

Besides that, being raised in the Commission has given him a sort of 'follow the leader' attitude, and therefore he is always looking to please the authoritative figure in the room. Literally and figuratively. He may not be the biggest fan of the handler but the Commission as a whole has his loyalties.

Morally Ambiguous with a side of fucked up ethics. Its clear that he doesn't usually have any qualms when it comes to killing. So long as its justified by his job of course. He's the kind of guy to focus in in his a job and get it done in the most efficient way possible. He will go after a target with everything he's got and then some. Not stopping until he's either completed the job or called off of it completely. Despite this love he has for his job he also has a way of sometimes feeling as if something is missing in his life. Like he's always running to play catch up with something that will forever be just out of his reach.

In a casual setting he can be quite talkative. Definitley not the silent type. He can get easily exasperated but its usually in a fond way where friends and certain bartenders are concerned.
▀▀▀▀▀▀▀▀▀▀▀▀▀▀
X
♦
X
▀▀▀▀▀▀▀▀▀▀▀▀▀▀▀▀▀▀▀▀▀▀▀▀▀▀▀▀▀▀▀▀▀▀▀▀▀▀▀▀▀▀▀▀▀▀▀▀▀▀▀▀▀▀▀▀▀▀▀▀▀▀▀▀▀▀▀▀▀▀▀▀▀▀▀▀▀▀▀▀▀▀▀▀▀
___ A B I L I T I E S___
• Damage Empowerment | Look, it isn't his fault that his ability is basically so low brow that he doesn't even realize it exists at all. He's a highly trained assassin working for a time travelling agency, spare him the raised eyebrows alright? So y'know, the whole 'the more damage I take, the stronger I get' thing not being exactly obvious is perfectly explainable! Plus, I mean, he's a bit of a dip shit at the best of times. Power =/= intelligence. Anyways, like it says on the tin, this ability allows him to basically get stronger the more injured he is in a fight. The only stipulation really being lethal damage - he isn't indestructible after all. Can't regrow limbs or heal himself rapidly. He retains all the damage he receives so he doesn't just shake it off or anything, he just gets physically stronger.

___ S T R E N G T H S ___
• Hand To Hand Combat - Being that he has to undergo rigorous training in all forms of combat, it is to no surprise that Jaime is quite the master of Hand to Hand combat.
• Long Range Weaponry - One of his preferred methods of carrying out a job is to employ long range tactics.
• Lock picking - A skill he picked up more from his own insatiable curiosity rather than from the commission itself - though they did have some small part in it.

___ W E A K N E S S E S ___
• Obliviousness - He can be a downright idiot when it really comes down to it. His lack of forsight often contributing to this. He generally lacks the ability to see things that are staring him right in the face.
• Singular Focus - When he is on a job he tends to get locked into the moment. Almost dangerously so.
• That Damn Bartender - This one is self explanatory, at least in Jaime's opinion.



___ F E A R S ___


• Never Finding His Place In The World - Jaime has always felt as if he were missing something in his life. Like he wasn't meant to spend every waking moment working rather than living. He fears that he will never find his true place in this world. Forever stagnant.
• Dying - This is a pretty general fear, he's young and somewhat dumb so he has a much higher chance of dying early than most. It is what it is.
• Bridges Over Large Bodies Of Water - They should be illegal.


▀▀▀▀▀▀▀▀▀▀▀▀▀▀▀▀▀▀▀▀▀▀▀▀▀▀▀▀▀▀▀▀▀▀▀▀▀▀▀▀▀▀▀▀▀▀▀▀▀▀▀▀▀▀▀▀▀▀▀▀▀▀▀▀▀▀▀▀▀▀▀▀▀▀▀▀▀▀▀▀▀▀▀▀▀

X

♦

X

▀▀▀▀▀▀▀▀▀▀▀▀▀▀
Parents? What the hell are those. Jaime was raised by the Commission. Trained by them from childhood until he was old enough to actually join their ranks. From youth he learned all manner of things that children shouldn't normally be exposed to. Combat, Weaponry, How to kill a man with a shoelace. All that fun stuff and even more. He never had the desire to learn about his birth parents, they practically sold him off anyways so why would he? Anyways, he considers The Handler something of a pseudo-parent. She certainly took it upon herself to make sure he was properly indoctrinated after all.

What he doesn't know is that The Handler is the one that found him. For her he was meant to be something great. But for the most part, despite being one of the children born that day, he did not present any spectacular powers. She eventually labeled him a failure to her cause, simply treating him as any other normal agent. Which is essentially what he became. He takes his job rather seriously, though he tends to scrutinize what The Handler wants just a little more than others.

For the most part his young life has been rather...boring. In the way that it has become stagnant and boring. Being with the Commission is amazing, and time travel is the stuff of dreams but after a while anything can get to become too much. So Jaime's taken to venturing further away from the rules of the Commission. Spending his free time in a cop bar, and it's not just because of that Bartender (or so Jaime claims.)
• ♦ • ♦ • ━━━━━━━━━━━━━━━━━━━━━━━━━━━━━━━━━━━━━━━━━━━━━━━━━━━━━━━━━━━━━━━━
━━━━━━━━━━━━━━━━━━━━━━━━━━━━━━━━━━━━━━━━━━━━━━━━━━━━━━━━━━━━━━━━ • ♦ • ♦ •
#A2C692 ♦ Drew Roy ♦ Bartholomew Finch