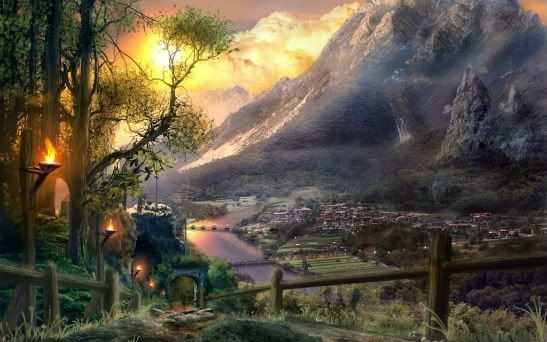 This is isn't a story about a particular kingdom, or king. Though a king may determine a man's fate with a single word, it is the Protector of the Realm that decides the destiny of the lands of all Toril at the point of a sword. His strength is inhuman, his ability supernatural. Protecters come from a different pedigree of being. Stronger, faster, and capable of enduring much more physical pain and duress than the average human being. Some think that Protectors come from the gods--a fusion of mortal kin and a god.
There are unwritten, unspoken rules to being a "good" Protector. A protector can not hold an office of power such as being king. It removes the sense of privilege, so it does not corrupt the obligation a Protector has to the people--not a singular person. He can not let is ideals such as his views on right or wrong--they must abide the laws of mortal kin. While they are celebrated amongst many races they can not accept bribes of gifts or currency.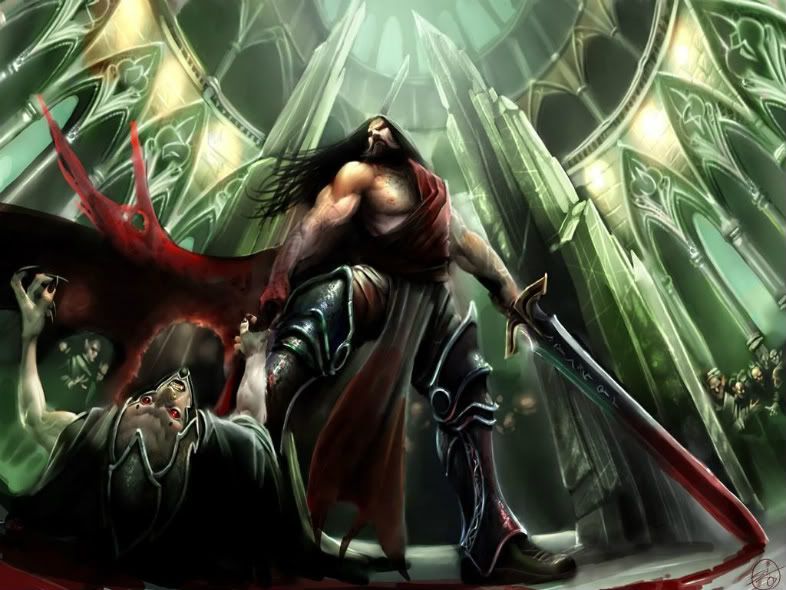 Our hero, Adrian's father Helios was one such being. A legacy was left behind, a void needing to be filled after he died. Helios killed the Arch-Demon Argon when he invaded the realm with his legion. He slew a kraken from the depths of the sea and even fought a thousand headed hydra and came out on top. However, it was his deadly duel with a fellow demigod-and Adrian's mother, Aellô that ultimately killed Helios.
It was a strange thing, for a wife to kill her husband. However, Aellô as much as she loved her husband--she loved her child more. She did not want Adrian to grow up to be what his father was. She wanted him to have a normal life, one without the burdens of a Protector. Yet, fate was not so forgiving. It would not see Adrian as anything less than what his father had envisioned him as. Helios did not hate his wife for attacking and even killing him.
Nevertheless, Aellô would keep a promise she made t her late husband--that if the world needed a hero, if their son wanted to take his place--she would give him Helios' sword. An artifact of great power. It could both, cut through diamonds and change shape into many different weapons. Despite how hard Aellô had fought to keep her son away from his destiny--when her son came of age, he felt very different, he felt the need to do great things to help the people but also because a looming shadow had fallen over the lands.
A great virulent pestilence has come. Like a scourge or a plague, the dead have begun to stir in the shadows as they begin to grow more numerous. Having no idea of what will be expected of him, no idea what will become of him in his quest. Adrian's father's friend and confidant has sought his former friend's son out to train him for his quest. Though only a mortal himself, he has seen his friend battle many things on his road to becoming a legend. He knows what it takes, he knows the pressure his pupil will be under, the stress and the pain he's going to have to endure. But also, Adrian's friend whose been a constant companion to her supernatural friend. She's watched him grow up through the oppression of other children and their unfair, often cruel treatment of him. But she'd always believed that he was special somehow.
1.
No one-liners. Absolutely not. A legible paragraph is the minimum. Anything less and you
will
be cut.
2.
No god-modding or taking control of other's characters without express permission and evidence is to be shown to me.
3.
Post often! I understand having a hectic life--I'm in an out of hospitals all the time due to my health, but I still manage.
4.
Be literate--'nuff said.
5.
Be friendly and respectful. I won't tolerate disrespect--either to me or anyone else.
Taking place in...
There are no characters in this universe yet!
0 posts here • Page 1 of 1
0 posts here • Page 1 of 1
Arcs are bundles of posts that you can organize on your own. They're useful for telling a story that might span long periods of time or space.
There are no arcs in this roleplay.
There are no quests in this roleplay.
Here's the current leaderboard.
There are no groups in this roleplay!
Welcome home, Promethean. Here, you can manage your universe.
Arcs are bundles of posts from any location, allowing you to easily capture sub-plots which might be spread out across multiple locations.
You can create Quests with various rewards, encouraging your players to engage with specific plot lines.
Settings are the backdrop for the characters in your universe, giving meaning and context to their existence. By creating a number of well-written locations, you can organize your universe into areas and regions.
Navigation
While not required, locations can be organized onto a map. More information soon!
There are no groups in this roleplay!
There are no characters in this universe yet!
By creating Collectibles, you can reward your players with unique items that accentuate their character sheets.
Once an Item has been created, it can be spawned in the IC using /spawn Item Name (case-sensitive, as usual) — this can be followed with /take Item Name to retrieve the item into the current character's inventory.
Give your Universe life by adding a Mob, which are auto-replenishing NPCs your players can interact with. Useful for some quick hack-and-slash fun!
Mobs can be automated spawns, like rats and bats, or full-on NPCs complete with conversation menus. Use them to enhance your player experience!
Current Mobs
No mobs have been created yet.
Locations where Mobs and Items might appear.
You can schedule events for your players to create notifications and schedule times for everyone to plan around.
Add and remove other people from your Universe.
The Forge
Use your INK to craft new artifacts in The Undrentide Shadows. Once created, Items cannot be changed, but they can be bought and sold in the marketplace.
Notable Items
No items have been created yet!
The Market
Buy, sell, and even craft your own items in this universe.
Market Data

Market conditions are unknown. Use caution when trading.

Quick Buy (Items Most Recently Listed for Sale)
There are no characters in this universe yet!
None
Discussions
Topics

Replies
Views

Last post
Most recent OOC posts in The Undrentide Shadows
Looks interesting. My question, though, is can we create our own characters, or can we only play as those described in the intro? (I.E., the mentor and the friend.) If not, then could I create my own character to serve as an initial antagonist, then join the heroes later on?
This is the auto-generated OOC topic for the roleplay "
The Undrentide Shadows
"
You may edit this first post as you see fit.