---------------------------------------------------------------------------------------------------
The Main Character's Story so Far.
---------------------------------------------------------------------------------------------------
The near perfect blanket of snow, only ruined by footprints, shimmered in the light that passed though the trees of the forest. The dead silence of the woods seemed eerie, no sounds were heard from both man or animal. In the middle of this dead landscape sat a tent, worn from to much use, where Ryan sat patiently. His face emotionless, and with eyes that seemed distant to his current world. He gazed out of the mesh window, a rifle in his lap. But he wasn't focused on what was going on outside. Ryan tired pressing his body closer to himself, rubbing his arms with the fur in the inside of his coat. He watched his breath steam. His mind wondering to a time he could remember before the hell he calls reality.
As a child Ryan sat in the backseat of his parent's car on trips back home from church. This time he seemed to be adoring some paper with some well placed dry noodles glued to look like a cross. Ryan's dad would have looked back at him smiling while mom drove.
"So did you understand the pastors message today?" He asked, his face expressing a loving smile. Ryan looked up at his father confused.
"umm...yea...I mean no." he said taking back his lie after giving the noodle cross a quick glance. Ryan's Father laughed.
"No matter how bad things get or seem to be remember that there is always hope." The Father said, fading away.
Ryan sat there in his tent smiling, a tear coming down his cheek.
"I wish I could remember more about you dad." He said, sighing.
Ryan's loving memory interrupted by a sudden flash back of his father trying to eat him as a zombie. Ryan woke up from his day dreams, jumping a bit from the last one. Dry sweat rushing down his brow. Ryan sat there breathing deep trying to pretend that none of that happened.
Just then Ryan heard the bell of the trap he placed. Ryan stood up, gripping his rifle with a sense hope and hunger. As Ryan stepped out of the tent and looked towards his trap, his mouth dropped some and his face became long with disappointment. His feeling of hope gone, but unfortunately hunger was left behind.
In the Trap, hanging upside-down, with a rope around its leg was a large living corpse in a bright orange hunting vest. When it saw Ryan it started growling and moaning from its blood and vomit covered beard, reaching to grab at Ryan but all in vain. Ryan took a good look then glared.
"Well, damn I can't eat that!" he said aiming his gun and shooting the zombie in the head. Ryan looked at the corpse hanging, the remains of brain and blood slowly oozing out in a black like tar. Ryan started laughing as he watched, his eyes distant. His laughter seemed to get louder and crazier. The kind of laughter that only those who have seen troubles can know and would send shivers up the spine of the sane. Then soon he started crying, holding his face in his hands.
----------------------------------------------------------------------------------------------------
A summery of what the story will Intel...because this is based off a series of comic books that I wrote!
----------------------------------------------------------------------------------------------------
This is of course a zombie infested America that not many have been left to survive. Back on during the initial outbreak the military took complete control and instated martial law. Large cities and heavily populated states seemed to fade away from existence as the virus became worse. Soon smaller places in america began to become worse leaving the military no choice but to establish walls around uninfected areas and protecting schools with durable fences. As the condition grew worse the military seemed to just die out and soon people were on their own. To fend for themselves and try to survive. Although most places are dead there are still a few radio stations that seem to be still working and playing music. Cell Phone towers still seem to be working and some cities power grids are still online. So news travels and tales of bravery spread. Tales of the "Legendary Four" being told on the radios. The "Legendary Four" wore a group of young men that had their own little tribe of survivors that followed them. It was said that no one that became a part of their tribe never knew fear and never got close enough to even smell a zombie. These Four were either very blessed, lucky, or just stories being told to give some hope to people. Soon though their stories ended and were never heard from again. People believe the "Legendary Four" to be dead or have never existed, and the belief that the military is long dead also runs deep. Though their are strange stories of groups of heavily armed people that seem to travel at night. Most Stories about the mysterious groups tend to frighten as it is said that some have been killing survivors and burning down established villages.
----------------------------------------------------------------------------------------------------
The Type of Zombies...cause I hate what some zombies have become!
----------------------------------------------------------------------------------------------------
These Zombies are not the video game variety spitters, smokers, or tanks. These are infected humans that crave to eat human flesh not beat on you until your down. They will try their best to bite you not beat you down with their fists. which means a lot of garbing, but don't expect a few not to hit you really hard from time to time. The Zombies are fast and get slow though what happens to their bodies. If they have no legs or just one then of course their going to be slow, but those that seem new or just aging will be able to run after you. There are no special zombies, except one but your going to have to wait and see what it is. These Zombies seem to learn over time so a normal fence and a fleet of stairs aren't going to hold the zombies off for very long. And while zombies are extremely easy to outsmart their are a few old enough to figure out that hard things they hold tend to hurt their pray. So there might be a zombie swinging a baseball bat at you.
-----------------------------------------------------------------------------------------------------
Type of Characters...just so were clear!
-----------------------------------------------------------------------------------------------------
I want to see all kinds of characters from different walks of life. That means I don't want a hundred freaking ex-marines cause the military is gone! I will accept some ex-soldiers but after about one or two i'm cutting you punks off. I want to see School Teachers, Students, Engineers, The Mexican that worked at Burger King, or the Teenage Christian that worked at Chick-fl-A. I don't give a care what kind of person they are as long as their not perfect at everything damn thing they put their mind too. So have fun with it. And not everyone is the best shot.
-----------------------------------------------------------------------------------------------------
Miscellaneous...cause if something doesn't have some miscellaneous category then someone didn't try hard enough!
-----------------------------------------------------------------------------------------------------
A little portrait of myself shooting my Friend who was drawn as a Zombie.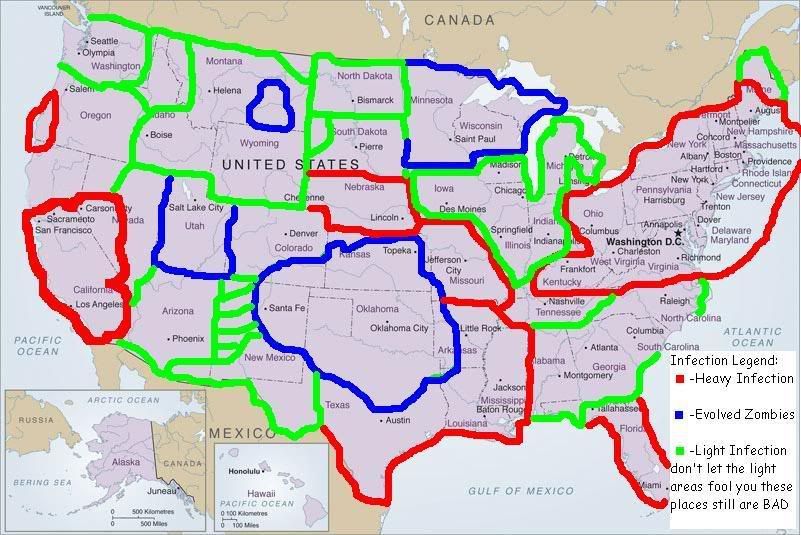 Behold the shabby made map and gaze upon it's need for more work!
http://www.youtube.com/watch?v=k9IfHDi-2EA
And I guess it needs a theme song.
----------------------------------------------------------------------------------------------------
Rules! Cause A Society can't thieve without some law!
---------------------------------------------------------------------------------------------------
1. If you're going to join the roleplay, try to remain active and write legible posts.
3. NO SUPER CHARACTERS!
4. Please make characters that make sense for time period. I'll be approving them before you can play, but it'd save me some time if I didn't have to send you a private message explaining why your 17 year old Keyblade-Wielding Cyborg Samurai Anime Girl doesn't fit the RP…
5. No vampire characters.
6. Romance is fine. I don't have a problem with drama in the story. Hell, I welcome it. Just keep it under control ;)7. Cursing isn't a big thing with me, but try to use it correctly.
7. I welcome suggestions and hope that together we can build an epic storyline we can all enjoy!
8. I would like it if you didn't use an anime picture please!
9. Don't mention that rule 2 is missing!
----------------------------------------------------------------------------------------------------
Character Sheet...because you punks just seem to get so confused when their isn't one.
----------------------------------------------------------------------------------------------------
Character Sheet
Name:
Age:
Gender:
Appearance:
Personality:
Profession:
Weapons:
Bio:
----------------------------------------------------------------------------------------------------
Character list: coming soon!
Taking place in...
Ashia stepped back a step for a second to gain her thoughts. She then dropped her head to answer the girl, she didn't want to see how either one of them would react to her somewhat 'Stupidity' to stay in one place. But, she knew it worked since it was how she managed to live these many years so she knew she should just say but she didn't want to sound rude or anything. Slowly though she cleared her throat ready to speak and answer what ever questions came next.

"Um, when I find a room outside of a town I start to make boobie traps around the house and make it well, lets just say you step in the wrong places then your dead. Anyways I moved here a few months ago and since the town here still had fuel and the grocery store was stocked, I found a run down old house. It only took me a few days to make it living worthy and I am actually able to do that with many houses. But as soon as zombies start showing up, I move. As well as when my resources start to die out, I move. I have never really had anyone live with me before so I've never really had to worry about moving stuff. But, if you uys wanted to... It would defenitly be easier to move my 2 cars.." She tried to make her ending statement into a joke to lighten the mood, but she wasn't really funny.
---
A small chime of a bell sounded as Jeffers pushed open the door to the convenience store. It was ransacked, as was almost everywhere, but it wasn't empty. Food was scattered across the floor and the musty, sweet smell of decomposing fruit and veg hit his nose. It was somehow pleasant and a welcome change to the tangy odour of blood that usually accompanied a trip to the shops for him. Still, the lack of any blood nearby didn't put him off his guard. He held up his weights, shoulders far sturdier than they once were, and took a few steps in. To grab the attention of anyone around, he gave a few taps on a shelf nearby with his weapon... Nothing. He relaxed a little, not completely, never completely, but enough to shift his focus onto the food scattered across shelves and floor alike.

A brisk walk around yielded surprisingly fruitful results. Tinned food that hadn't been taken before everyone got as far away as possible, plenty of bottled water, some gum that he'd been craving for a long time and even a healthy supply of beer. He'd sleep well tonight. On his way out, weight once more strapped to his person and a shopping basket in each hand, he stopped to peer over the checkout counter. Lo and behold, one of the most valuable commodities money couldn't buy: Cigarettes. Why they were so hard to come by was beyond him, you'd think that people would try to quit. After all, if you couldn't run very far then you were easy prey. Still, people he'd travelled with were smoking fiends. He guessed it might be easier to find some in the city, more shops, more stock, less people, but he'd be damned if he was heading into town just for some tradeables.

Pockets full and baskets overflowing, Jeffers headed back out to his car. He placed his gear on the floor and unlocked the door, threw his newly aquired supplies inside and slammed the door shut. The sound must have travelled because he heard a grunt nearby and his body stiffened up. Head shooting around like a rabbit, he saw a figure stumble around the corner of a building at the other end of the plaza. Time to go I think he said internally as he sprinted around to the other side of the Lincoln and hopped in the driver's seat. By the time he'd started the engine his undead companion had almost reached the rear bumper so he threw it into reverse, knocked the sucker down and slammed it back into forward drive. As he pulled away he wound the window down, thrust out his arm and flicked up a middle finger behind him. Not even close this time.
---
"I suppose we could stay with you, if only for a little while. And you have two cars?" Joshua asked, rather impressed. It was hard to find one working car filled with gas, let alone two. This little town must be a gold mine hidden amidst the mountains. He smiled at both Ashia and Cally, happy to find two companions that weren't nuts or half-dead, "Maybe you can lend us one or, better yet, travel with us?"

He grinned at Cally and commented, "This is the benefit of traveling together. I take care of you, she takes care of me, you take care of her, I take of her, and she takes care of you... Did I miss anything? The point is, it's always easier to travel in a group. Did you guys ever hear about the Legendary Four?"

He had often used to listen to the exploits of those four semi-legendary figures on the radio. He wasn't sure if they existed or not, but it gave him hope that mankind could survive and even thrive in this desolate land. Then, of course, their deaths were announced and everything went downhill from there. People became more depressed, more desperate. It was a shame that they died, but it was reality. They would all die eventually. Josh just hoped it was later rather than sooner.
---
Ashia made a figure eight with her foot. "Um... I don't want to intrude, If you don't want me here I'd understand. I am fairly young and you probably think I'm crazy to be able to make a house into a bomb in a matter of days... But, If you did want me to come then sure. I know the area around here fairly well now. And if you don't want me feel free to have one of my trucks... I kinda know where the hiding spots for good ones anyways." She didn't look up, she kept her face glued to the ground. And waited wondering who would answer her.
---
((My apologies for the slow reply.))

Cally nodded along in understanding as the girl explained what and where her home was. It made sense to yearn for a home, a place you belonged. It gave you a place to be that you controlled, it was safe. Home is a luxury most people can't afford these days; whatever skills this girl had, she was lucky to have them. Then she did something that surprised Cally: she invited them to join her and her two cars.

She wriggled her nose as Joshua began in about how excellent it was. She watched him as he made an offer to the young girl. Travelling together... she hadn't done it in so long. Was it even worth the effort?

"The point is, it's always better to travel in a group."

Cally nodded, groups did have there benefits. She listened as the young girl rambled on about the cars and her boobie traps, Cally figured she was the kind of person that talked a lot when nervous.

She pushed herself to her feet and dusted her backside off, a lopsided grin plastered on her face."Why the hell not, huh? Strength in numbers right?"

Considering Joshua's earlier statement, Callandra smiled. "Yeah, I've heard of them. Like super heroes. The metagamers of the apocalypse."
---
"Yeah. Supposedly they took down a hundred zombies each and are able to save everyone, no matter the odds," Joshua told Cally with a grin back at her, glad that she agreed that they should travel together with the girl, Aisha. He didn't have the heart to say that he heard they were dead. It was depressing and he really didn't want to get either of his companions down. They had just found each other, after all. A little lightheartedness was called for.

"You know, I never thought I'd be traveling across country with two pretty girls. Funny how life works," he joked, grinning at both of his new companions. Really, he was painfully shy in his past life when it came to girls. Funny how such a thing seemed so silly now.

(It's no problem. :) )
---
As The Thug drove Ryan's truck to the State prison he approached the gate to the fenced in fortress and honked the horn. There was no answer coming from anyone as the Thug waited impatiently in front of the gate until he noticed something important; the gate was unlocked. The Thug looked confused and jumped out of the truck and towards the gate. Opening the large fence wide enough to drive the truck in where he could park it in the prison yard where the convicts use to spend their outside time. He rushed back to the gate and closed it. This time making sure it was locked behind him. This seemed all to familiar to this Thug and he growled some as he walked toward the Guard Watch Tower.

The Man climbed up the stairs until he was up on the main level looking down at another Hells Angel member sleeping on his watch duty. The Thug slapped his friend in the back of the head.

"Hey Dipshit you know if the boss finds that you fell asleep on watch duty again he'll kill you! AS well for the fact that you left the gate unlocked after they left again!"

The sleepy thug rubbed his eyes and opened them wide after a yawn. "Shit, thanks for coming back early." he said.

"Yeah well my bike broke down again...and if it wasn't my lucky day I found some poor bastard come my way with a working truck. Got rid of the little prick, took his truck, and now we can count another working car under our rule thanks to me." he said laughing.

"Shit your cold blooded." his friend chuckled.

The Thug nodded and smiled as he stood up. "I'm going to head on in to the prison get my tools for the bike." He said leaving after patting his buddy on the shoulder.

As soon as his friend left the man began to watch the road again only to fall asleep a few minutes later.

-------------------------------------------------------------------------------------

Motorcycles reved down the highways as a very large group of men known as the Hells Angles survived the beginning of the zombie outbreak and and requited more into their numbers. Dan Taylor was the Leader of this almost army sized group of Thugs. An Ex-Gulf war Vet Dan commanded total respect from his men and even killed to maintain his position as Leader. The Hells Angles recently been taking control over the highways and capturing survivors, taking their stuff and leaving them for dead, or just out right killing them. Least to say they were only making what was Already Hell even worse because of their violence.

As The large Motorcycle Gang kept driving down the highway they would notice a Lincoln driving towards them in the distance. A smile came across the face of the large Leader of the Hells Angels and he quickly commanded his men to form a blockade with their choppers. The Men did as they were told and pulled out whatever weapon they had. Mostly bats, chains, batons and other melee weapons. Though some of the others had firearms like pistols and shotguns. Dan Taylor Waited now for the expected Driver to be coming around soon and would take not only the vehicle but he was thinking that their might be a need for a prisoner in the State Jail they now controlled.

------------------------------------------------------------------------------------

Ryan though remained passed out in that Ditch near the jail where he was dumped. He made little signs that he was still alive but due to the sucker punch he would be out for a few more good hours at least.
---
Jeffers continued on, drumming his hands on the steering wheel to a tune that wasn't blaring from the radio. After his close encounter back at the gas stop he'd decided that maybe music wasn't a great idea out in the open for now. But he was bored and he was tired and really there wasn't much more to do as he ploughed on down the interstate, watching the horizon grow closer. He wondered where exactly he was going, not for the first time either, and came to the conclusion that it didn't really matter. Everywhere was ruined now, there was no 'safe haven' as some fools he'd travelled with believed. There was no rest, no surrender and not really any point of living. But death was the only alternative to that and he didn't really feel like popping off just yet.

His dreamy state blinded him to the oncoming danger for a while. It wasn't until he'd been spotted that he saw the highway seeming to shift as he watched. Blinking a few times to clear his vision, he took a second look. No, it wasn't the road that was moving, it was whatever was on the road. Bikes? He shook his head in disbelief. As far as he knew the undead couldn't ride a hog which meant that there was a lot of survivors ahead. His first, instant, and completely understandable, reaction was that a lot of his worries were over. With a group that size he'd be untouchable. It seemed too good to be true. Which it was. He saw them cross the highway end-to-end to block him and he slowed down. He didn't stop, he needed a decent look at them. They could yet be friendly, but that didn't seem like the warmest welcome they could have come up with. As he grew closer he could see they had weapons out and the projectiles within the group were aimed at him.
"Shit," he muttered. "Shit, shit, shit." He grabbed his revolver from the glovebox and held it tight in one hand. 3 rounds, that was a joke against all them. "Shit!" This time he was louder, but still not close enough to be heard. He stopped to buy himself a little more time. And he thought. If he turned around and tried to flee he'd be outrun quickly. There were still cars around and a 180 turn would take time. Plus his Lincoln wasn't the quickest car going. If he waited or drove to them he could be mugged, or worse. That left one surprisingly attractive option. The car may not have been super-quick but it was big and heavy. He could smash aside a good few choppers without losing much velocity. Well, that was what he guessed, he wasn't exactly a physics whizz, he was just going by what he'd seen in films oh so long ago. Besides, his chances of even reaching the group were becoming slimmer the more he pondered it. They could easily shoot out a tyre and send the vehicle into the ditch, leaving him dead. They could just as easily shoot him, leaving him dead. Or the car could flip upon impact, leaving him dead.

"Shiiiiit..." His muttering was far from over and his vocabulary was a long time from broadening. There was only one real chance of getting through this unscathed and that was a nice, healthy white flag situation. He found himself thinking, more hoping, that they may still be friendly but he just knew that wasn't going to be true. The best hope he really had would be that they would take his car and gear and leave him alone. It wasn't a pleasant thought and it led him to drop his head down into the steering wheel as he applied light pressure to the accelerator.

The car rolled to a gentle stop a few yards from the wall of choppers and two empty hands, palms open, came from the driver side window, accompanied by a call of "I'm not armed!"
---
Dan Taylor watched as Jeffers Lincoln to a stop and he seemed to just be giving up. Dan Though made no expression of any kind of emotions as his jaw chewed on some tobacco and his brows were even covered up by his Aviator sunglasses. Dan watched and his Gang waited for their commands all giving this intimidating man the respect that he commanded. He spit a large down glob of tobacco on the ground and turned his head towards a few thugs that were riding in side cars.
"Take the Lincoln, Take His stuff, and lets take him while were at it." He simply said turning his gaze back at Jeffers. The Hell's Angels Thugs nodded as they climbed out of their sidecars and jogged towards the car. One holding a baseball bat the other holding a chain and some handcuffs. The Men were rather rank and unshaven looking. Some of their teeth missing and a generally bad oder seemed to just emit from their bodies. If you didn't know better you would mistaken these two as Zombies. The One with the Baseball bat got to the Driver's side and looked at Jeffers.
"Get in the back, boy and don't be tryin notin stupid you hear?" He said. If Jeffers did as he was told the men looked like they weren't going to hurt him. But once in the back the one holding a chain and handcuffs would bond Jeffers hand to the metal root of the passenger seat head piece. They would get in the Car and continue to follow the Gang Around since their was still much to do and find before it was time for the Bikers to head back to the prison. The Thugs turning the Car's radio on.
As long as everything went smoothly everyone would be fine and Dan Taylor would order his men to get the Bikes ready and they would be on their way again. He wanted to check on some houses their scouts saw a few days ago. Supposedly a few Survivors were seen roaming around in and around a few houses. So the Bikers got prepped, the Ones in The Lincoln turned the car around and they started off Towards the house of Cally, Joshua, and Ashia.
-----------------------------------------------------------------------------------------
Ryan blinked some as his eyes slowly opened to a fuzzy and very bright world. Over him a silhouette loomed over him darkened by the bright glow of the sun directly behind whoever or Whatever was standing over him. Ryan blinked some more trying to remember what just happened to him and how he got in the ditch. Then all at once it donned on him all over again he was knocked out by some bastard in a Hell's Angels jacket and large beard. After the last Humanoid Ryan saw was a Zombie in the woods with a orange hunting vest and beard he was really starting to hate large facial hair. Pointless jokes put to the side Ryan again looked up at the figure standing over him. But by the time his eyes reached up the Dark figure was gone.
Ryan Sat up and looked up towards the sun trying to figure that a blow like the one given to him should have kept him down longer. He didn't complain though he was up early and thats exactly what he needed. He looked on his body. He still had his Dark Green Poncho Baja Hoodie was still on and it still had it's signature blood stain on the pouch. Which eerily looked like a cross. He checked his belt and thanked the lord that his Tomahawk was still tied to it thanks to the string on the handle. Everything seemed to be in place expect that his truck was gone.
Ryan slowly got to his feet and squinted his eyes in the sun as he looked around the entire area. He could kill to get some Sunglasses right about now. All he saw around him was stretches of high way, the Colorado hills, a few of roaming packs of Zombies out in the distance (best to avoid being seen) and what looked like a large building that stood alone and was only an exit on the highway away. He began his walk towards that place hoping that is where his stuff was taken.
-----------------------------------------------------------------------------------------
Phantom Radio- Playing the Best in Classical and Opera
http://www.youtube.com/watch?v=1QHzI5HmXl4
-Mozart, Eine Kleine Nachtmusik
http://www.youtube.com/watch?annotation_id=annotation_424436&v=gD-OMO1pDNk&feature=iv
-Beethoven, Für Elise
http://www.youtube.com/watch?annotation_id=annotation_749068&v=JtoNHnR_WhE&feature=iv
-Handel, Hallelujah Chorus from the Messiah
-Static- This is a Recording Due to National Distress The Staff is unable to make it to the Station. The Music is played on a pre-programmed music box on shuffle when the last song it reached the music will repeat -static-
----------------------------------------------------------------------------------
Truth Radio- Your Friend in this Shit storm who is giving it to you straight!
http://www.youtube.com/watch?v=_z-hEyVQDRA
-Metallica, Master of Puppets
http://www.youtube.com/watch?v=eKtfjsonPFE
-Led Zeppelin, Kashmir
http://www.youtube.com/watch?v=sV58gCi1NxA
-Demon Hunter, Undying!
-Stan- This is Stan Boys and Girls and i'm here to give it to you straight. Now I have gotten Text messages recently giving me news of a motorCycle gang that is causing problems for people so watch your backs. That just makes me so fucking sick to hear that survivors are going against survivors like the "Black Death" No not the disease that wiped out two thirds of europe i'm taking about the secret para-military group going around killing off settlements and kidnapping survivors. There Real people and I advise you not to travel at night! If the Legendary Four were here I bet they could take care of these Bastards! Well thats the news Ladies and Gents i'll take you back to more music.
----------------------------------------------------------------------------------
Cowboy Dan Radio- playing what I had on my ipod for about a month now
http://www.youtube.com/watch?v=TVwkS6AcszY&feature=relmfu
-Willie Nelson, She is Gone
http://www.youtube.com/watch?v=q3zkkLckeyM
-Brad Paisley, Alcohol
http://www.youtube.com/watch?v=o22eIJDtKho
-Johnny Cash, Hurt
Dan- Cowboy Dan here there are kinda of a lot of zombies outside the station right now so I won't be talking a lot today. It doesn't look to bad though so we should be...-crash- Fuck! Close the doors close the...Holy Shit! -static-
--------------------------------------------------------------------------------
Mr. Sinatra Radio- Your Humble Radio Personality hoping the best of luck to you.
http://www.youtube.com/watch?v=69O4PXzAQ5Y
-That Amore, Dean Martin
http://www.youtube.com/watch?v=rvwfLe6sLis
-If I Didn't Care, The Ink Spots
http://www.youtube.com/watch?v=SPUJIbXN0WY
-Michael buble, Everything
-Mr. Sinatra- Well God Bless all my listeners for sticking around to hear some good music and call in your prayers. I have been feeling a bit under the weather lately but I think i'll pull though. As long as I have you all i'll be just fine. Remember to stick together, care for who find, and to make sure you survive here's hoping. Signing off.
---
As the men dismounted and headed towards his comandeered car Jeffers felt his heart sink. Any hope he'd had of a peaceful negotiation crumbled as he saw the weapons and the handcuffs. He considered once again the possibilty of a fight. His revolver, now tucked down the back of his jeans, had three round left. If he was steady enough he could take the two as they neared and then hit the gas. But the thought again didn't last long, he was outnumbered and outmatched. So, with a sigh, he waited for them to arrive and listened to their orders. Only nodding in agreement, he stood on the seat, crouched low, and stepped back between the front seats to let himself fall onto his rump in the back, praying silently that his gun wouldn't go off and leave him minus an ass-cheek. He hoped they wouldn't search him and find his only realistically effective weapon and he was lucky enough in that respect. But he was unlucky enough to be cuffed to the headrest in front of him. This of course left him unable to sit down with any back support and he knew an uncomfortable journey loomed ahead. If he could even stand after half an hour of this it would be a miracle. He could of course perch himself on the edge of the back seat but the risk of the gun making an appearance was too much. Whatever good it may have been was far more than it would be now. Any chance of escape now was out of the question. It was possibly the worst punishment a man could receive in these times; if a member of the walking dead that was the population of the world now managed to get inside the car he was screwed. Chances were he was screwed anyway, but he tried to keep that thought away from the front of his mind.

As the car started and the bikes revved as if signalled, the radio was switched on by the driver. The channel was still set to Radio Truth and just as a song was finishing, the host began a small monologue, instantly delving into a problem reported to him by listeners. The problem of a rogue motorcylcle gang. "Thanks for the warning Stan..." he muttered under his breath, starting to think that a risky maneuvre like ramming the bikes would have been more worthwhile, even if he had found himself dead before his time.

Before the driver or passenger could say anything to him he spoke up, questioning them this time. "Why are you taking me?" This was of course the first thing he wanted to know and a question they likely would have anticipated. Whether they would answer (With words or actions) he had no idea. In all honesty he hoped one of them would just take a whack at him with that bat and lay him out until they were done with him.
---
Ashia smiled a little at the compliment. "Um anyways did you want to head out? I really don't want to be out driving in the dark... Plus it's harder to be stealthy with bright headlights." She said the last bit through a half gulp and hoped it would cheer the mood just a bit. "Plus I still need to get some gas" She said through a muffled breath.

She looked down at her clothes and patted off somedirt. She really didn't look that messy even for the waste land that she lived in. Her blonde hair was in a ponytail but her bangs were flying everywhere across her face. Her makeup was smudged across the bottom of her eyes making her look almost like a raccoon. But otherwise she looked almost clean and quite presentable.

Ashia remained looking down as she waited for either the boy or the girl to answer.
---
Cally grinned as Joshua spoke about the Legendary Four; back when she had been an ordinary gamer, Cally often spoke about how she would be unstoppable during the apocalypse. She would talk about how she was prepared and how simple it would be to reign supreme in an undead world; she'd read the books and gathered her gear, she even had an escape plan from her dorm should the undead ever rise. And then the day came and her friends turned, craving flesh and brains while Cally was left to defend herself. The young woman's smile faltered on her lips and she looked at the ground. "Yeah, always saved the day..."

She was pulled from her melancholic thoughts as Joshua readdressed her, calling her pretty. It had been a life time since Cally had heard those words. She'd had her run ins with less than savory types that called her "beautiful" or "sexy", but that was usually before they offered her "protection" for just "a little bit in return". It was disgusting and Cally often found herself running away, finding them more dangerous than the zombies around her, especially those that traveled in groups. She had her close calls and was, in turn, quite afraid of large groups of men -- but, Joshua was sincere. She grinned again, looking up at the young man.

"Yeah, well, now you're stuck with us." She flipped her hair over her shoulder dramatically, fluttering her eyelashes. It felt good to have fun, even if it was just for a little while. "My feminine wiles always work."

She observed Ashia as she spoke, talking about leaving sooner rather than later. It was surprising that the girl still had make-up; Cally had abandoned wearing or even carrying it, she didn't much care what she looked like if she ever arrived for the dinner date that had been scheduled a couple of years ago. "You know, I don't recall hearing your name. I'm Cally, just Cally." She extended a hand in the young woman's direction and smiled softly.
---
Joshua couldn't help but blush at Cally's words and the way she flipped her hair back at him. It appeared that he was still a bit shy around girls, but no matter. That was such a little thing now and they had more important things to worry about. When they were around the campfire, he'd have to make sure to get back at Cally for that. He grinned over at her before blinking at her question to the other girl. God, how did he even forget to ask her name?

"I'm Joshua by the way. You can call me Josh or Joshua, or maybe even Joe," he told her soothingly before pondering her comments. He nodded in agreement with her and spoke, "My car is almost out of gas as well, though I have a tube for siphoning gas. If we're traveling together, I'm willing to abandon it and hand over the remaining gas so we can get going."

Really, he was taking a risk at offering his precious little gasoline to a stranger, but Joshua had a feeling that these girls were the good sort of people. They weren't any of the thugs or con-artists and took it upon themselves to steal from their fellow man in these dark times in order to survive. They were not better than zombies that way. At least zombies were honest about what they were doing. He turned to Cally when she mentioned her feminine wiles and winked.

"I shall be the judge of that, ma'am," he told her.
---
Ashia watched as the two people flirted. They must have known each other a while, she thought to herself. Then realizing that there was a hand reached out to her she graciously shook it. "Im Ashia... I don't know any nicknames for it but if you find one feel free to call me it." She tried to smile the best she could but she was still rather scared.

"Thankyou for the gas it will be very much appricated, espically if I don't have to go into town as much to get the only pump that works. Because the grocery store is just outside of town and its also less frequented by zombies." She said letting out her breath of air. Then almost as if she had planned it she tripped forward and landed face first on the ground. "Oops!" She half yelled in total embarassement.
---
Arcs are bundles of posts that you can organize on your own. They're useful for telling a story that might span long periods of time or space.
There are no arcs in this roleplay.
There are no quests in this roleplay.
Welcome home, Promethean. Here, you can manage your universe.
Arcs are bundles of posts from any location, allowing you to easily capture sub-plots which might be spread out across multiple locations.
You can create Quests with various rewards, encouraging your players to engage with specific plot lines.
Settings are the backdrop for the characters in your universe, giving meaning and context to their existence. By creating a number of well-written locations, you can organize your universe into areas and regions.
Navigation
While not required, locations can be organized onto a map. More information soon!
There are no groups in this roleplay!
By creating Collectibles, you can reward your players with unique items that accentuate their character sheets.
Give your Universe life by adding a Mob, which are auto-replenishing NPCs your players can interact with. Useful for some quick hack-and-slash fun!
Locations where Mobs and Items might appear.
You can schedule events for your players to create notifications and schedule times for everyone to plan around.
Add and remove other people from your Universe.
The Forge
Use your INK to craft new artifacts in The Undying. Once created, Items cannot be changed, but they can be bought and sold in the marketplace.
Notable Items
No items have been created yet!
The Market
Buy, sell, and even craft your own items in this universe.
Market Data

Market conditions are unknown. Use caution when trading.

Quick Buy (Items Most Recently Listed for Sale)
None
Discussions
Most recent OOC posts in The Undying