---
Kerpheres
---
"You're just f*cking with me! - Indeed I am." Yu-Gi-Oh Abridged, episode 26
DEJA VU - INITIAL D
---
GENERAL INFORMATION

---


Full name
Kerpheres

Nickname
Kerphie, Kerph, Jester in Violet, Smugician

Age
22-24 (bit younger than his bro)

Gender
MALE

Sexuality
... ^^

Home
He grew up with his brother in one of the big cities on the neutral territories.

Alignment
He sided with the Alliance, becoming an advisor to one of the human lords who doesn't despise magic.

Race
Duk'Zarist
---
---
APPEARANCE
---
Height
Kerph is around 6'1" tall/
Weight
Around 165 lbs
General Description
Kerph is quite a tall and slim man, always wearing violet clothes. His long hair also seems to have some violet colouring, but this might be due to some magical effects. He smiles a lot, never revealing his true emotion, like a jester's mask.
---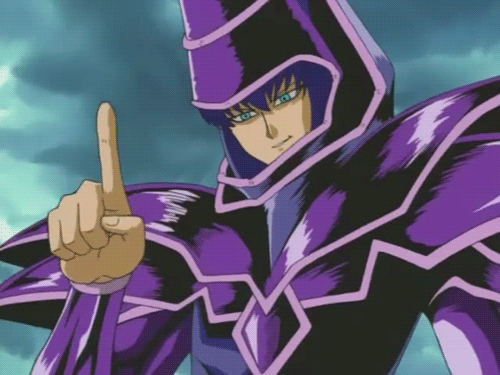 ---
MENTALITY
---
Personality
Kerph is a very cheerful, outgoing person, but in a very ironic, mocking way. He can't help to do things that make people feel uncomfortable, breaking any boundaries. He usually takes every challenge or insult with a smile, but if something makes him get serious, then it's usually some sort of grave danger to anyone he cares about. He's also a really honest person, but not in a rude way.
Likes
[✔] WHAT DO THEY LIKE?
[✔] MAGIC
[✔] HIS BROTHER
[✔] HIS MOTHER
[✔] RIVALRY WITH HIS BROTHER
[✔] BEING A JESTER
Dislikes
[✖] WHAT DON'T THEY LIKE?
[✖] IGNORANCE
[✖] ARROGANCE
[✖] PEOPLE WHO MAKE OTHERS LOOK BAD FOR PERSONAL GAIN
[✖] SWORDS IN HIS CHEST
Hobbies/Job
Kerph is an advisor to Lord (need help here), so he spends most of his time advising the Lord.
Dreams/Goals
Kerpheres wants to become one of the greatest wizards in the world or perhaps at least exceed the current master wizards. But he doesn't want to become too broody in the process too.
---
---
COMBAT
---
Class
Mage (obviously). He usually uses both protective and offensive magic, though he has also few illusion spells in his spellbook. Due to his race, he's mostly attracted to the dark arts, but the damaging side of them and not necromancy.
Physical Strengths
Kerph is rather swift when it comes to running away from danger. And he can even do it for more than one minute.
Physical Weaknesses
He isn't particularly strong nor tough and he also has the typical racial metal allergy.
Magic Strengths
His dark magic spells are usually stronger than other types of magic he uses.
Magic Weaknesses
He is really weak against light magic.
Weapon Skills
Kerph is very proficient with a magical staff that he uses to hit people in the head when they stop listening to him mid-plan. And he has a spellbook with quite few pages fully filled for the time being.
Protection Type
His robes are a bit enchanted, to mostly protect his vital points. His spellbook is also thick enough to hold a stab from a sword or dagger, though might be quite useless against axes.
---
---
HISTORY
---
The Story so Far
Kerph doesn't remember his true parents. He only knows they didn't want him and made it quite obvious to his new parents, the merchant and his wife. Kerph was raised together with his new brother, Dranten, by a human and a Duk'Zarist. The two boys always were competing with each other, rather in a friendly way than a mischievous one. For the first few years the differences weren't that distinct, but later on one could easily tell, that Kerpheres is growing to be an powerful mage, while his brother Dranten could easily pick the path to be a warrior.
Kerph did a lot to improve his magical powers, finding a teacher without his parents or brother noticing anything. He quickly learned the basics, eagerly going over to more advance teachings. He wasn't actually power-hungry, it was just fun to him to discover new things he could do with magic and using them in his life.
Few years later his brother left home to become an adventurer. Kerph knew it would be also a good time for him to leave and search for another teacher, so he could learn more about magic. He crossed paths with some mages who served the Alliance and eagerly joined them. They travelled a lot and explored ancient ruins of all sorts. One day something led them to a battlefield, where the Alliance's mercs fought against undead. Kerph had a feeling that something was odd about this and the mages started an investigation. They were lucky to find a few survivors, including Dranten, Kerpheres' brother.
They parted their ways again, as Dranten didn't want to join them and the mages needed to report to the Capital, what has happened. It was the time where Kerph fully joined the Alliance. He helped the mages at further investigations and earned himself the position of advisor at the court of one of the Lords.
Another years have passed and the news of his father sickness reached Kerpheres. The Lord was lenient and let Kerph travel back home to his father. Few days after Kerph's arrival, his father died. Kerph's brother, Dranten, appeared at the funeral. It wasn't a very happy family reunion, but at least the warrior was alive and well.
Their mother took over the family business, while the two headed back to their duties, promising each other to meet more often.
Kerph remains still in service of the Lord, waiting for another assignment.
Relationships
Kerph isn't in a relationship right now, but unlike his brother, he'd be happy to oblige. Though not many people might stand his sense of humor, so the search might take some time. He cares for both his brother and his mother.