Alira Realm
Ah, Alira. A realm of nature and cities. Of caves and mountains. Of peaks and valleys. Of forests and plains. Most importantly, Alira is the second realm to have ever been created by the voidwalkers. It is a realm of the experiments that weren't too dangerous, but didn't meet the needs of the voidwalkers.
Alira Political Map
Alira Species
Elves - Masters of the forests, the elves know little of magic, but much of nature. Any spell that a wizard could cast, a elf could create a potion with the same effect with only five ingredients. They are also excellent archers, running about on their tall and nimble frames. The downside of the elves is the frailness and weakness that comes with their agile bodies.
They govern the elven empire through the Tree Council, an elected group of elder elves who handle matters that affect the whole empire. The lands of the elven empire are all dense woodlands, excluding the northernmost section, which is currently being planted.
Humans - Masters of magic and magic technologies, humans are the smartest of all the races, individually. When in a calm environment, a human's intelligence can shire. This has led to human technologies being leaps and bounds greater than all the other races. Humans also have a relatively good grasp on magic, and are the best at it from this realm. Other than that, humans are very generalistic. A saying from the elves is, "Humans are great at magic, good at all else." The human weakness is the fact that they are panicky in groups. A human mod is to be feared by all sides.
Split in a war between the two human empires. West is freedom and a rudimentary democratic government, while the east is a dictatorship that sells criminals as slaves. Homes and structures of the humans use metal, wood, and stone, often with designs whose intricacy and detail show one financial class.
Dwarves - Hailing from the dwarven mountains, the dwarves are master smiths and warriors. These hardy little fellows hail from a land of ice, snow, and rock, yet they seem to thrive. This natural durability, plus the power of their densely pack muscles, is what grants them the nickname "small walking walls." Dwarves are also capable of light magic, but for them to be good, they have to have extreme amounts of practice. The weakness of the dwarves is their slowness.
Dwarves live in the mines they carve into the mountains, often only coming out to trade or gather. When they don't just carve a building out within the mountain, they turn the stone that they have from mining into bricks and use it for construction. Dwarves trade often with the humans.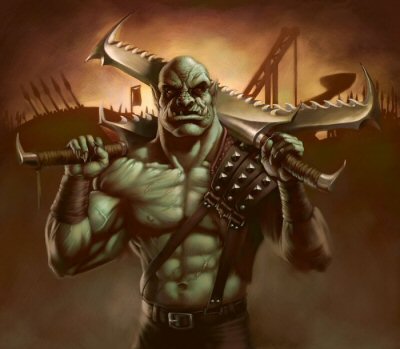 Orcs - Dumn, green, and near unkillable is a good way to describe orcs. These hulking figures of muscle and flesh spare no one when they raid towns, and offer no forms of governing. They often live in tribes that raid for weapons, food, and other pieces of civilized life. They can best even dwarves in melee combat with ease. Their weakness is a lack of intelligence.
Operate out of the bloodlands, a war soaked land whose very soil and plants are red. The Orcish Empire is actually an empire of the lands and peoples enslaved by an organized orc tribe which sizes of 3 million. The people have good reason to not anger the orcs who rule them.
Void Realm
The first realm to be created. It is a factory of void energy, a magical energy that has the power to create and destroy entire realms, that the voidwalkers made to ease the burden of realm creation, as all the prior attempts had failed.
Void Species
Voidwalker - These are the creators of all the realms. Many realms know of their existence, many do not. They are filled with the will to preserve and observe their "successful" creations, and to make more.[non-playable]
Voidrunner - Being created to look like the dominant species of the realm which they reside in at the moment, voidrunners stand as a way fro the voidwalkers to monitor and maintain already made realms. They are the masters of void magic, and capable of extreme feats of endurance. They yield the ability to harness the power of realms that are destroyed to create realm spheres, which can be used to create or modify realms. They have the ability to travel between dimensions. [non-playable]
Demons - Destructive monsters of all shapes and variates. The only connection that they have is that they can trace their ancestry back to a realm that a civil war destroyed, after they had figured out how to travel realms. They seek to create a new realm, causing them to hunt voidrunners to try to aquire realm spheres. They grow stronger by killing another being and consuming its soul. [non-playable]
Story
Veris, a voidrunner, has recently formed a realm sphere to save a dying realm. When he did this action, a large army of demons sensed it. As he flees to Alira for help, the voidrunner is followed and hunted. The demons seek to use his realm sphere to recreate the demons' original realm, something the voidrunners would rather avoid.
Veris has fled into the neutral zone to try and gain some allies as the demons enter the realm, causing chaos wherever they go. Will you meet him at the bar? Server your homeland in some war? Simply try to survive the relentless demon onslaughts? The choice is yours.
1. I am time and the universe. Disobey my rules and punishment will follow.
2. Be respectful. I don't care if characters are always butting heads, but players should not be.
3. Think of characters as overpowered beings of the universe. Or you could play them as someone who always gets hurt but never dies.
4. Try to make posts more than 100 words, but keep them above 50.
5. Character Sheet:
Code: Select all

[size=250][color=purple][b][u]Character Name[/u][/b][/color][/size]
[color=Red][b][u]Nicknames:[/u][/b][/color]
[color=Red][b][u]Titles:[/u][/b][/color] (Any names given for some form of work to a government? Military rank?)
[color=Red][b][u]Race:[/u][/b][/color]
[color=Red][b][u]Age:[/u][/b][/color]
[color=Red][b][u]Class/Job:[/u][/b][/color]
[color=Red][b][u]Appearance:[/u][/b][/color] (Picture or words, I don't care. If you use a picture, please tell us anything not shown.)
[color=Red][b][u]Family Artifact:[/u][/b][/color] (Leave blank if none.)

[color=Red][b][u]Personality:[/u][/b][/color]

[color=Red][b][u]Skills:[/u][/b][/color]
[list]
[*](What has your character learned to do, excluding magic.)
[/list]

[color=Red][b][u]Powers:[/u][/b][/color]
[list]
[*](What your character has been born with, including magic.)
[/list]

[color=Red][b][u]Weapons and Armor:[/u][/b][/color]
[list]
[*]
[/list]

[color=Red][b][u]Inventory:[/u][/b][/color]
[list]
[*]
[/list]

Taking place in...
Arcs are bundles of posts that you can organize on your own. They're useful for telling a story that might span long periods of time or space.
Parts of the story that outline plans, major or minor. Just so we don't forget.
There are no quests in this roleplay.
Here's the current leaderboard.
There are no groups in this roleplay!
Welcome home, Promethean. Here, you can manage your universe.
Arcs are bundles of posts from any location, allowing you to easily capture sub-plots which might be spread out across multiple locations.
You can create Quests with various rewards, encouraging your players to engage with specific plot lines.
Settings are the backdrop for the characters in your universe, giving meaning and context to their existence. By creating a number of well-written locations, you can organize your universe into areas and regions.
Navigation
While not required, locations can be organized onto a map. More information soon!
There are no groups in this roleplay!
By creating Collectibles, you can reward your players with unique items that accentuate their character sheets.
Once an Item has been created, it can be spawned in the IC using /spawn Item Name (case-sensitive, as usual) — this can be followed with /take Item Name to retrieve the item into the current character's inventory.
Give your Universe life by adding a Mob, which are auto-replenishing NPCs your players can interact with. Useful for some quick hack-and-slash fun!
Mobs can be automated spawns, like rats and bats, or full-on NPCs complete with conversation menus. Use them to enhance your player experience!
Current Mobs
No mobs have been created yet.
Locations where Mobs and Items might appear.
You can schedule events for your players to create notifications and schedule times for everyone to plan around.
Add and remove other people from your Universe.
The Forge
Use your INK to craft new artifacts in The Void: The Realm Sphere. Once created, Items cannot be changed, but they can be bought and sold in the marketplace.
Notable Items
No items have been created yet!
The Market
Buy, sell, and even craft your own items in this universe.
Market Data

Market conditions are unknown. Use caution when trading.

Quick Buy (Items Most Recently Listed for Sale)
None
Discussions
Topics

Replies
Views

Last post
Most recent OOC posts in The Void: The Realm Sphere