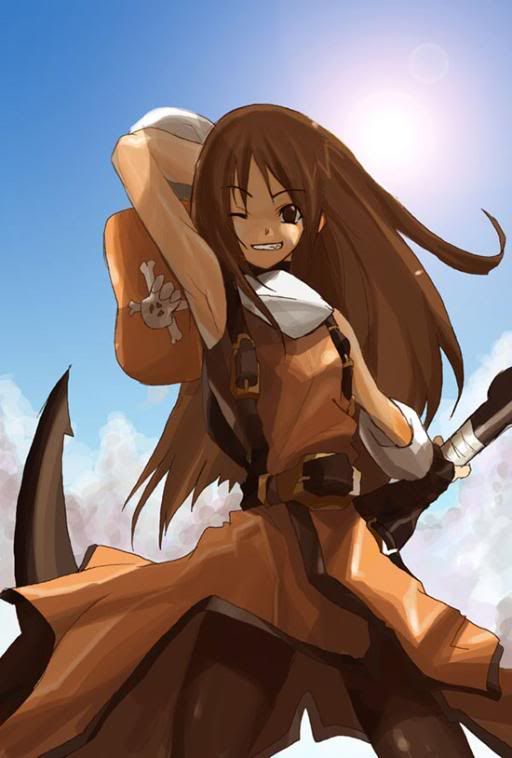 Name:
Dahlia Summer
Age:
25
Species:
Human
Race:
Mostly Caucasian. Often thought as native because of her tan skin
Appearance:
With her long brown hair and tan skin, it isn't hard to see that Dahlia comes from the tropics. Her form is very sleek and lean as she isn't exactly the most curvaceous woman on the seas. Despite appearing to not to have a single muscle on her body she actually hides immense physical strength, easily punching through walls and cracking skulls. Her hair is thick and coarse, almost never seeming to get dirty. It is also strangely water resistant, drying in a matter of minutes. Her eyes are flowing pools of brown, always darting from one thing to the next. Very small scars seem to cover her body, almost looking as if the skin had split open and resealed itself again.
Preferred Clothing:
Dahlia wears a light orange cloak cinched at the waist by a belt to make it tighter. The sleeves had been removed to accommodate the warmer climate of her home and the seas but can be reattached if needed. Her legs and hips are covered by black tights. On her feet lies a pair of sandals though she prefers to go barefoot if she can.
Personality:
If curiosity kills the cat, Dahlia must have more lives than she can count. Always willing to explore the unknown, Dahlia is the living embodiment of adventure. It's rare to see her down in the dumps with her head so far in the stars. She can often be found forging stories of far-off civilizations and creatures that once roamed the land. In fact, if you get her talking about the fauna of old, she'll go on for hours. Not exactly the most serious person on the seas, Dahlia enjoys goofing off and making people smile in general. In a stark contrast to this she is very quick to anger and often never leaves a town without getting into at least three bar fights.
Short Bio:
Dahlia was born on a desert island on the Grand Line known simply as The Wastes. Her parents were a duo of famous scholars investigating the ancient ruins and crypts that dotted the landscape. As Dahlia grew so did her fascination with the creatures that once roamed these lands. Humongous monsters with skulls the size of her house. One day while exploring the ruins she stumbled across an old textbook, only the cover remained intact. "The Great Extinction". Determined to find the cause of this event, Dahlia joined a small band of pirates lead by Nicholas Neggy.
Weapons/Equipment:
Dahlia's main weapon is a large anchor, sharpened into a sort-of double ended scythe/pickaxe. She also carries a large backpack full of all sorts of excavating gear and supplies wherever she goes. These include but are not limited to a grappling hook, small brushes, food and water, lots of rope, numerous chemicals for making explosives, lockpicks, magnifying glasses, matches, flint, and a small stone tablet she had found as a child that, when held up to a piece of written language, will instantly translate it into one the holder understands.
Abilities:
As a delver of both ancient tombs and museums , Dahlia is a master of getting into places she isn't exactly supposed to be. She is very adept at picking locks and solving puzzles. She also has a very keen eye for detail, often noticing things other would easily miss. In combat Dahlia relies on her massive strength to keep opponents at bay, delivering powerful blows in exchange for speed.
Strengths:
Massive physical strength, even when out of bear form
Eye for detail
Very knowledgeable of ancient creatures and civilizations.
Dexterous and good with her hands
Great at puzzles
Weaknesses:
Doesn't always think before she acts
Terrified of birds
Severe lack of control in Dire Bear form
Cannot swim
Driven to explore the unknown, often getting herself into sticky situations
Role Aboard the Calypso:
Archaeologist/Co-Navigator
Devil Fruit
Devil Fruit Eaten: Kuma Kuma Fruit
Devil Fruit Type: Zoan
Devil Fruit Abilities: Grants Dahlia the ability to transform into a grizzly bear at will, increasing her size, strength and speed. She may also access a hybrid form, covering her arms in brown fur and turning her hands into large claws. This form is rarely used however since she cannot wield weapons or use objects like this.
Dahlia can also achieve another form called the Dire Bear. This allows her to turn into a humongous bear, increasing her power ten-fold. However during this time she is unable to distinguish friend from foe and will seek to destroy everything in her path. This form is only used as a last resort because of the many lives it could take and damage it could deal.
Haki
Haki Type: Busoshoku
Haki Abilities: Although not especially adept in the use of Haki, Dahlia does know how to use it to protect herself. Though she can only use it lightly as a human, as a bear she can channel it through her fur, turning it into a suit of haki-fueled plate armor.