The World of One Piece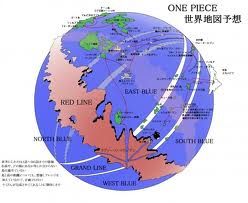 One Piece is populated by humans and numerous other races, including mermen and mermaids, "fishmen" (a race of fish/human hybrids), giants, and fairies. It is covered by two vast oceans (Grand line and New world), which are divided by a massive mountain range called the Red Line. The Grand Line, a sea that runs perpendicular to the Red Line, further divides them into four seas: North Blue, South Blue, East Blue, and West Blue. Surrounding the Grand Line are two regions called Calm Belts, similar to the Horse latitudes, which experience almost no wind and ocean currents and are breeding ground for the huge sea creatures called neptunians. Because of this, the calm belts are very effective barriers for those trying to enter the Grand Line. While marine ships, using sea-prism stone to mask their presence, can simply pass through, most have to use the canal system of Reverse Mountain, a mountain at the first intersection of the Grand Line and the Red Line. Sea water from each of the four seas runs up that mountain and merges at the top to flow down a fifth canal and into the first half of the Grand Line. The second half of the Grand Line, beyond the second intersection with the Red Line, is also known as the New World.

The Pirate King, Gol D. Roger
I s
Twenty two years ago, when the world changed forever a man stood atop an execution platform; this man was the undisputed King of Pirates for he had gathered every form of treasure in the world, One Piece. Smiling to the very end, but not before answering a question asked by a curious sailor:
"My fortune is yours for the taking... but you'll have to find it first
I left everything I own in THAT place!"
And so sparked The Great Pirate Era. Due to this countless pirates have set out to claim this prize; no easy feat however as that place happens to be the Grand Line. This era has brought about hundreds of legendary pirates, bounty hunters, and Marine Captains alike; it has spurred cowards into being brave, the poor into amassing riches, the weak into defeating sea kings!
Who will find it? Who will claim One Piece and replace Gold Roger as the Pirate King?!
The Calypso
The Great Pirate Era started so long ago, and for a young man of nineteen who wants nothing more than to become one of the greatest pirate captains in history is ready to set out upon his vessel 'The Calypso'. Nicholas Neggy, with dreams unimaginable to some, prepares to set sail for the first time on a ship he constructed himself. Not very big, no assets that are noteworthy, but it has sentimental value and can carry a large amount of cargo. Starting in a small town located in South Blue on an island called 'Derignene' (Dare-ig-neen) the journey will be rough, but he's been winding up for this since birth. He is adamant about forming a crew of those with similar seemingly unachievable goals, and is ready to fall for his cause.
(I will ultimately add more to this)

Roles Aboard the Calypso:Captain
Nicholas Neggy (DatFishMunkie)
First Mate
Zasha (WendyDarling)
Second Mate
Cammy Barrion (Byte)
Crewmates
Doctor: Marlie Spike (twisted_odyssey)
Navigator: Cammy Barrion
Cook: Marlie Spike
Shipwright: Nicholas Neggy (Doubles as)
Helmsman: Zasha (Doubles as)
Archaeologist: Dahlia Summer *Co-Navigator* (Golgari)
Musician: (Claimed by Alliqua_Dark)
Sniper: Marcus Taint (Booker_Dewit47)
Lookout: Cammy Barrion
*To clarify, one character can hold multiple roles, while one role can sport multiple characters (except for Captain, First and Second Mate).
(Will most definitely add more)
*Anything you need to know about lore, special roles, the ship, etc just ask me*
Otherwise go here:
http://en.wikipedia.org/wiki/One_Piece
| or here:
http://onepiece.wikia.com/wiki/Main_Page
(Caution, may contain spoilers)
Rules, Rules, Rules!
Rule #1: Please, for roleplaying I don't have to copy and paste the guidelines for a roleplayer to follow. It should all be common sense, so none of the bad things like god modding, meta-gaming, or otherwise blatant disregard for the guidelines themselves.
Rule #2: This is another must; be nice, be cool. In rp we can develop hate between characters, rivalries, and meanness is there, but we all know it's stupid out of character. If there are problems let's just talk it over yo.
Rule #3: Grammar and such. Now look, I have my slip ups all the time, but please if spellcheck is needed; use it. I don't mind silly mistakes, I'm here to read, and it doesn't make it harder for me in the slightest. I'm sure others can put up too. Don't join using txt format like lol, ty, and such. Don't join using giant, huge ass run on sentences. I am very lenient with this rule.
Rule #4: This one was a bit difficult, character types; I don't mind anything really as long as it doesn't come to disrupt the plots, setting, or overall roleplay. You wanna be a samurai on a pirate ship, that's bad ass. You want to be a vampire that can stand sea water, and sunlight; sweet. You wanna be half dinosaur, half werepig-thing go at it. If it conflicts with the rp, then it's a no go. In the end I'd ask that people come to me for questions about this rule.
*The rules below are the ones directly related to this roleplay, but can be similar to others; still read thoroughly. For me? :)
Rule #5: For the rp in general; in this case when it's safe to roleplay the main plots, when it's safe to disregard the post order, and when it's safe to have side arcs. The first one, I would assume we all know it'd be impolite to roll onward with main plots without at least the majority of members being present; when this is acceptable is simple, either when we have everyone accounted for, or those who aren't are on leave for the time being. The second one, when to disregard the post order; a good time to use this is when there are multiple things going on, but you don't want to wait for other people to post. The last one, for side arcs; I love having multiple plots going at once, but only when it doesn't mess up the main plot, if it intertwines in a nice way I love it even more! So a safe time to start these is when the main plot has slowed down in pace, or when it's halted completely.
Rule #6: Following the rp. Kind of general as well, the setting is a ship for the most part, it usually has a lot of filler in between places where it docks. A lot of things can happen aboard it though, it's a pirate ship of course, so make sure that the action or calmness if followed; don't go stretching your legs when the ship isn't docked ICly.
Rule #7: Things about the setting, and stuff. This includes creating new cultures, new islands, new seas, anything at all related to such things. I don't want it to be too ridiculous, creations can be humorous, and quirky; however if it goes outside boundaries for people it won't be permitted. While this rp is set in an already created world, I would love for their to be endless content conjured up by the roleplay itself. That could be new species of animals, new people, new factions, the possibilities are endless; as long as it doesn't break the earlier statement.
*More rules will be added, but due to this being a rough draft of them I didn't want to overwhelm.
Character Sheet
(Modify as you see fit, that which is marked as a star must stay; double stars go along with 'if applicable')
*Name:
Alias(es):
*Age:
*Species:
*Race:
Subrace (If applicable):
*Appearance (Physical):
*Appearance (Clothing/Accessories):
*Personality:
*Short Bio (No spoilers please :P):
*Weapons/Equipment:
*Abilities:
*Strengths:
*Weaknesses:
*Role Aboard the Calypso:
**Devil Fruit Eaten?: (Yes/If not, just cut this out)
(If you want to create a Devil Fruit, just come to me)
**Devil Fruit Type:
**Devil Fruit Abilities:
**Haki: (Same with Devil Fruit)
**Haki Type:
**Haki Abilities:
(As I said, complete alteration to; as in order, is allowed, adding of own style is permitted. Any questions about things you don't know, refer to the 'World Tab' or me. I'm an open book.)
Arcs are bundles of posts that you can organize on your own. They're useful for telling a story that might span long periods of time or space.
There are no arcs in this roleplay.
There are no quests in this roleplay.
Here's the current leaderboard.
There are no groups in this roleplay!
Welcome home, Promethean. Here, you can manage your universe.
Arcs are bundles of posts from any location, allowing you to easily capture sub-plots which might be spread out across multiple locations.
You can create Quests with various rewards, encouraging your players to engage with specific plot lines.
Settings are the backdrop for the characters in your universe, giving meaning and context to their existence. By creating a number of well-written locations, you can organize your universe into areas and regions.
Navigation
While not required, locations can be organized onto a map. More information soon!
There are no groups in this roleplay!
By creating Collectibles, you can reward your players with unique items that accentuate their character sheets.
Once an Item has been created, it can be spawned in the IC using /spawn Item Name (case-sensitive, as usual) — this can be followed with /take Item Name to retrieve the item into the current character's inventory.
Give your Universe life by adding a Mob, which are auto-replenishing NPCs your players can interact with. Useful for some quick hack-and-slash fun!
Mobs can be automated spawns, like rats and bats, or full-on NPCs complete with conversation menus. Use them to enhance your player experience!
Current Mobs
No mobs have been created yet.
Locations where Mobs and Items might appear.
You can schedule events for your players to create notifications and schedule times for everyone to plan around.
Add and remove other people from your Universe.
The Forge
Use your INK to craft new artifacts in The Voyages of The Calypso. Once created, Items cannot be changed, but they can be bought and sold in the marketplace.
Notable Items
No items have been created yet!
The Market
Buy, sell, and even craft your own items in this universe.
Market Data

Market conditions are unknown. Use caution when trading.

Quick Buy (Items Most Recently Listed for Sale)
None
Where it all begins, the journey of a century for all who board the Calypso.
Discussions
Topics

Replies
Views

Last post
Most recent OOC posts in The Voyages of The Calypso
There have been no posts in the OOC topic for this roleplay!