Template # NPC
 Portrayed by: Chyna Layne
 Profession: Legal courier
 Age: 24
 Gender: F
 Height/Weight: 5'10" / 160lbs.
 Hair/Eyes: Brown/ Brown
 Nationality/Ethnicity: African-American
 Tattoos/Scars: n/a
 Clothing/Outfit: Blue t-shirt, blue jeans, tennis shoes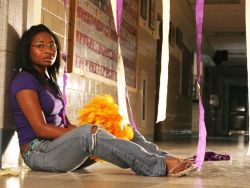 Traits:
MBTI type: INTJ (Introverted Intuitive Thinking Judge)
3 Strengths:
Hard Worker - Raised in a household where education and God were valued above all others things has made
Independent and Confident - Althea is very secure in herself and doesn't find the need to satisfy others' expectations or demands if they're not the ones that she places on herself
Open-minded - Althea is always up for learning new things, even if they challenge her way of thinking, as long as they're logical and make sense
3 Weaknesses
Cold & Arrogant - Due to having a bit of a chip on her shoulder from the relentless teasing she underwent as a child about her grades and her height, she's developed a superiority complex meant to protect herself from being hurt; this can make her appear very snobbish and stand-offish on first impressions
Insensitive - While doggedly determined to do a thorough job and to get to the bottom of a situation at hand, her inclination toward being rational can come off as being cold-hearted
Competitive - Having an older brother who's a doctor and a sister who's a nurse in the Navy and getting groomed for medical school has set the bar high, and this has an impact on how she works with others at times
Personality:
 Fears:
- Not having enough money to fill the gas tank, failure
 Aspirations:
- Become a prosecutor for the City of Los Angeles, set up a scholarship fund for children from her neighborhood
 Dominant Emotion:
- Proud and Determined
 Demeanor:
- Althea is a tough young woman who is determined to live up to her parents' high expectations and to succeed in the world today. She's incredibly confident and prizes her ability to be rational and thoughtful over being impulsive or emotional. She's dedicated to success at all costs and to keeping her sense of self intact. She can be incredibly difficult to get to know, as she doesn't require friends for social validation in the slightest, preferring to connect on intellectual levels with others.
 Quirks/Oddities:
- Health nut, loves coffee, loves to swim
 Skills/Proficiencies:
- Legal mind, athletic, TBA
Equipment:
 TBA
History:
 Grew up in Compton; parents remained together and insisted that the children devote themselves to their studies and to look ahead to the future and develop a path of success
 Family are active church-goers; Althea is the only person in the family who pushes back on it, and feels a little bit of a rift between her rational mind and her family's perception of faith
 Endures relentless teasing over her height and good grades; makes it a point to avoid boys and feels that she is far "better" than others
 Excels as a fierce scholar athlete in school
 Receives full-ride scholarship to Stanford, graduates with highest honors on the pre-law track
 Returns home after graduation to help sick mother, as the home requires more than one income to sustain; takes on a job as a legal courier to help pay the bills and save up for graduate school
 In February 2014, receives notice that she's been accepted to Stanford's law program and is slated to start in the Fall of 2014