Description: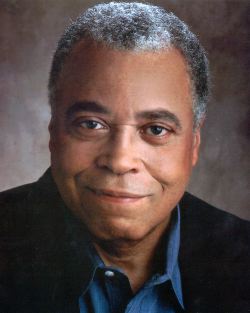  Name: Christopher Jones
 Portrayed By: James Earl Jones
 Profession: Mechanic
 Age: 45
 Gender: Male
 Height/Weight: 6 ft./200 lbs.
 Nationality/Ethnicity: American/African-American
 Tattoos/Scars: A scar on his right shoulder, which he gained in a gunfight with a rival gang
 Clothing/Outfit: A reasonably good suit, although this may change.
Traits:
 3 Strengths:
1. Survival instinct: Living in the tough inner city has given Christopher the wits and sense needed to survive in an even tougher situation.
2. Cool head: Even in a desperate situation Christopher can keep a cool and rational mind.
3. Intimidation: Christopher's large body and deep booming voice, as well as his ability to influence others through fear gained in the past, can make any human opponent think twice about threatening him or his friends.
 3 Flaws:
1. Good nature: Christopher's essentially good nature makes it difficult for him to make survivalist decisions in complicated moral situations.
2. Brusque demeanor; Christopher's frank nature often complicates efforts to make a good first impression.
3. Age: Christopher isn't as young as he used to be, and as a result is not in peak physical condition.
Personality:
 Fears: Christopher has lived a simple life, and does not really mind dying so much. However, he does fear that humanity will never recover from the walkers.
 Aspirations: To live in a community where human kindness is able to thrive.
 Dominant Emotion: Stoic
 Demeanor: Tough, but warm-hearted
 Quirks/Oddities: Even in a situation as desperate as this one, he acts much like he did before the walkers came.
 Skills/Proficiencies: Shooting, mechanics, leadership.
Equipment:
 A Satchel filled with supplies such as food, first-aid kits, maps, etc.
 No keepsakes. Christopher is not a sentimental person.
 Double-barreled shotgun.
History:
1969: Christopher born.
1985: Christopher joins the Crips gang.
1987: Becoming disgusted with their violence Christopher leaves the Crips, and in order to avoid being killed for his treachery, keeps a low profile until the Crips eventually give up/accept the fact he has left them.
1990: Christopher gets a steady job as a mechanic.

OOC: If anything else needs to be added, please give me a shout.