Portrayed by: Jude Law
Profession: TV Sports Anchor
Age: 42
Gender: M
Height/Weight: 5'9" / 180 lbs.
Hair/Eyes: Light Brown / Blue
Nationality/Ethnicity: American
Tattoos/Scars: N/a
Clothing/Outfit: Work slacks, white collared shirt, blue tie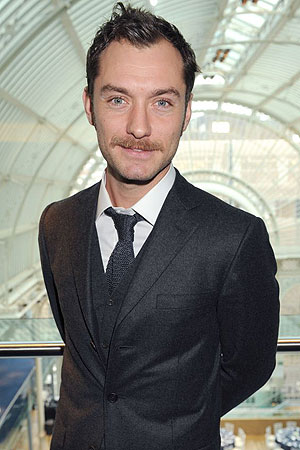 Traits:
MBTI type: ESTP (Extroverted Sensing Thinking Prospector)
3 Strengths:
Fast Talker - Chuck subjects himself daily to the art of the play-by-play: fast narration of sporting events to tell an audience either over the TV or radio what's going on. As a result, he's a keen observer who can turn words around quickly and easily.
Athlete - Chuck grew up as an avid baseball player and heads up the station's softball team in the citywide competitive league. He still stays in good shape.
Strategist - After observing and becoming a student of sports for the better part of his life, Chuck's got an avid appreciation for the mechanics of sports and the rules of competition, not to mention being able to get into the heads of coaches and play-callers. 
3 Weaknesses
Alcoholic - Chuck's got a bit of an attachment to alcohol. He's been in AA for several months and has made progress on his recovery.
A Little Creepy - Another of Chuck's many vices is the opposite sex. He was known around WEND-TV for chasing young interns and hitting on new female reporters.
Prima Donna - Chuck's got a bit of an ego problem that naturally comes with top-market sports anchors, and he lends himself to being frequently impatient.
Personality:
Chuck is an outgoing, social person who loves to laugh and talks fast, but with a short attention span and a tremendous ego.
Fears:
Relapsing into alcoholism, the LGBT community
Aspirations:
Jump out to ESPN
Dominant Emotion:
Excitable
Demeanor:
Hyperactive
Quirks/Oddities:
Cracks lame jokes when he's nervous
Skills/Proficiencies:
Fast talking, a solid foundation of statistics/probability, running, jumping, swinging a bat!
History:
- Born in south Florida to a lower middle class family
- Avid baseball player; went to Louisiana State to pitch
- Graduates from LSU with degree in Communications in 1994; goes to work as a sportscaster for a small station in east Texas
- Heads to a station in Dallas in 1998
- Lands job in Las Vegas in 2000; meets and marries his wife
- Offered evening gig at WEND-TV in 2005
- Wife splits from him in 2013 due to alcohol abuse and longtime infidelity