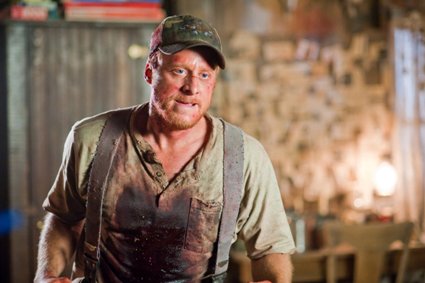 Description:
 Name: Dax Faraday
 Portrayed By: Alan Tudyk
 Profession: Computer Hacker / Tech Whiz
 Age: 37
 Gender: Male
 Height/Weight: 6'1"
 Nationality/Ethnicity: Welsh, Irish
 Tattoos/Scars: Scar of a pair of dice showing "7" on his wrist.
 Clothing/Outfit: Outside of his prison coveralls, he usually wears a shirt and suspenders or some kind of flannel. Sometimes wears a pair of glasses. Loves hats.
Traits:
 3 Strengths

Intelligent:
All those hours clocked on his computer have given him a vast and unique intellect.

Virtuous:
Though not always within the means of the law, Dax believes in doing the right thing and exposing the truth.

Tech Savvy:
He knows computing systems and hardware in and out.
 3 Flaws

Non-Violent:
Despite his willingness to want to help, he has a problem with inflicting pain on others. It's more than an ideology to him.

Quiet:
He's not much of a people person. Has an odd way of expressing himself silently.

Submissive:
For a self-made digital anarchist, he's not one to assert himself over others in person.
Personality:
 Fears: A Life Sentence, Drowning, Snakes, Bum's Hands.
 Aspirations: Hack into the Pentagon, Buy A Helicopter, Backpack Around The World.
 Dominant Emotion: Stoic
 Demeanor: Dax is an all-around good guy when you get to know him. He doesn't say much, and when he does -- it might come out poorly worded or phrased. All his time spent behind a keyboard talking in abbreviations and slang has made him a little less social in public. He is a loyal, team-player when it comes down to it -- and has a soft spot for women and children. Very chivalristic in most ways, his deviousness comes out in his digital persona which he uses to wreak havoc on all kinds of things. He loves to show off his propensity for technology and thorough knowledge of its uses and properties.
 Quirks/Oddities: Other than his silent nature, he sometimes rolls or drums his fingers on things when he's thinking or working.
 Skills/Proficiencies: Tech Savvy, Computer Hacking, Wiring, Herbalist, Farmer, Horseback Riding, Swimming, Knot Tying, etc.
Equipment:
 Any item/weapon that your character typically has on them?
His glasses.
 Do they carry any keepsakes, trinkets, or valuables?
- A very important flash drive.
 What is their weapon of choice?
- He likes tools you'd find on a farm or in a garage. Something familiar, like an axe, or a hammer.
History:
 Born in Kentucky to two gay fathers through a surrogate.
 Was raised on a farm until 18 when he joined the Air Force as a Tech Specialist.
 Toured for three years and returned to America, deciding to land in Los Angeles with his sweetheart he met abroad.
 Builds a ranch-styled house out in Pearblossom on a big tract of land.
 Marries his girlfriend of two years back on the farm in Kentucky.
 Begins taking night classes for job placement in his field of study.
 Gets a job as a night technician at a big computer firm.
 Dax is brought into the world of hacking through some of the other technicians who share his aptitude for computers and coding. Begins making mad profits.
 Expands his ranch and begins working from a home office, being sure to take the necessary steps to cover his digital footprints.
 Is turned in along with five of the other technicians by the 6th technician.
 Convicted on multiple charges and sent to prison for a ten year sentence.
 Breaks out of the prison charter bus on his way to being transferred. Joins up with Bronson' gang and holes up in a fire station to weather out the apocalypse.