Diego Azevedo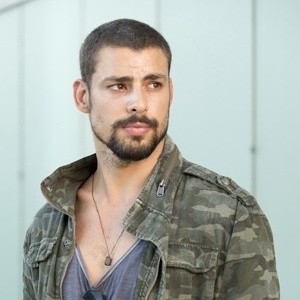  Name: Diego Azevedo, AKA Sergio Santos
 Portrayed By: Cauã Reymond
 Profession: Porn-star
 Age: 25
 Gender: Male
 Height/Weight: 5'11 / 166 pounds
 Nationality/Ethnicity: Brazilian-American
 Tattoos/Scars: Angel wings on his back, Portuguese writing on his side
 Clothing/Outfit: Clothing perfect for sunny LA weather. Shorts or jeans and a light shirt (optional). Has a military-style jacket for in the evening. Often wears sunglasses.
Traits:
 3 Strengths: Incredibly Fit, Charmer, Funny
 3 Flaws: Adulterer, Functional Cocaine Addict, Acts Without Thinking
Personality:
 Fears: Becoming bald, Getting separated from Bethany, Becoming a father, Spending life in prison
 Aspirations: Building his own motor cycle, Being faithful to his wife, Opening his own gym
 Dominant Emotion: Passionate
 Demeanour: Diego lives in the moment. He loves life and when he wants to do something, he does it. Because he does not always think things through, he often finds himself in trouble. Most of the time, this is without regrets, because he has an 'it-is-what-it-is' attitude to things. He's a passionate love maker; women, men, it does not matter to him. His tendency to sleep around is tolerated by his wife, since she knows he does love her dearly. Her only wish is that he keeps honest with her about it, which he does. Most people do not approve of their relationship, but it somehow works for them.
 Quirks/Oddities: He's a rampant nose-picker.
 Skills/Proficiencies: Riding a motorcycle, Extreme sports, Speaks Portuguese, English and Spanish, Doing a proper workout, Hand-to-hand combat, Knows his way around the bedroom,
Equipment:
 One handgun
 Metal baseball bat
 Small crucifix
 Wedding ring
History:
 Born in São Paulo as a third son. His father dies shortly after in a work-related accident.
 Mother remarries an American when Diego is 2 years old. Moves to the US.
 Diego does not get along with his step father. Acts out a lot and gets himself a juvenile record.
 Kicked out of the house at age 16.
 Wanders the streets, starts dealing and using drugs.
 After a year, siblings help him get back on the right track. Starts going to the gym.
 Starts doing porn at age 20 because he figures he loves sex. Not entirely what he expected it to be, but kept going regardless. Known as Sergio Santos.
 Meets the much older Bethany on set, fall in love and get married within three months.
 Not entirely able to get rid of his past. Is forced to sell cocaine again. Wife helps out.