.: James Marshall :.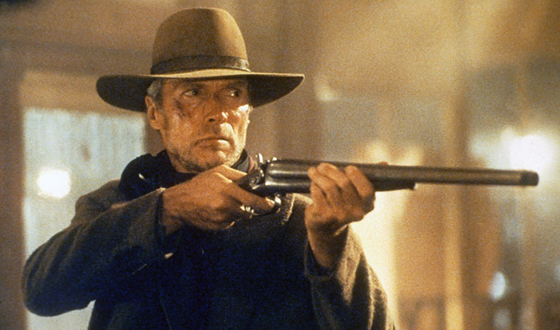 Description:
 Name
James Avery Marshall
 Portrayed By
Clint Eastwood
 Profession
Pot Farmer
 Age
68
 Gender
Male
 Height/Weight
6'1" -- 187 lbs
 Nationality/Ethnicity
Irish, American
 Tattoos/Scars
A few scars on his right calf from getting caught on a barbed wire fence as a kid, plus several scars from taking buckshot to the shoulder during a hunting accident.
 Clothing/Outfit
His only wardrobe is one consisting of overalls (coveralls if its cold), white tees, and woolen plaid shirts. He has a brown leather cowboy hat that he wears from time to time with a custom-made metal buckle on it -- of a marijuana leaf.
Traits:
 3 Traits
Tenacious
-- Doesn't give up easily; will do anything to get what he wants.
Good Judge
-- Is an amazingly good judge of character; can see right through someone.
Fearless
-- Never shies away from danger; habit of old age.
 3 Flaws
Stubborn
-- Difficult to talk out of things; very persistent.
Old-Fashioned
-- Has a hard time accepting change; has an indifference to others.
Provoking
-- Knows how to rile someone up; gets under their skin to weaken them.
Personality:
 Fears
Afraid of Being Alone, Afraid of the Open Sea, Afraid of Losing His Sight.
 Aspirations
Wants to build his own ranch one say, Wants to be a grandfather, Wants to live to a 100, etc.
 Dominant Emotion
Pride
 Demeanor
James is what you would call old-fashioned. He is certainly set in his ways, and hates to be proven wrong or even challenged. Having grown up amongst seven other siblings, he developed tough skin early on and learned to fend for himself. He has a hot temper, but channels his anger into his work. Though he doesn't respond well to change, James is able to adapt to new circumstances quickly -- always the survivor. He is not one to let somebody ill-equipped for a job, stumble their way through it. He knows one's strengths and takes advantage of them if he can. He doesn't come off as a warm conversationalist cause he would prefer some peace and quiet over some good company any day of the week.
 Quirks/Oddities
Even through his rough disposition, James is quite the songbird. He has adopted the 'whistle while you work' approach, boasting a vast catalogue of songs.
 Skills/Proficiencies
Can Whistle, Horseback Riding, Farming/Agriculture, Hunting & Trapping, Tracking, Outdoor Survival, Knot Tying, Knives, Handguns, Shotguns, Rifles, Motorcycle Use, Spanish, Automotive Repair, Basic Mechanics, Sailing, Fishing, etc.
Equipment:
 Any item/weapon that your character typically has on them?
A lucky dollar coin.
 Do they carry any keepsakes, trinkets, or valuables on them?
Keeps his grandfather's class ring on is right hand.
 What is their weapon of choice?
James prefers guns with some kicks to them -- shotguns and rifles mostly.
 Is there a special piece of clothing or jewelry that they typically wear?
He often wears a worn brown leather cowboy hat with a medallion in the shape of a marijuana leaf on it.
History:
 One of eight siblings raised on the ranch together.
 Dropped out of school at 17.
 Served eight years in the Marines as a Sniper.
 Worked at brother's ranch when he returned to the States.
 Won small lottery fortune at 43; $500,000
 Lost one brother to leukemia in the Winter of '87.
 Takes a shotgun blast to the shoulder during a hunting trip; doctors say he may not have full radial movement of his arm again.
 Retires from his job at the horse ranch to pursue other things.
 Purchases a farm in Southern California where he dabbles in pot farming amongst other things.